2-11 July, 2019 — Missouri Roadtrip
2-11 July, 2019 — Missouri Roadtrip
Reading Time:
11
minutes
---
If I could do life all over, I would.
Not really for myself. I don't enjoy my career, and I don't like where I live, but I'm better than I deserve. I have better friends than I deserve. And I am happy having my own existence, doing my own thing, seeing things that only I will have a memory of. Usually, when I make the mistake of looking back, I want a do over so that I can be more helpful.
The movie "Cast Away" has a poignant section for me. Tom Hanks' character Chuck remarks:
"I knew…somehow. That I had to stay alive. Somehow. I had to keep breathing, even though there was no reason to hope. So that's what I did. I stayed alive. I kept breathing. And then one day the tide came in and gave me a sail. And now here I am. I'm back. I'm here in Memphis. Talking to you. I have ice in my glass…And I've lost her all over again. I'm so sad that I don't have Kelly.
But I'm so grateful that she was with me on that island. And I know what I have to do now. And I keep breathing. Because tomorrow the sun will rise. Who knows what the tide could bring."

Chuck realizes that he could have made better decisions. The lives of others aren't as good as they could have been because of his past decisions. He has lost years of life that he'll never get back, and cost others things—including grief—that humans simply have no way to measure, except to say that it's a staggering amount.
But who knows what the tide could bring. Without having gone through the process that cost him so much, Chuck never would have appreciated not only what he had, but what he might have in the future. The old Chuck had to be destroyed, and there is always a cost—a value of relationship, mind, and soul—which is exacted in such exchanges.
It is the dawning of a soul's ability to feel pain on behalf of others, even through regret, which signifies the most valuable of changes—that of being cut to the quick, and exposed to the value of others through pain.
---
"Make the most of your regrets; never smother your sorrow, but tend and cherish it till it comes to have a separate and integral interest. To regret deeply is to live afresh."
—Henry David Thoreau
---
---
This is a retrospective look as I type this. Kristi is doing very well these days and is exceedingly blessed by God. I am proud to count her as a good friend. In the past few months, I have been doing cognitive behavioral therapy, and opening up about my feelings and failures has been an important part of the altering a multitude of deleterious patterns of behavior to which I'd previously clung.
The weather for the winter of 2018 was just terrible garbage, so I wasn't happy with my inability to hike. Kristi wanted me to spend the summer with her, but I anticipated going back to Afghanistan, and thought that this might be my last free summer.
In many ways, I was caught up in the Peter Pan dream, always trying to avoid losing my youth, but never wanting to grow up and take the responsibility that is having children, which Kristi wanted to do. The distance and on-again, off-again nature of our relationship, then, was easy for me to manage, but not profitable for me, and even less for her. The solution is to have kids, and to make life worthwhile by taking on as much responsibility as humanly possible, until it's crushing, and then to keep going, because in that is a fulfilled life. And you can hang on to that childhood through experiencing your child going through all the things that you did, and helping them.
I was not wise enough to realize such truth.
Kristi was always a blessing. Even breaking up, she suggested that I settle down with someone sweet, like my friend Yue (which several people have suggested over time, though Yue has never been interested in me in that manner, and has herself at times offered me valuable advice on how to fix my life), who I love and value very much. Not many people are that gentle in moving on. I know that I'm not.
But regardless, I didn't do show any sign of settling down, and now I haven't seen Kristi since 11 July, 2019, the day before my birthday, and won't again until we meet on the other side. We always inhabited two different worlds, and only heaven will fix that. We didn't realize that at the time, so I planned in late June to head off on a road-trip to see her.
Day 1:
The drive to Columbia, Missouri is pretty long—15.5-18 hours. I got on the road at 10:53 AM and hit Cheyenne at 3:41PM. The first day dragged on and on, and my butt got sore. I pricelined a cheap room at 3400 N.W. 12th St., Lincoln , NE , United States…the glorious Rodeway Inn. It was only $33, and I just needed a place to lay down for the night, so that I didn't have to sleep in my hot Jeep overnight, as it was very muggy.
The drive through Nebraska is never-ending.Their version of a national forest made me sad, too. Most places have enough topographical variety for me to orient in my head where I am in space, but not this blasted state. You cross into NE from WY, go through fields forever, of which some are lumpy, eventually merge with another big road…and go even farther. At some point there are some trees, which are short…and then you keep going. Straight on until midnight. I finally got into Lincoln at 11:13PM. It was very humid, and the incredibly pleasant Indian man at the front desk told me that this was secondary to all of the flooding, which was the worst he'd seen in his time there. The room was old, but serviceable. The bed was comfy, plus it had a fridge and microwave, which I value.
Day 2
Kristi was working, so I had no reason to get up early and arrive before she was at her apartment. Thus I slept in and left at 10:20. The next section of the drive seemed even more interminable, if that's possible. I had to drive up to Omaha due to road closures from the floods, though I skirted the city to the south. Finally I was heading straight south to Kansas City. The flooding was bad—collapsed silos, train tracks wiped away. My Jeep started surging. I suspect spark plugs; it had made a weird stuttering back in Arizona, but I hadn't been able to tell if that was my imagination or not. This was not at all my imagination. I called Kristi; she's a stabilizing influence.
I ended up sidetracked at MCI thanks to making a wrong exit that had no return, but eventually got back on the road, and finally hit the left and straight to Columbia, entering Missouri at 12:06. I noticed a lot of signs for truckers to enjoy private rooms with girls…yuck.
At 4:13PM, Kristi and I reunited. She made me the loveliest blanket that I cherish! I also got a very sweet card. We ordered some amazing wings.
Day 3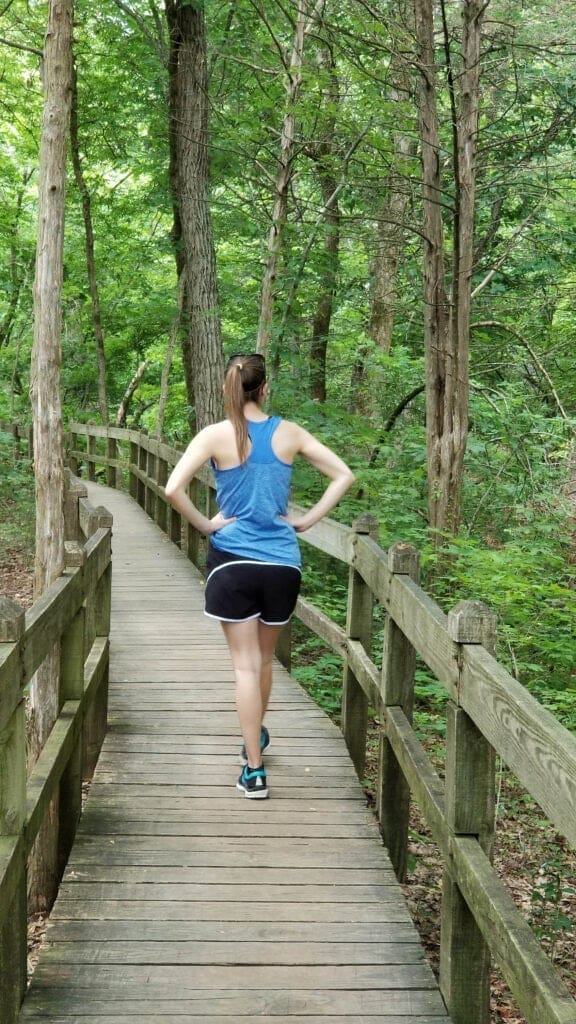 On the 4th, we went and saw Devil's Icebox. It rained lightly. I didn't bring a flashlight. That was one of my best memories from the trip. I liked it better than the kayaking, which we did later.

That night, we went to the Thomases and had a dinner. I met their host daughter, Blessed. We watched fireworks from the field by their house.We went home and I had a late salad for some reason.
Day 4
5th
Kristi modeled some Friends clothes, and we got food from Aldi. I made us a Saudi chicken kabsa. It was OK. Kristi and I got into a fight. We got into fights pretty often while we knew each other. I was surly, and she was strong willed. Our personalities never meshed well, but I always saw incredible value in her. Under different circumstances, perhaps we'd have been the best team. She's a very beautiful person in all ways, and all of the pain is indubitably my fault. When she needed compassion, I was critical, and when I was ready to open up, she was sharp because of my criticism prior. A positive feedback cycle of negativity. Avoid it, kids.
We also toured houses to see what we'd both like to live in. As was typical, we disagreed.
Day 5
6th
We went to Finger Lakes. It was a hot day. The kayaking wasn't the best, with lots of mud at the put in. I'm used to clear water—not a specialty of this state. Kristi isn't too in shape as far as paddling goes, so we cut it short a bit earlier than I'd have liked. I made us some Moroccan chicken tangine.
Day 6
7th
Sunday! I love Sundays with Kristi. She's in her element at church. Very organized, helping people, being compassionate, and socializing. She has the best smile at church. It really lights up a room.
Afterward, we went to go home, and ran into some of her friends. They asked us to join them in the pool. I'm not big on that sort of thing, and I needed to order some parts for my struggling Jeep, but I eventually went. It was ok. Kristi was happy.
We ordered more wings and I made some onions and taters. We didn't talk too much. We never talked too much, really. It's odd how easily conversation comes between some people, and how with others, it's easy. When we started out talking, I remember being struck by how we talked so easily, and how much wit she showed. It was the same in Fiji.
At some point, something changed between us. Like sepsis leading to multiple organ system dysfunction (MODS/multiple organ failure), enough things seem to change in small ways that it alters every dynamic of the organism's related functions. While a person with MODS can struggle on, often the cellular metabolism changes so much, and there is so much dysfunction, that the person altogether succumbs. That happened to us, in the end. This trip was a sign of that. I'll always regret not getting to hike with her. Because we failed, some of the best memories in the world also failed.
Such is life.
Day 7
8th:
Crippling food poisoning for me. I was unable to function, and spent time on the couch in agony.
Day 8
9th:
Kristi had to work. I was still in pain, but struggled to Walmart to pick up tools to work on my Jeep. Kristi said she could use a sleep mask as a bra. She has such a cute, goofy personality. Some part of me wondered why another man hadn't taken her from me. That happened with my ex-fiance, and with her, there was little reason for it to happen. With Kristi, there were a ton of reasons—she's smart, loving, beautiful, and sociable. Moreover, I certainly didn't give her the fulfillment in life or Christian living that she deserved.
Day 9
10th:
Still sick, but getting better. Eating relieves some of the pain for a bit. Kristi got a fancy hot dog. While she was at work, I cleaned her house. She needs to give that vacuum a workout. I replaced my spark plugs successfully. The issues were resolved. For dinner, I made us spaghetti.
Day 10
11th: I said goodbye to my beautiful friend. My heart was sad. If I had known that this would be the last goodbye, it would have been broken. In that, God protected me, and I was comfortably ignorant.
At 0653, I was back on the road to my home. I made the trip all in one day. An alarm went off in my car approaching Pine Bluffs, near Cheyenne. I stopped in Cheyenne and had the code checked, as I didn't have a reader. It was a manifold sensor. I determined that it was best to keep going. I've always tended to determine that. Just to keep going, rushing through life, headlong; careening, avoiding stopping to avoid assessing the damage.
I arrived home at 11:39PM, with 2727.6 miles down, and one relationship completed.
With love, always,

—Luke