30 Stunning Miles: Coffeen Park to Loomis Lake
30 Stunning Miles: Coffeen Park to Loomis Lake
Reading Time:
83
minutes
---
Although not quite my favorite hike ever, this hike is the one I am most likely to recommend to anyone and has the most scenery per mile of any that I've ever done.
---
---
➻ Quick Facts
---
---
⤷ Introduction
---
I am posting this summer's trips out of order, but prior to this trip, my exopod and trowel had been pilfered while I was camping at Green River Lakes, costing me quite a bit of money, and all of my fishing tackle. I had been using the fabulous Deuce trowel (improved version), but decided that I didn't feel like spending that much money on another one. The UST U-Dig-It Trowel (UST= Ultimate Survival Technologies) seemed to be less polished with less features, but it also only weighed 0.64 oz and cost just $8.29.
The improved The Tent Lab Deuce of Spades #3, which I had been using prior to it being stolen, had cost me a solid $22.95 and weighed 0.97 oz. While folks had noted that they found the edges of the U-Dig-It to be sharp, I didn't personally feel that they were. I let some other folks try it out, and they also thought that the edges weren't beveled enough, so I decided to put some friction tape around the handle. If you, too, are a slippery-handed slobbergoat, this might be something that you consider doing, as well. Regardless, this isn't my friend Miriam's UST Parashovel, so don't expect to go digging through roots with it.
With the Stough Creek expedition out of the way, I had to attend to some military matters in Cheyenne. I finished Stough Creek on Saturday, 03 Aug 19, and departed for Cheyenne from Rock Springs on 04 Aug. I left Rock Springs in the afternoon to make the 277-mile drive. I didn't have a plan for lodging, but thought that I might just camp in the Pole Creek Ponds area and fish, as allegedly some of those ponds have golden trout. Approaching Arlington, my check engine light went off. I'd just had the vehicle serviced for the intake manifold, and had the differential and other fluids replaced, so I was somewhat perturbed. I pulled over and, at some point, turned on the AC and smelled something funky, too. (As it turns out, this was just some spilled fluid.)
Anyway, I decided to stop at Arlington, since it would be dark in an hour, and assess the situation, and I let my leadership know. After plugging in my code reader at the off-ramp, I determined that it was probably a small crack in the vacuum system that was being sensed at high altitude (passing 9000), and I had talked to a mechanic about this already, so my concern was alleviated. I elected to drive up the river at Arlington, which I like, and one of the rare, nice pull-offs was available. I set up my bed in the back of my Jeep just as it started to rain and turned in.
The next morning, Monday the 5th, it was on to Cheyenne to celebrate 'MERICA; before I showed up, I drove by my old apartment on Country Club avenue. The new tenant wasn't watering the lawn, had let one of my shrubs die, and was probably a Nazi. However, my apricot tree was doing rather well, so that made me pretty happy. Anyway, I went off to work and enjoyed the delights that come with wearing the uniform.

After work, I went out to the Woodhouse Public Access area hoping to find a camping spot, but it was prohibited there. I then went up toward the Pole Creek Lakes and looked around, but all the signs also prohibited camping…leading me to go across the Vedauwoo road south toward the interstate. I talked to Kristi and got some gas while looking for a camp, because I drove and drove and drove and everywhere was taken, so yes, I had to go all the way into Laramie to fill up…and ended up not finding a spot to park until it was almost dark out, off the road by the abandoned Pole Creek Ski area. I set up my shower and took a bath amidst a plague of mosquitoes, but the pop-up tent does help with that.
I arose early on the 6th and fulfilled the rest of my obligations, making sure to get rid of the deprecated camouflage that I no longer needed. Before I left, I noted that yes, my friend Henry LaViolette is often wrong, and also that Mr. Cooner Tooner, who had outprocessed like the dog he is, had not taken his magnetic name plate off his locker. I elected to help him finish his outprocessing, and now do in fact own this bit of military history.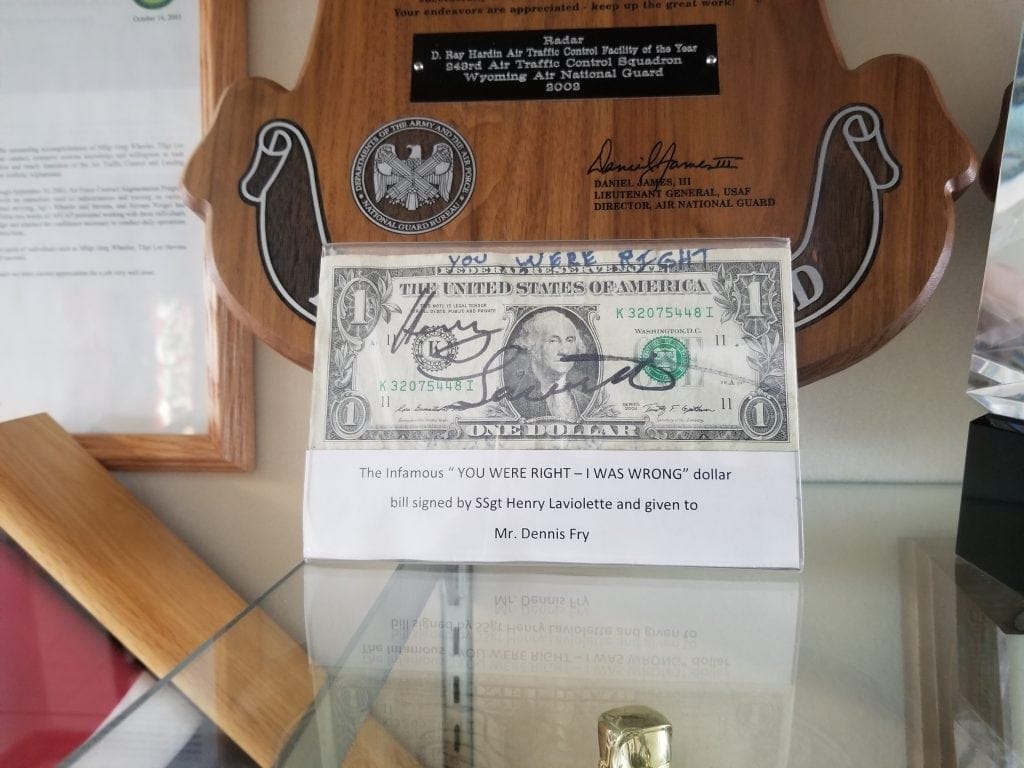 I then departed for Casper, where I found cheap lodging. I didn't really need it, but I had purchased it in advance so that I could charge my electronics if they were low. My lodging for the night was the Super 8, and I got to hear the very excitable, young lady next door talk to all of her friends about her latest relationship, her friend's latest relationship, her other friend's latest *denied* relationship, and more. It was pretty tedious, so I turned up the TV fairly loud and went to get a pizza from Pizza Hut, as healthy eating is important. On the way to the hotel, I also got some gas—$2.46 wasn't a terrible deal! What's with a car-dog wash, though?

When I got back, the vociferous vixen (just a guess) was silent, and I was able to quickly eat, shower, and go to sleep.
---
⤑ Day 1, 7 Aug: Coffeen Park Trailhead to Robin Lake
---
The next day I hit the road and made my way up towards Sheridan. The drive is long and tedious. Sheridan holds some negative memories for me, so I always feel somewhat conflicted about the area.
I took an earlier exit toward Story to intercept Red Grade Road, which is beautiful.
I'd driven it to hike around some of the reservoirs back in the fall of 2012 with my friend William P. "Poison" Wayland, which is a notable year as I rejected the love of a gal from Sheridan as she had a kid, which terrified me. That was a mistake that I learned from. Since then, a number of trailheads have been added along the actual road, which is weird, because they seem like very poor choices of places to hike given the nearby beauty. Yet even still they had plenty of cars.
Before losing service, I downloaded some more podcasts, as I wasn't exactly sure how many days I'd be out, and then kept going. Here's my general "breakdown" of how to get to Coffeen Park Trailhead from the Sheridan area. I highly suggest that you put the coordinates in your GPS, as the roads back there are kinda rabbit-warren-esque:
"From Sheridan, take Red Grade Road until you get to the FR-298 cutoff. Follow 298 until it goes around a reservoir, then follow FR 293, keeping right for the most part. There are a few signs to help guide you to Coffeen Park Trailhead. A high-clearance 4×4 is required for this "road," which is more of a goat track than anything else."
The drive up is just beautiful, with awesome views across meadows to towering peaks in the distance. Although I didn't have a definite plan in mind, I thought that perhaps I'd try to reach Sawtooth Lakes, and if I failed to get to them, I wouldn't be too unhappy, as it would leave me with a reason to come back. I like having areas that I haven't yet explored!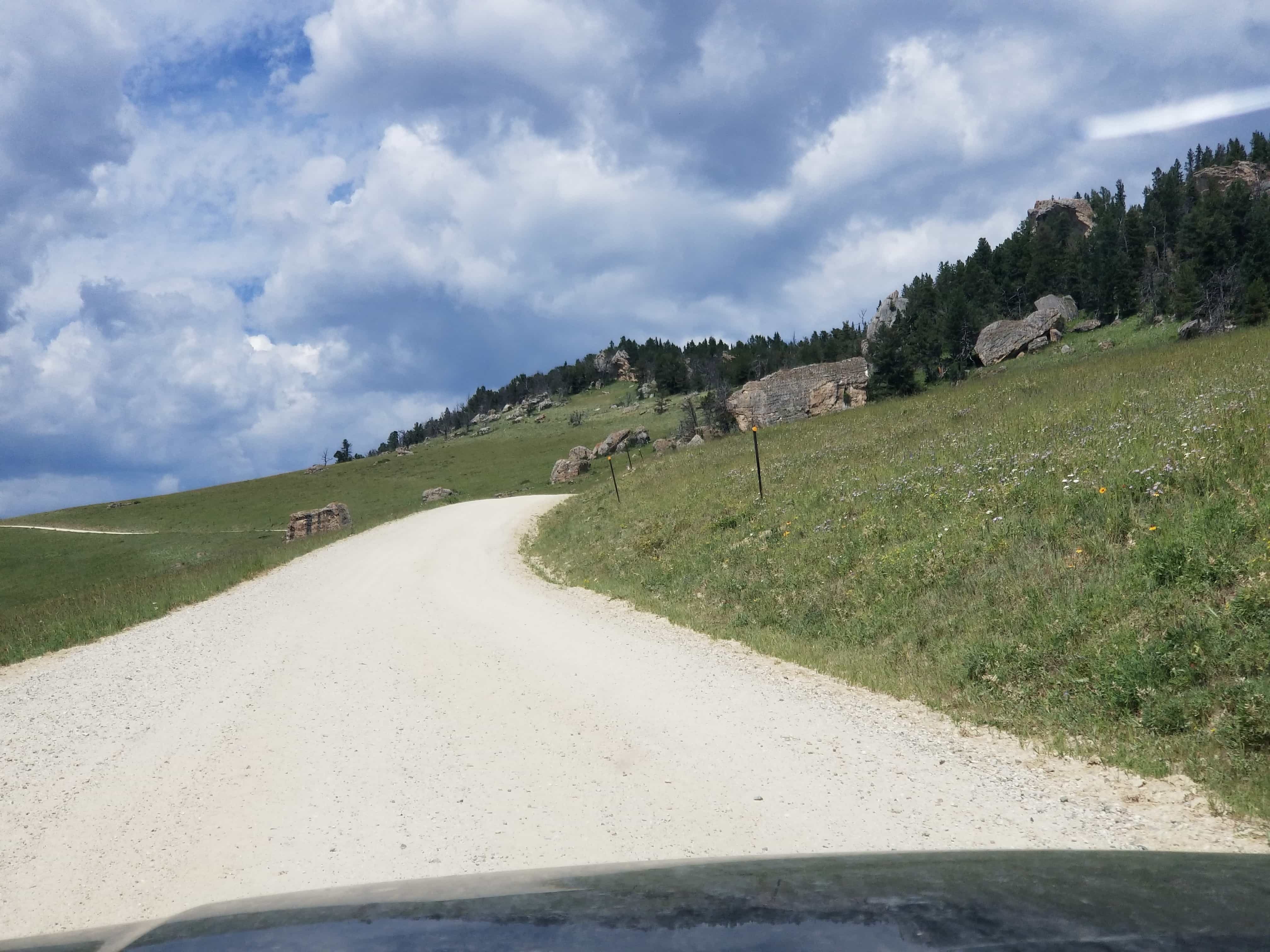 I made it to the trailhead without scraping, but there were a couple of sections that I had to approach very carefully; thankfully the creek crossings were not bad at this time of year, and there was no mud. To give you an idea of the time, I left the interstate around 12PM, and it was exactly 3PM when I hiked past the "regulations" sign. Unfortunately, the memory card in my dashcam gave up the ghost, so I didn't manage to get video of the road. I strongly recommend utilizing this trailhead after the worst of the snowmelt is done. But perhaps I am too cautious.
There were not many vehicles at the TH (less than 10, but still more than what I found at Battle Park when I hiked Middle Cloud Peak Lakes), but I wasn't sure if that would correlate to a lack of people in the wilderness, as many people use the Lower Paint Rock Lake trailhead or are doing the Solitude Trail loop. I had actually considered and initially planned to utilize the Lower Paint Rock TH myself before I attached this hike to my Cheyenne trip, as it's quicker to access from the eastern side of the state, and the extra 1.5 miles or so of hiking isn't that bad.
Once I got to the TH, I took my time getting my gear set up to my satisfaction, as I wasn't on a schedule, and knew that I could camp pretty much wherever I felt like. I also ate basically the entire pizza from Pizza Hut, which may not have been my best decision ever. My biggest decision to make was on the food…should I take those little, cherry handpies? SO MUCH WEIGHT. And of course there are Haribo gummy bears…not to speak of the delicious Doritos.
Well I'm a dadgum grown man, so I took some of each! I packed enough meals for about a week (or more depending on how hungry I was), loaded the pack on, and hit the trail…well, after setting up my solar shower to be warm for my return. I checked out the wilderness regulations sign, which had the standard Cloud Peak Wilderness (CPW) notes, which really are only worst around the popular lakes, and bad if you want a fire above 9,200 feet…and most of the dang place is above that, so…well, this boy doesn't like fires that much, so it doesn't bug me. (They stink.)

I looked at my physical map again, but didn't bring it, as I'd spent so much time memorizing the Google Earth features and the topo that I knew it like the back of my hand. My intent was to at least reach Loomis Lake, and if I had enough time, to also explore Bard and Sawtooth Lakes. I was fairly convinced that I'd have to go up the drainage that connects to Rainbow Lake, and then make my way down a mountain and through the forest before re-ascending. There seemed to be a saddle closer to Loomis, but the topo lines didn't look promising, and the Google Earth view showed that it kept snow about as well as Antarctica, and I wasn't about to try and make my way down hundreds of feet of near-vertical, icy snowpack to a boulder field below.
I also was considering perhaps going to Rainbow Lake first, then over the mountain, and perhaps trying to climb "Loomis Pass," as I was calling it, from below, as often I find climbing easier than descending. Having a laden, pack, though, makes that untenable as well. All these thoughts were in my head as I started out, and I'll share with you my actual route with the route that I thought that I'd be forced to take.

You can also see my route and camping site…along with exactly the reason that I didn't want to use this route as my go-to.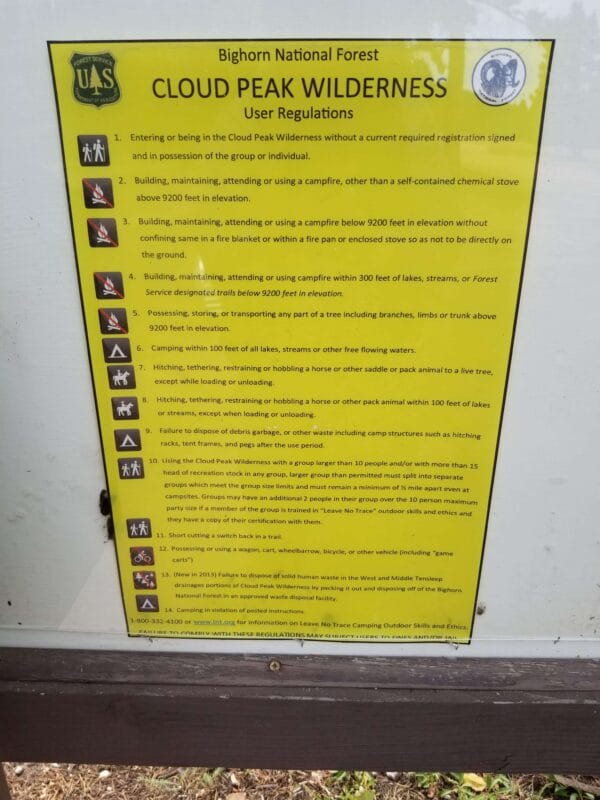 Solitude itself is a massive loop trail. I've done other parts of it going to Bomber Mountain, hiking to Middle Cloud Peak Lake, exploring Powell Lakes, and visiting 7 Brothers Lakes. (Yes, they'll be put in there when I get them typed up, if I remember!). I ignored that and kept going, and much to my dismay was soon descending. I hate losing elevation! HATE IT! The good news is that it brought me to East Fork Big Goose Creek, where I immediately did some fishing with my little collapsible pole and a Panther Martin. The Brook trout were stupid, as they always are. After dinking around for about an hour, I moseyed off along the river until it re-connected with the trail, then did the natural thing and headed on up.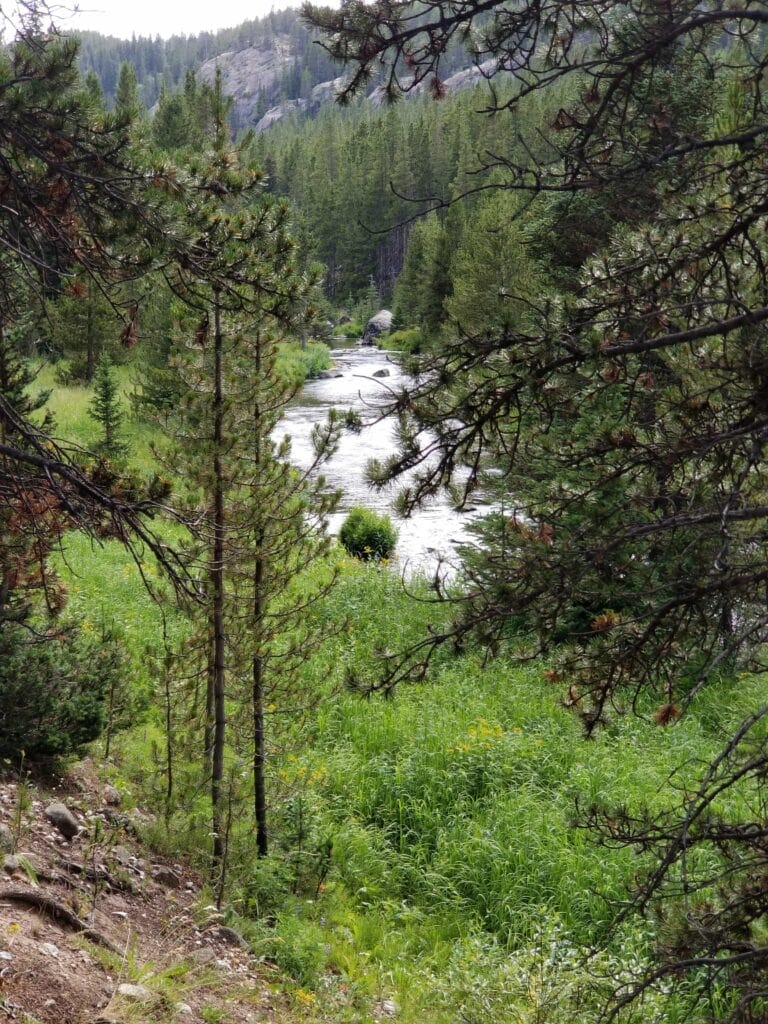 The trail (Coffeen Park connector tail 592, thence Solitude Trail 038) starts off fairly flat and wide, and quickly you come to another trail (Trail 113) that goes to Rhinehart Lakes; it splits off to the right and plunges down across the river. The temperature starting out on this hike was pretty straight in my own "hiking thermoneutral zone," and I never felt hot or cold. (Of course, there's a lot of research on the thermoneutral variation among humans.)
I was really enjoying the hike up, and noted several old cabins. This area used to have an extensive log flume system when the railroad was first coming out West, which I'd found out while visiting the county museum in Sheridan, which had maps of all the old flumes; I'd also previously found cabins and flume sections, but until 2012, I'd not had a clue as to what I was seeing. I am not certain if the cabins I came across were related to flume activity, or if they were instead in support of the nearby mines. My GaiaGPS maps listed a mine to the east (Bishop Mine), but I also later found a mine near the top of the pass, which is unlisted, and seemed exceedingly ancient.
Regardless, just before a mile in, you'll pass a trail which goes down to the river; this is trail 025, which goes along Edelman Creek to Emerald Lake and Lakes of the Rough. One day I hope to shoot that trail and loop around to the Crater Lakes area. For this trip, I continued on toward Geneva.
Another half mile or so on, a trail branched off to the left , and back towards where I'd come from. It turns out that it went to Duncan Lake, which was only 1/3 of a mile up the hill. That's another tempting target just to say that I've been, but I was focused on making it to Crystal Lake for the night by that point. I had seen a blog in the past which had a picture of Crystal Lake, and it looked quite attractive, nestled under batholith-like mountains.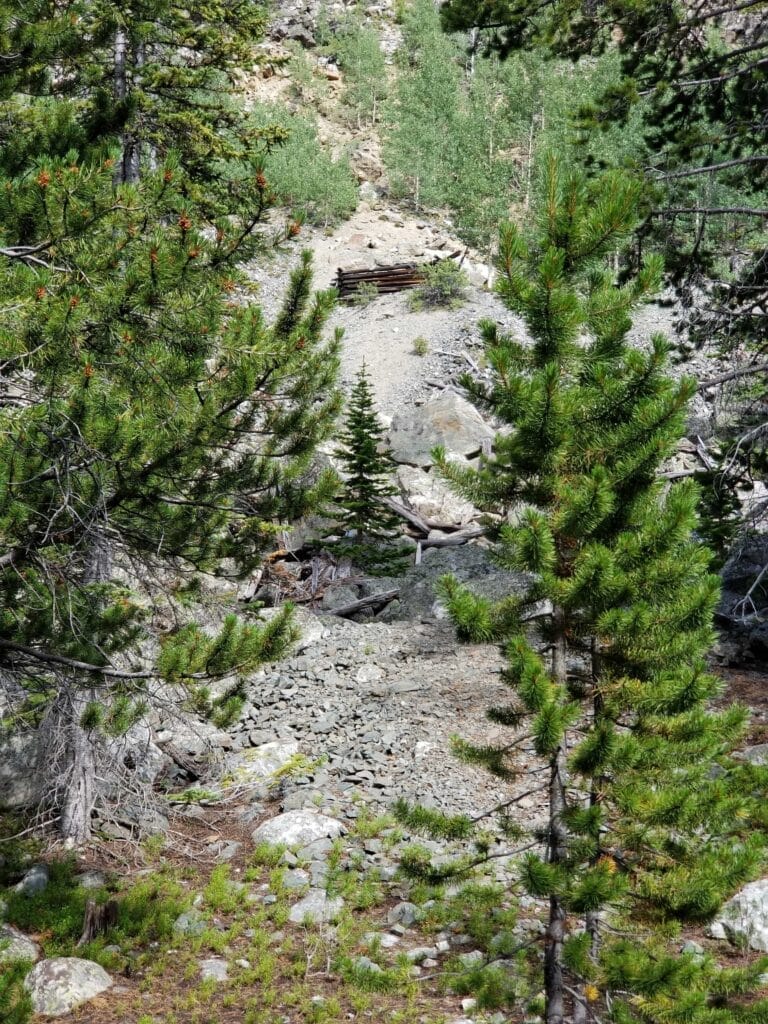 Although Big Goose Creek is beside the trail pretty much the entire time, intermittent streams do cross your path, and I filled up at one of them around mile 2, still having not seen anyone. The trail was becoming rockier by this point, but still so much better, in my opinion, than, say, Elkhart to Titcomb over in the Winds, and the grade was blessedly minimal, and also featured very little elevation loss. Rolling grades are the worst, at least in my book.
Around 2.75 miles in or so, I had to cross Big Goose Creek. There was no way to really cross it without taking off my shoes, but I didn't let that discourage me, and did it anyway. That is, I crossed them via rock-hopping. Yes, I nearly broke my neck, but I didn't get my feet soaked. During the earlier season, this would not have gone well for me at all. I also met a group of men in their 40s-50s, who were a little soft looking. They asked me where I was headed to, and I remarked, "Well…out and about, you know. Wherever I end up, I guess. I have supplies for a week, so we'll see where that takes me." They all seemed very keen on this sort of hiking and one remarked, "That's the way to live!"
From there, the trail gets a bit rockier and at times a bit steeper; my physical map had led me to believe that I'd have to cross Big Goose Creek again before the lake, but it was very mistaken; you'll stay west of the creek until reaching Geneva Lake.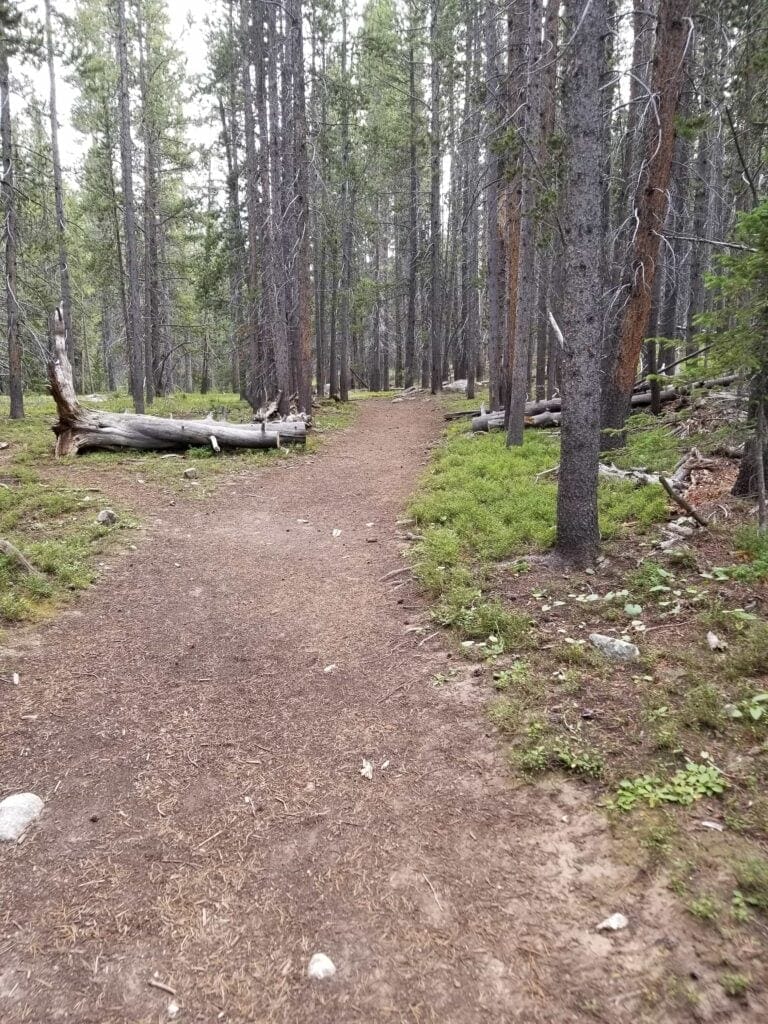 I reached Lake Geneva at 5:11 PM (so even though I fished for a long time, I made it to Geneva in just about 2 hours) at what GaiaGPS claimed was exactly 4.0 miles in, and crossed the outlet with the help of a magic stick that I collected. Again, thanks to the season, I didn't have to remove my shoes. The path goes along the east side of the lake, and it's quite beautiful, though it does not really feature any camping areas, as it's too wooded and steep. From what I could tell, the south and north ends of the lake are where you'd want to set up shop if you wanted to stop there. I didn't, so I did some quick fishing, saw that the fish were all brookies, and thus pressed on.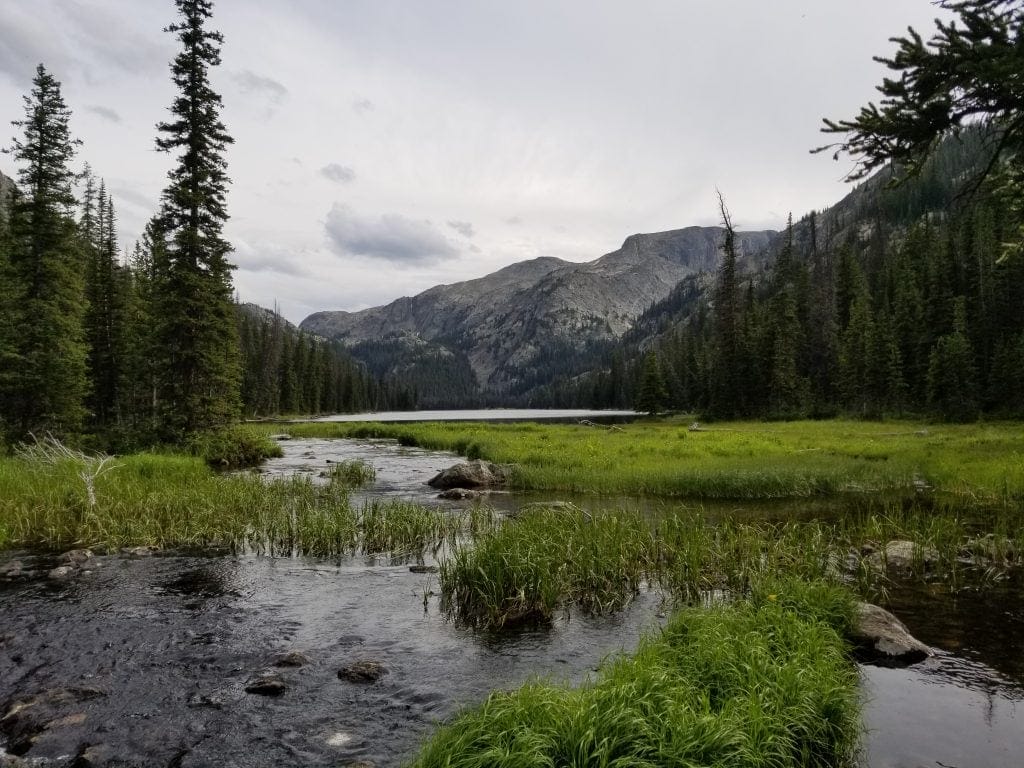 At the north end of the lake, the trail encounters a parasite (Indian Paintbrush) laden meadow and seems to deviate to the right. I was suspicious of this, but followed it anyway, as it was well worn. It passed signs warning about camping restrictions, as this was labeled a high-use area (though there was not a soul to be found), and I came to the inlet creek. Across from it was an interesting waterfall with a cirque, and I double-checked my map, because it seemed like a place I'd like to explore in the future. My map claimed that it only had a marsh…no lake. Hmmm. I mean, it would at least have a pond, right? Probably barren of fish…but one day I'd like to look at it.
Anyway, though the trail went to the creek, this didn't seem to be correct for reaching the pass, so I meandered back through the big field toward where I'd came, but cut across to the south, as I figured that the trail must go up the hillside there. Note that my topo data was last updated in like…the 50s or something, so it wasn't always accurate.
I briefly considered camping in the area, but, while beautiful, I wanted a more secluded spot, and the big meadow wasn't that. There was a nice site by the creek, but it had a sign warning not to camp there. Onward I went, then, and soon was back on the correct trail, and then ascending quite steeply up switchbacks towards Crystal Lake. I stopped toward the top of the switchbacks, as the trail then heads back downhill, and called some loved ones, threw up a photo on facebook, as there was 4G and a great view, then continued on.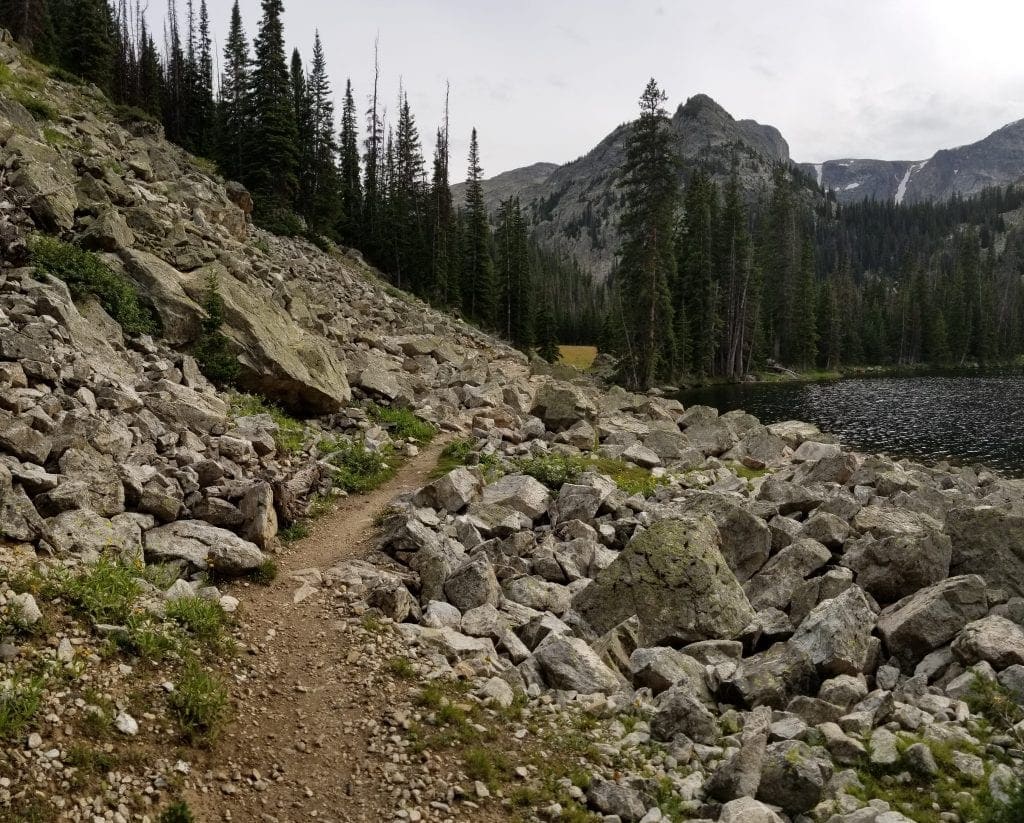 The trail is soon passing through about a mile or so of just horrific deadfall. It's the stuff of nightmares, but the forest teams really got it off the trail. There must have been an outrageous windstorm at some point, because nearly the entire forest is decimated. I was soon at a creek on an offshoot use trail that lead to beautiful Crystal Lake, where I wished to camp, as it was soon to be dark.
Unfortunately, it was a tight area, featuring a meadow by the lake, surrounded by the dang deadfall, and in the area were some happy campers. I considered trying to peacefully navigate to the far side of the lake sans any disturbance to them, but the state of the forest made this impossible. With reluctance, I pressed on, climbing up higher and higher, until I was eventually at a wonderful park.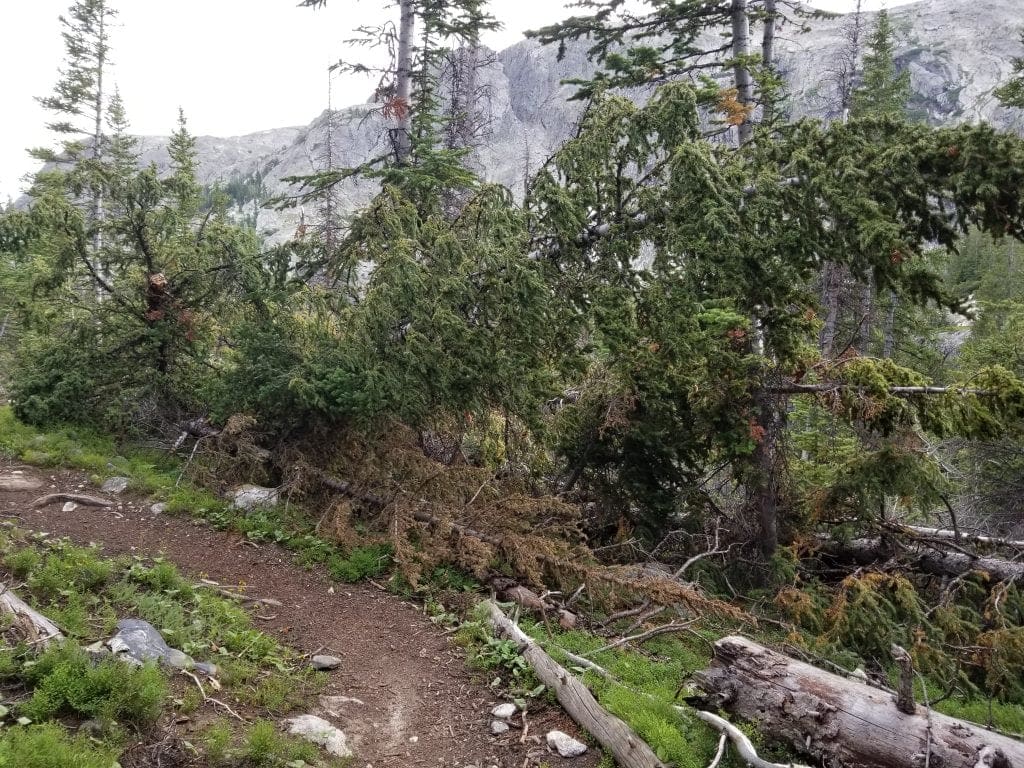 This park, by the way, was super beautiful, with a stream running through it, and a great view of the pass. I was tempted to stop at this point, but with the pass now in view, and Robin Lake on the other side, I decided to take my chances and continue on up. Normally I'm pretty relaxed about getting into camp late, but this day I was…I don't know, really. A bit antsy. I think it was passing up so many nice areas with darkness coming, but not knowing what the future trail held, especially as the opposite side of a pass can make a big difference.

In the park, I noted that there were areas off to the right/west that would make good camping spots, too, if I were in a pinch; looking back on it, there's a nice, rockfield area that one could descend to Crystal Lake in lieu of the trail, and I'll probably take that one day. At the south end of the park, you cross the creek again, which I did, and I didn't see any fish. I guess they can't make the swim from Crystal Lake! What I did see was a pika (nnneeeeeennnnggghhhh), who was most startled to see me back, and dropped his little bouquet as he bounded off.
I walked through loads of rocks, heading up the pass, and noticed a discolored fan of scree, so I went to investigate. A cave! Well yes, I'll go in the cave. It's not very big, and immediately leads to a shaft, which is now filled entirely with water. I guess you could free dive it if you wanted. This area has 4G service, so I shared the mine via Snapchat with one of my friends who is a geology student and nerd.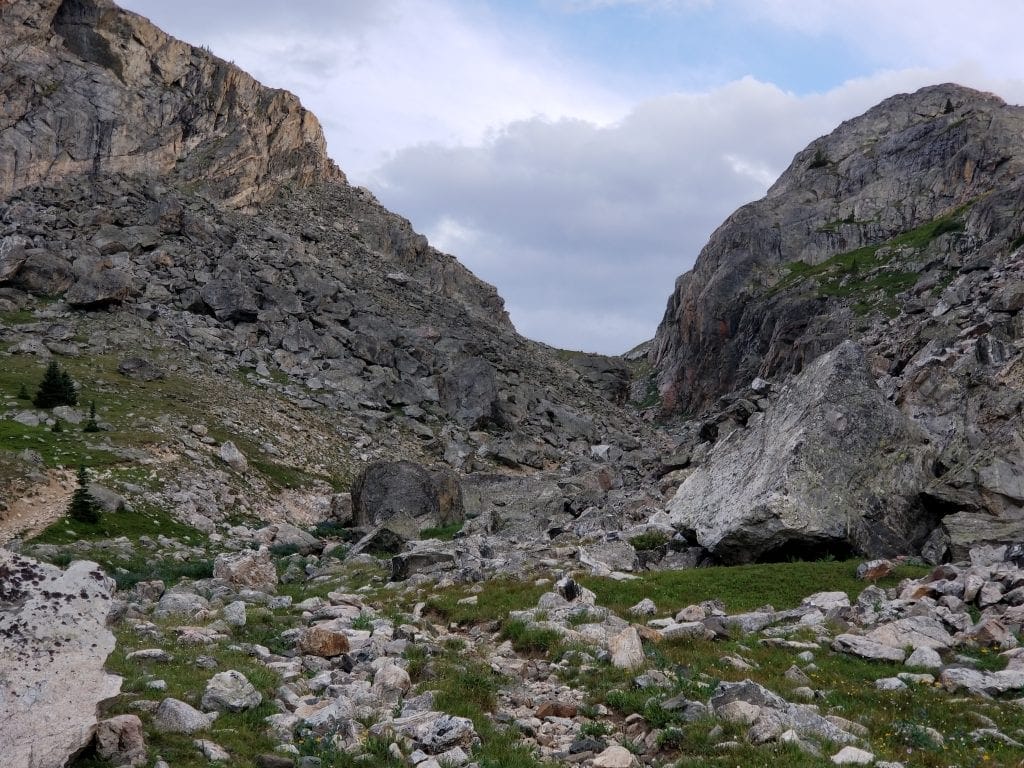 From the mine, I went back down the hill, crossed the creek, and continued on up the pass, which wasn't very far, and then stopped to take some pictures. (Note: there are two trails past the creek that are equally rocky and neither seems more official than the other, which I found random and off.)

The view below is towards Steamboat Rock, and it was truly gorgeous, with a bit of haze that gave depth to the landscape—something sometimes lacking when the air is clean and dry. Finding a rock to set my camera on took a bit, and I had to slog back down the hill after packing everything back up in my pack (for weight purposes, I keep my camera on the top and near my spine), as I left some electronics on the ground and didn't realize it until almost making the top of the pass. On the other hand, at least I did realize it!
Soon I was ascending the rock-strewn pass, which my GPS said topped out at 10,273 feet, and ended with a gorgeous view of Robin Lake and the mountains. I hit the pass at 7:54PM to a beautiful sunset! Then I proceeded off the trail and toward the right side of the lake, that I could be more hidden, as there seemed fewer trees and more trail to the left.


Descending to the south, I crossed North Paint Rock Creek, which had some brookies in it, and then climbed up some flatter, rocky areas to the west. Interestingly, I've fished in Paint Rock Creek from out of Solitude Lake some miles away. Part of the loop system!

While the view was great here and the surface flat, I wanted to have trees nearby for some wind protection, and also so that I'd be less visible, so I kept going southwest. I was keenly aware of the failing light, so I ignored the temptation to go and use my tenkara rod on the billions of brookies hitting the surface of little Robin lake.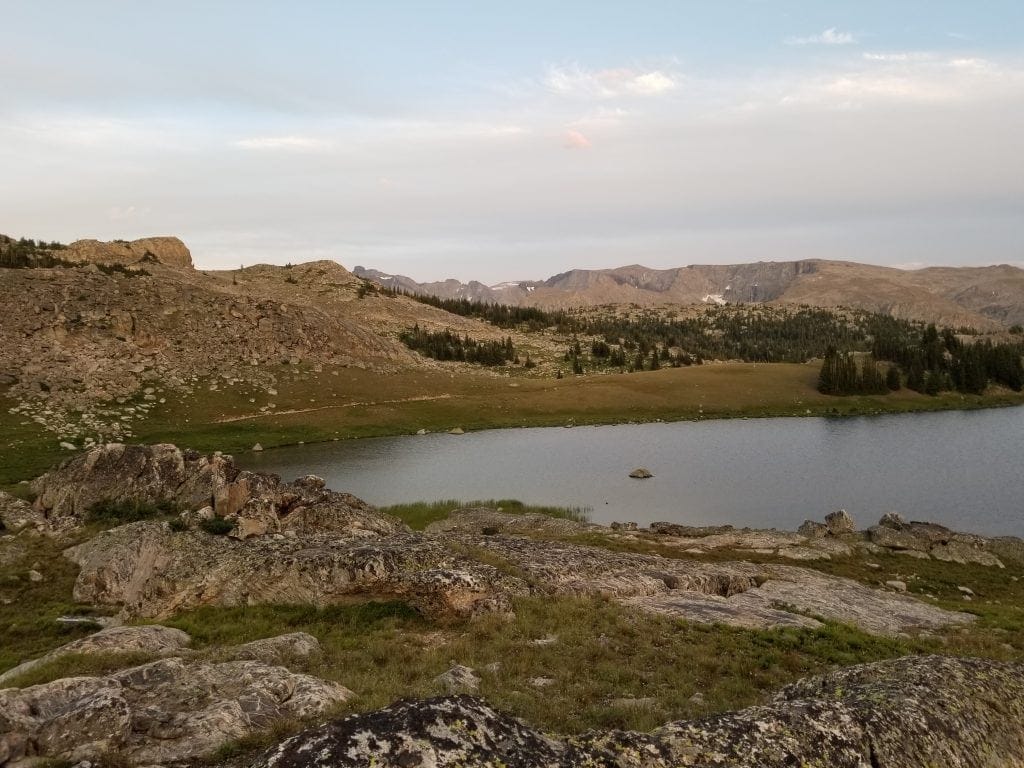 Soon I was approaching another creek, which was flowing down from the mountain to the west. It was unnamed, though it seemed bigger than North Paint Rock Creek. I found one area that was flat enough in a little clearing abutting some small cliffs, but wondered if there was something better on the south side of the creek. I dropped my pack by a dead tree and set off exploring. Immediately on the other side of the clearing was an area closer to the creek, but with more tufts, which would make for lumpy sleeping.

Across the creek, I found a gorgeous area that had an "advanced" fire ring in one area, and enough use in another that it looked as if outfitters might frequent it. I ultimately declined to stay there, and it was ridden with evergreen nettles, which I don't care for. The place I had set my backpack was nicer in that regard, as it was grassy.
In the two pictures above, I was in the creek area. Filling water was very easy here, with little in the way of detritus to fight with, and plenty of little cascades to make the intake of water easier. As usual, I brought my little, "one-use" water bottle, which I do not apologize for, as a hard-sided bottle that I can still collapse a bit makes scooping up water much easier than with the soft-sided Sawyer pouches. I had previously bought Platypus pouches to try to use, and those were a waste, as they leaked a ton. I ended up making two water trips as the sun set to the west, to get water for drinking and water for washing up with.
Before setting up camp in the incoming gloaming, I elected to take a few evening shots of the mountains. I was captivated, watching the somewhat gray-drab look turn to a warm alpenglow that washed over my soul. It somehow also brought with it a twinge of longing and regret, realizing that this memory is one that I could share with others, but which others could never share with me.
I snapped out of my sadness. The horizontal wedge of black rock running along the range really stood out to me for its beauty; you can see it in the pictures below. Later on, I'd find another great stripe across the landscape, as if a laser had cut across the ground from orbit, which added to the value of this trip. Yes, I'm a geology nerd. Yes, the new Star Wars recently came out.
Then it was time to take everything out of my pack and set up camp, nestled perfectly at 10,109 feet. I wanted to show the view I had, so I clumsily placed my camera to record the ongoings. While it's true that it was just me, myself, and I, I also had God with me there, and His presence seems all the more powerful when you're in the mountains.
"A mountain is the best medicine for a troubled mind. Seldom does man ponder his own insignificance. He thinks he is master of all things."

—Finis Mitchell


After I was doing all of this, I of course snacked around, mostly on some gummies, and listened to some podcasts. I wasn't too hungry, but I also broke out a cherry handpie and had that; it was just delightful. As I've mentioned elsewhere, I've found that bringing items high in fat and salt help keep me from having daydreams of food, so I also had some Nacho Cheese Doritos.
By this point, it was starting to get dark, so I looked around for a good tree for my bear bag that would also be close by. There aren't any grizzlies in this area, so it was safe enough, but I decided that I wouldn't sleep with my bag, as Skurka does. Down closer to the lake there was a clump of trees, and while they didn't make for the best hanging spot, they were serviceable. I could have walked back down past the creek and into the woods, but I wasn't all that excited to find a tree with big branches…so spindly tree it was.

For this trip, I'd brought some shows, books, and movies on my phone. Using an app that downloads Youtube videos, I've also been able to bring some of them with me, which is good for, say, watching Tom Chick of Quarter to Three play games and also die repeatedly. It's pretty incredible the amount of entertainment that one can bring these days—Nancy Pallister/Wandering Daisy wrote a great blog just back in 2012 in which she recounted being able to listen to music every now and then on her phone. I didn't get a smartphone until that very year, so she might have been right there with me in loving all the new options and distractions. I typically don't watch many movies or videos while hiking, but I love having books to read while I'm eating, and I'll even go so far as to make PDFs of trip reports from One Mile at a Time, though.

I stayed up a bit later than I should have, cleaned myself off, and fell asleep to the sound of the rushing creek right down the hill nearby. There was no wind, and nothing disturbed me from my sleep.

Day 1 totals: 6.66 miles, +2178/-594′, about 3 hours moving time.
---
⤑ Day 2: Eunice, Elsa, and Pouch/Birthday Lakes
---
I had slept well under the star-filled, Western sky, and arose around 0830 to a calm day, filled with sun and little, at least in the beginning, noticeable atmospheric instability. I arose and got dressed. The fish were hitting the surface like mad at Robin Lake, so I made my way down to the area abutting the exposed rocks (away from the marsh and inlet stream) and fished for too long. I chose to use my little spinner instead and my fly rod, and both had great success, though ultimately I chose to fish mostly with the spinning lure in order to save flies. I saw a group of hikers go up and over Geneva Pass as I was wrapping things up, so they had an early start! Good for them.
After fishing for an hour and a half, I went back and packed up my bag. It was now around 10:30, which was a little late, but I could take a leisurely pace and wasn't too worried. I did note that the sky was starting to fill with clouds and wondered what the future might bring. I started my GPS tracking again and headed off.
I chose to use the western shore of Robin lake, skirting along it and avoiding circling north and back to the trail. The distance was less, the scenery better, and of course there'd be no people. As I walked along the edge, I saw a million fish, and eventually reached the south end of the lake, where I walked across rocks to the eastern side. The creek (properly North Paint Rock Creek) was minuscule at this time of year, so there was no chance of getting wet; in fact, it had pretty much dried up. To the south, I saw another small lake.
I headed up the hill to the east a ways using my gaiaGPS map, which as I've mentioned was outdated. Around this point, I saw that my GPS tracks weren't recording. What? Well, they seemed to be recording, but nothing was "taking." I decided to start the recording again after saving it, and that seemed to work. (My phone had updated recently, and this problem occurred on this hike and several others; I thought that it might be related to battery-management, but wasn't sure. It resolved itself later on in the summer.)
Soon I was on the trail…looking at my map, it seemed like I could avoid descending and instead go cross-country to intercept trail 060 to the unnamed lakes (which some people call "Pouch Lakes" and "Fatwoman Lake"). Because I wanted to see how much things had changed since the old GS map was made, I elected to follow trail 038 downhill. The loop-trail certainly didn't cut off where it was supposed to; I looked for any signs that it had once existed, and basically came up empty-handed.
I descended a total of about 90 feet from the elevation of Robin Lake and passed in between two ponds that really are just a continuation of North Paint Rock Creek. The crossing was trickier than the one just before, and I had to make a number of very quick jumps over startled fish in order to avoid getting wet. I climbed up a small, bald knoll that the trail follows and saw a sign-post—trail 060, I bet!
The trail took me down to an an area of little waterfalls, and seemed to go downhill and south before ascending some loose, gravelly area on the other side. Why? Why would you add on that distance? Why would you even change it from how it was in the 50s? I can't see a reason for it being so far south now.
I couldn't figure any of that out, so I just cut across the creek (very easy, got some water, too) and hoofed it across gentle grasses toward where I figured the trail would end up. Other than a few pools of water, the going was easy. Soon I saw the trail on the hill above me, so I headed up toward it.
This section of 060 is fairly straight as it climbs up to 10,050 feet from 9,990, and it was protected from burning sun by plenty of trees. There were a few opportunities for water if you needed it, so I suspect that there are hidden pools above, in the forest. As I exited the forest, I had a pretty view ahead of an area that I'd traverse off-trail on my way back—though I didn't know that yet! The clouds had gathered some more.
This whole area was just so pretty, with green grass, beautiful trees, amazing rocks, and little bodies of water! I couldn't believe how much of a blessing this hike was! I took my pictures and continued on up a couple of switchbacks, and entered what amounted to a "pass." It was rocky, and as I rounded a corner, Blacktooth Peak came into view! What an awesome mountain.
A tad further on I got to see the Pouch and Crater cirques that I'd be in, along with a dry meltpond. This was about 400 feet in elevation gain from the intersection of trail 038 and 060, so not the most efficient use of the terrain if you're coming from Geneva Pass. (Which I'd demonstrate on my return.) This is what I decided to informally call "Pass 10,355."
The trail wandered off to the south at the top of this little pass, and seemed to needlessly climb a knoll, perhaps just to be scenic. I didn't need that, so I followed a little runoff-trail down to a marshy area, which I skirted following a use-trail, and then walked up a low point off trail.
Soon I came to a small pond, which I made my way along. It was rocky, and a solid wall of rock prevented me from continuing along its southeastern edge, so I climbed up a grassy area and found myself back on Trail 060. Off to the right I saw a great boulder to sit on, with stunning views. So what did I do? I went and sat on it, and then I had myself a cherry pie! (And some gummies.) While snacking around, I took some pictures. I was carrying quite a bit of weight in lenses, but I thought it could potentially be worth it.
I headed down the hill and crossed over Trail 060 again, heading southeast rather than following it. In a few hundred feet I crossed a creek and went through a stand of trees, then headed down a hill toward another lake.
I went around it to the south, where I also found a small use trail.
I climbed up the hill about 15 feet and emerged to a stunning vista—Lake Eunice!! SO. DADGUM. GORGEOUS. So many good places to camp! I wondered if I should set up camp there, but it was only 12:30, and it would mean a lot of backtracking for my purposes, plus I wanted to see what was on the other side of the hill, namely Lake Elsa.
I was very tempted to make a camp up on the hill, because the grass and views were just so pretty…I could go and place my tent over by the trees that were on my left, perhaps? As I headed down toward the lake with this consideration, and seeing no one around and being tempted to park it, I happened upon a trail which went up into the forest. It seemed to be fairly well worn for an unmarked use-trail (better than the trail you see by the lake in the picture above), and I figured that it probably went up to Rainbow Lake…it certainly didn't loop around Lake Eunice. Bah! Well I never have any interest in camping in full view of a trail. Oh well! I beat feet on down to Lake Eunice and fished! Caught a whole bunch of brook trout.
Before 1PM, I was packed back up and heading along the north and east of the lake, where I crossed many little braided creek channels. Though tiny, they were infested with brook trout! I found it curious that there was no use trail on this side of the lake.
Approaching the hill in between Eunice and Elsa, I went east and began climbing through grass with rocks. It was only 100 feet up to the crest, but for some reason it felt much worse to me. I haven't the faintest idea why this of all climbs bugged me, but I still recall how irritating it was. I noticed the trail that I'd come across earlier, apparently going up toward Rainbow Lake. This use trail actually leads up toward the pass north of Rainbow Lake, and the trail that I saw earlier goes there more directly. Odd. I'll call these "Rainbow Lake Use Trail" and "Fake Rainbow Lake Use Trail."
As was par for the course so far, I reached the top of the hill and was staggered by the beauty! My soul exulted! I was so free! So many places to camp! Such beautiful, open areas, with stands of trees below! My thoughts ran a mile a minute, as seen below:
Should I park my tent up here on a flat spot? No, that's a long trek for water. What about down in the trees by the water? Well, I should approach with care…there aren't many trees, and I bet it's inhabited already. I don't want to upset anyone! I don't want to be seen, either! Best to be a shadow! Man, this has to be the most popular spot. It's still quite a ways, I'll approach and scope it out.
In the pictures above, you'll see a grove of trees near the water, which I explored a bit, as you can see in my GPS recording. They had what were effectively little clearings in them, and as I walked by, I looked in a bit. No one was there, nor did it appear that anyone had recently visited. This was shocking, since I'd so convinced that I'd find people there. Next time I visit the area, I might spend a night at the lake, though I have a hunch that perhaps Lake Elsa only has brook trout. Also, if you look at the far side of the lake, you'll notice a little, tree-filled spit of land, which sometimes seems to be an island. It seemed like another great area for camping, though rangers might become angry at one's proximity to the water, and the views aren't as nice as toward Cloud Peak.
As I walked toward Lake Elsa, I made the determination that I might just try to park my tent up in the Pouch Lakes above. I really don't have a clue what the lakes are called, but I've seen others call them that—they're the lakes that the waterfall is coming from, and are in the cirque to the east of Crater Lakes, which have an official name.
Of course, one downside is that the Bighorns can sometimes be inhospitable near lakes; Frozen Lakes was the most miserable I've been trying to find a camping location, because the entirety of the ground was covered in boulders as far as the eye could see. I managed to find two places to camp…both on boulders that were big enough to pitch the tent on, but neither of which was really flat and level. Might it be the same by the Pouch Lakes? I could spy some trees, so I didn't think so. If worst came to worst, I'd drop my pack and go minimalist exploring Pouch Lakes, then head either back down to Elsa, or over to Crater and then down to Cliff or Sheepherder Lake, which sit below Crater Lakes.
In the picture above, you can see where I zoomed in to decide if I wanted to try scaling the cliffs on the other side of the waterfall (to the left/east), as the cliffs on the right were impassable. It looked like the creek mostly went under the boulders, so that part would be easy going (well, other than the boulder field), but I wasn't certain about the climb along the ledges. On one hand, it would save me elevation gain, which I hate, but on the other hand, with a heavy pack on, I don't really like putting myself in a place where I can have a bad fall. I made the mental decision to take the extra elevation gain and find my way up through the boulders and grassy patches far to the right. With that done, I pressed on.
Reaching the outlet of Elsa, I was hesitant to try a crossing, as the rocks were a bit widely spaced, but it didn't look too much easier downhill (in fact, in the immediate area it looked worse), so cross I did. It turned out that there was no problem, and I began to climb up around. If you go to the media file attachment of the picture below and enlarge it, you can see the stand of trees I explored earlier, the crossing, the little spit of land/island, and the waterfall. You can also see how climbing the side of the hill here isn't that bad. In the second picture is the use trail going up to the Rainbow Lake area. I should also note that there is a use-trail around Lake Elsa, but the official trail never "visits" this lake. (Or the cirques.)
From the crossing at 10,100 feet, I clambered my way up to a low spot at 10,527 while lisetening to "Is Postmodernism Marxist or Libertarian—A Soho Forum Debate." Professor Stephen RC Hicks debated Dr. Thaddeus Russell, who came off as a hopeless slave to the imbecilic shysterism of Derrida and Foucault. The debate was so stunning in Hicks' victory over Russell that I had to transcribe some of the latter's own asinine ramblings. Since you might not click on the link to the transcription, let me go ahead and give you a snippet of something he actually said during the debate:
"There is nothing in my book, in my work, anywhere, that is true. I never speak the truth. I'm telling stories. I'm telling new stories; different stories…you can like them or not. I don't think they are any more true than any other story—about the holocaust, about World War II…"

—Dr. Thaddeus Russell
As I became more and more irritated listening to Russell, whose mind is an obvious boulder-field, the going got progressively more into the lines of outright rock-hopping, though there wasn't much in the way of slipping boulders. I pissed off a few pikas, as one does when trundling through their territory, but no more than Thaddeus pissed of me. As I crested the depression on my topo, I caught my first view of what I'll call Lake 10,427, where fish were hitting! I was as refreshed by the sight as I was by every time there was a break from Russell speaking to let Dr. Hicks talk. I knew that I'd made anyone I could, including future hiking partners, listen to this stunner. (Note: and as I type this, I have. Some have been so enraged that they've told me to turn it off.)
Lake 10,427 looked gaw-jus and I was eager to fish, but I took a bit of time to assess where I might camp. The south side (on the right) looked unwelcoming as far as boulder-hopping went, and also lacking in shelter or spots to put the tent. The north side was near the waterfall and seemed as if it might have a few places to bed down, so I angled off to the left and descended. The left side is much more boulder-free than the right or middle.
I reached Lake 10,427 at 1:47PM and did a lot of fishing, to good results. There was a very pretty little area to sit on soft grass and moss, too. Were I the only person in the world, this is where I would have pitched my tent. The trout went insane for my bait, in much the same way that girls don't. There were lots of rainbows and also cutthroats.

I caught more fish than I could count before deciding to move on and look for a camping spot. The knoll in front of me had a stand of krumlholz trees, which sometimes have pleasant little places to secret onself away in the middle, like a poor animal surrounded by a ring of blood-thirsty, pagan druids ready for a sacrifice. I made my way up it, instead of going to the left through a depression, and looked all around for a level spot free of rocks. No luck.
In the far distance, (1st of 3 pics below) skulking about like some wretched Hobbitses, were some sons of biscuits stinking up my land! How dare they. Just kidding, they seemed really happy. I wondered where they were camped…it looked like across the outlet was going to be the only area close to the lake and with flat spots, so I imagined that I'd find their tents in about 5 minutes. Best check out the situation, so I made my way down the hill and across the creek…should have done that closer to the waterfall, oops!
If you look in the pictures above, you'll see a little "V" that runs up the natural dam/hill along the lake. This V section is tree-free and has intermittent camping spots that are fairly decent. At first, I made the decision to look along the lakeside, but I was able to see that there was nothing appealing there, so I headed through some trees and walked up the little ramp. I felt like a dog trying to find the most comfortable place to rest, because I was going in dadgum circles looking for the most pleasant spot for my tent.
Eventually, I decided that some of the nice areas farther up the hill were too far from the water, so I went down and settled on the spot you'll see in the gallery below. I took off my pack, placed it on the ground…and then decided that the spot wasn't good enough. I'd wanted to be overlooking the lake, but there were too many little rocks to pry loose, so I abandoned that and moved down by a stand of trees. None of the trees were really made for bear bags, but I found an area over the cliffs where I could kind of make something work. A tad. The trees I used are just on the left of the frame in the picture below.
I had already fallen so in love with this hike that I was looking for places close to my camp that friends could park it if they came with me, and still be nearby. This is what I found! It's just "over the rock" from my site. Look how flat it is! I was going to use it myself, but it has a little bit more exposure to the wind, and mostly I couldn't get a good camera angle to get a picture of my tent. 😛 Lake Elsa is below, and this site has a great view of it. You can also see that Elsa has a ton of great spots to camp. Y'ALL! THIS. WHOLE. PLACE. IS. AMAZING.
Anyway, I found myself a good spot for my tent, so I got to work setting it up.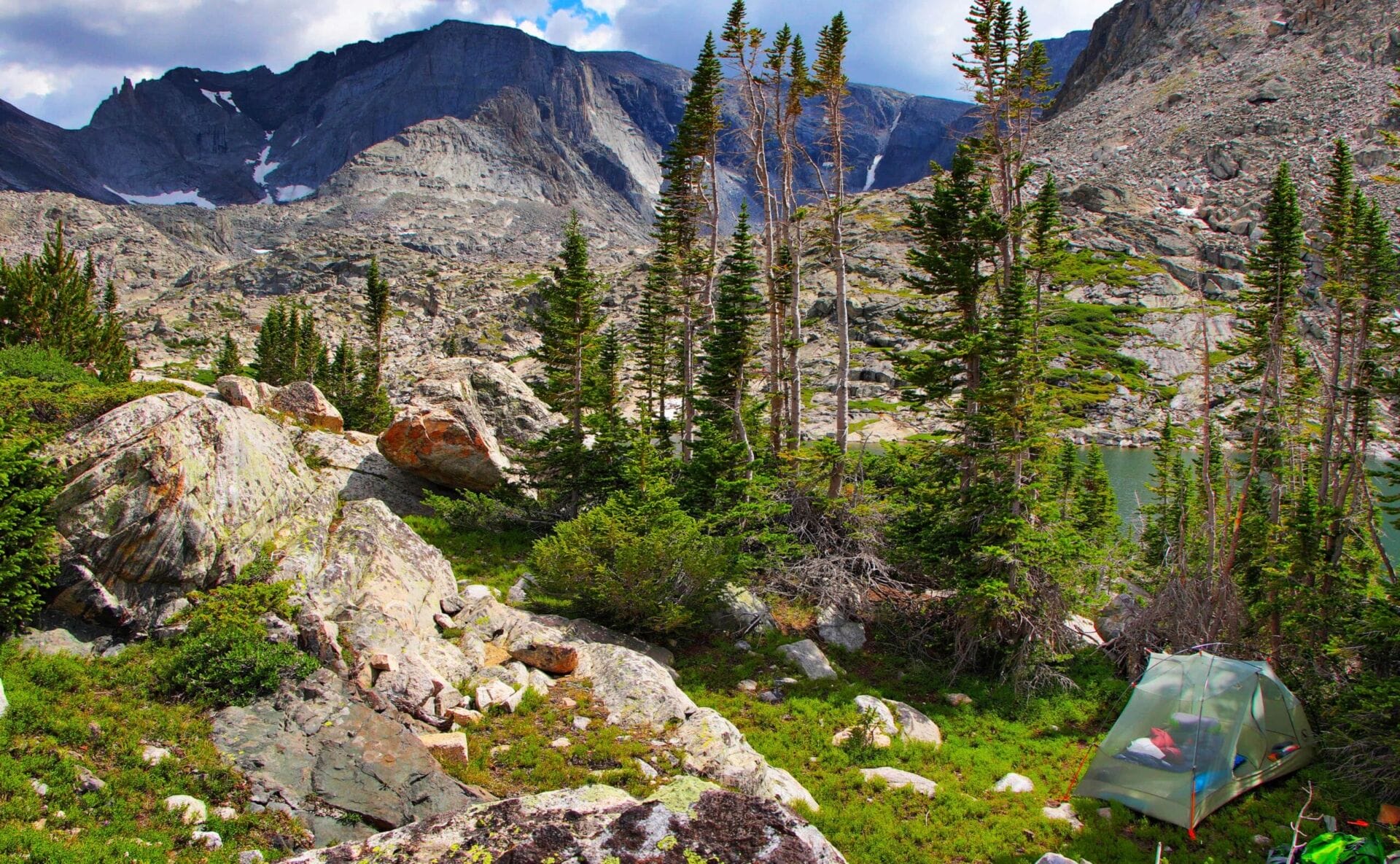 I had the entire dadgum thing up by about 3, water collected, etc., and I made myself some Backpacker's Pantry Mac-N-Cheese, which was not too great. I would eat it again, as I liked some of the cheesy bits, but I was underwhelmed, and dumped in a bucket of salt and pepper so that it had…well, a tiny bit of flavor.
After eating, I felt a little reflexively hypoglycemic, so I settled in my tent and rested for about 20 minutes. It wasn't windy, but the clouds were still present. I left my tent and stored everything to be ready for bad weather, then went down to the lake to fish and go explore the Pouch Lakes cirque. The fishing was still great, and the weather was memorable.
I continued along the north side of the lake, expecting that I might yet find the fisher humans I'd seen earlier, perhaps even at the top of the hill beside me. I didn't, though, and it was quiet. I was the only one in the basin now, and would remain the only person there for my stay. As I skirted the edge of the lake, I realized that it was a bit farther around than I'd thought, as one "crossing" was actually an island. Towards the eastern edge of the lake, it began to rain. I was somewhat concerned, as I had my camera in my bag, but it passed uneventfully in a few minutes, and I quickly dried out. The clouds grew more ominous.
I crossed in between the bottom two lakes very easily and made my way as boulder-free as I could up toward the closest, western lake, which I'll call Lake 10,575. The elevation is not listed on all maps, so I just went with a close Google Earth reading.
The lake itself was gorgeous and even had a place you could camp, which was shocking. I fished there and caught one fish, which was as fat as my friend Sarah Lefor. It was getting a little late, and the clouds looked even worse, so I didn't fish more. Plus, the dumb fish fell down in a hole and it took me a while to rescue him. (He got off the lure by himself, at least.)
To navigate to the next, uppermost of the western lakes, I clambered off to the right in the picture below, and navigated through the dark rock pile, and then up. I don't like crossing boulder-strewn hellscapes like this too much. While crossing, I listened to the Sawbones podcast on medical marijuana, which sure was interesting. Mary Jane was once a celebrated part of some major companies, but what comes into fashion certainly can fall out later.
The boulder hopping got better as I neared what I'll call Lake 10,663, based on my GaiaGPS topo. The wind was insane here, so I did not fish, though I did get some pictures. Below is a gallery of the area!
It was getting later in the day now, so I didn't want to dawdle. My phone was confused as to what time it actually was (as I detail elsewhere, this was during a spell of time where my phone was intermittently "confused" about functions it used to perform without error), but it seemed to be about 7PM, and I wanted to check out the eastern cirque. While I'm rambling, I should note that I have found one government document online (now deleted) that refers to these lakes as "Birthday Lakes." Another document calls nearby Crater Lakes "Fatwoman Lake" and these lakes "Pouch Lakes," and I know of one person who utilizes those terms. Anyway, on the east I'd call them Birthday/Pouch Lakes, and the western hanging lakes Crater/Fatwoman Lakes.
"Pouch" is a shorter term, though, so I've been using it. It would be nice to give them an official designation in memory of someone great, but one of my mother's friends went through the process of naming a mountain "Mount KIAMIA" and it was quite laborious.
I left the highest lake and descended via the "outlet," which really isn't much of an outlet at all, since it all goes under the boulders, which exist seemingly into infinity. The going wasn't the fastest, and there were plenty of spiders making their homes strung between the rocks. Instead of describing the hellishness of the boulders in great detail, I'll present my point of view as I progressed. My synopsis is this: descend to intermediate pond, tack left along it (right has too much loose scree and was steep), then try to climb grassy areas where possible toward the western lakes. Here you go:
In the first picture above, you can see a "grass shadow" below a large boulder, which is present because the boulder prevented other boulders from piling up there. I tried to climb that area, but it's a bit steeper than it looks. There were a few times where I was prominently using my arms to hoist myself up, and to move between areas. It wasn't the fastest place to travel around, though also not dangerous or scary. I felt quite tired at one point, but that faded quickly. The cool weather helped.
Reaching the top of the area at 10,900 feet, the going was easier, with intermittent grassy areas to traverse. I looked down on the western lakes, but decided not to visit them. I'm a content tourist of sorts, and don't like seeing the same areas over and over, so I've taken to "saving" lakes and other features for later if I find myself really liking a particular hike. This gives me a great reason to return, without having my inner man whispering, "But Lucas, you only have so many years upon this earth…why not visit someplace new?"
I saw no trout hitting the top of the lake (labeled 10,770 on my National Geographic map) or of the pond beneath it, but it was once again windy. I did take some pictures of the area, which you can take a gander at.
It was now a quarter 'til 8, so time for me to head back to camp. I didn't have to make dinner, but perhaps I'd wash up and relax. I was about 500 vertical feet above camp, and probably close to a mile of walking, and in this terrain, I knew that it wouldn't be as fast as I'd like, so I started hoofing it. The area descends steeply, so I kept to the west, as the ponds to the east added more distance, while also having some cliff-style, sheer granite. The descent was still quite steep.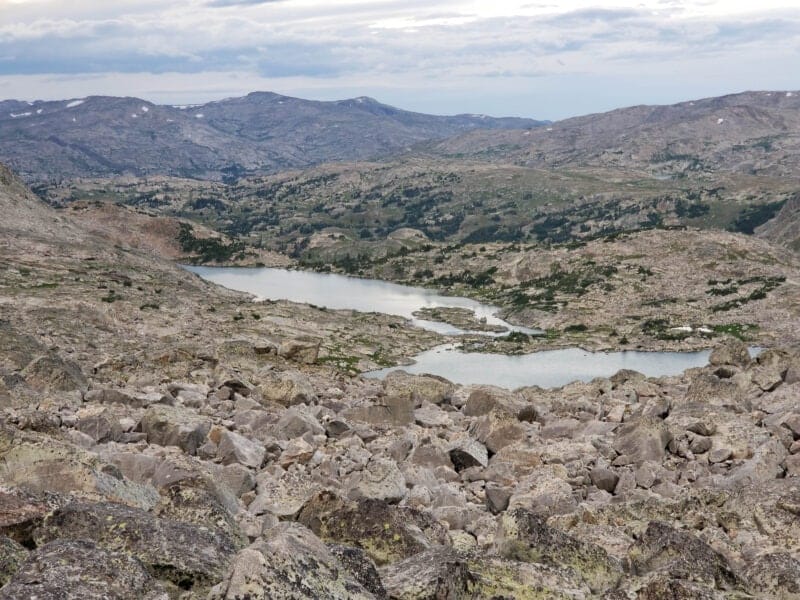 As I got toward the eastern, lower lake, it began to rain, at first fitfully, but then in torrents, until the sky became filled with mist, and the peaks grew faint in the anger of the clouds. I put my poncho on my backpack to keep my camera equipment and down-jacket dry, while I went without such protection. I could have made it work, in a pinch, but I was around half a mile from camp, and just wanted to strip down and snuggle in my tent. My hands grew numb in the wind, and I had to move more slowly, so that I did not slip and fall on the wet rocks.
For a brief moment, the storm abated enough for me to take a picture with my cellphone, but then the pounding, cold rains returned. I tried to stick to the ridge on my way back, so that I could follow the V-slot more directly to camp, but the rocks on the way there were slippery and sloped, so I made my way indirectly.
I arrived back at my tent at 830PM, and there was no sunset as with the previous night. In place of red-hued pastels painting the mountains, water slicked the rocks continually. I was again the only person in the cirque, so I disrobed and hung my sopping wet clothes under a wayward spruce, secreting them away in the hopes that it might clear up overnight. I dried myself off with my towel and watched movies and read once again until far too late at night. 8 minutes before midnight, I realized that I didn't pause my track. Oops!
Day 2 totals: Since my GPS goofed, I had to rebuild a part of the track. An estimated 6.11 miles, +1873/-1515′, moving time of 6.5 hours.
---
⤑ Day 3: Crater Lakes and Loomis Pass
---
I stayed up late, and I woke up late, too, since the morning itself was filled with gloom and rain, and meant that staying in the tent was my best option. My Big Agnes Double Z pad had lost some air during the night—nothing too bad, but enough to let my hip touch the ground. Since I had a double pad, it wasn't the end of the world. I couldn't find an air leak, so I wondered it if was just the cold and time, as I'd inflated the pad at midday.
It had rained a good deal over night, so my clothes outside were soaked. I reluctantly got out of my tent and collected them—I was still the only person in the cirque. Eventually I gathered my gumption and put on the wet things and went outside. It wasn't warm, but I wasn't freezing; for some time I wore just my jacket, which was dry, and let my shirt "dry" in the wind. I also took some pictures of the weather.
I knew that I wanted to go visit Crater Lakes and then try to figure out a way to Loomis Lake, so I set out just before noon with my clothes finally mostly dry. My plan was to go back to the place I'd entered the basin, veer left, and see if I could make my way along the cliffs over to Crater Lakes. From my second day, I'd seen that there might be a way to navigate the granite slabs. If I could, it would mean that I wouldn't have to gain and then lose elevation. I managed it fairly easily, with only one section where I got cliffed out and had to backtrack, but it was very steep, and I won't do it that way next time.
On the way out, I looked toward what I'll call "Loomis Pass," which is the lowest area to traverse to Loomis Lakes, and has marshes listed on the topo maps at the top. I saw a green area that looked like it might be a creek, but the marsh seemed in error. Still, I've found marshes in weirder places, like Goat Flat.
At the top of the mini-pass before the cliffs was a cute little pond with an angry pika. I bypassed both of them and took a panorama of all of the lakes. You can see Crater, too. Some of the cliff sections were steep, so I used a selfie to demonstrate that.
Traversing the cliffs took me about 40 minutes, so I don't know if I saved much time using them. The views were killer, just like a fall could have been. While I'd been auto-dropping satcom pins all day yesterday, I made certain to do one purposeful one on the cliffs, just in case.
I was at Crater Lakes by about a quarter 'til one, and I was the only person in this cirque. It was absolutely gorgeous. A trail descended down by the creek leaving the cirque, but I couldn't see how it looked as far as the climb up. One day I'll take it. There was a hilly, natural dam on the northern side of the lower lake, and it looked like one could find camping spots, if perhaps a bit uphill from the water. On the eastern side of the lake, about midway along it, were some other opportunities. By the outlet were beautiful, flat, green grasses, and the lake itself was filled with lake trout. I spent time catching them as I walked the banks.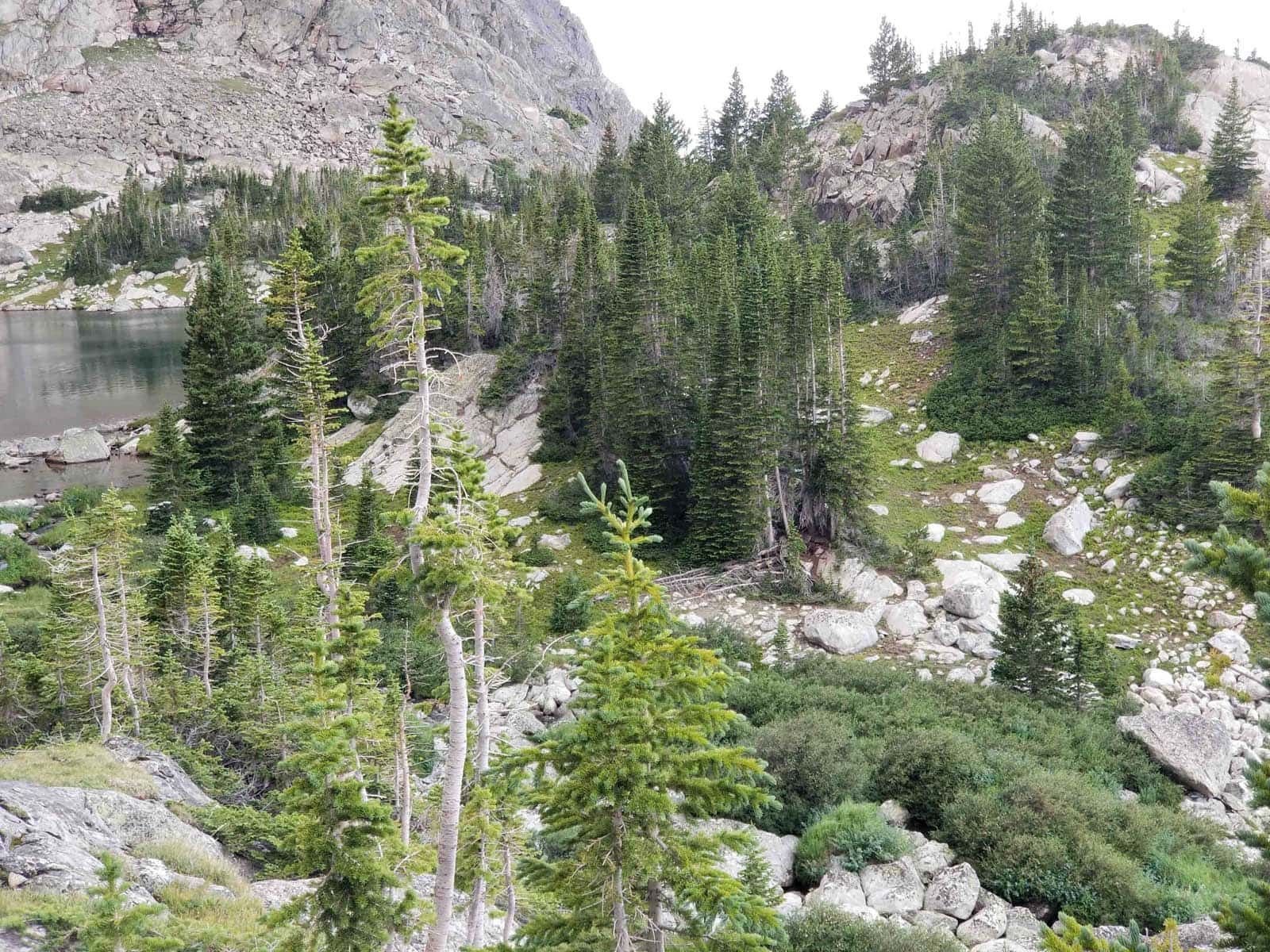 I just couldn't believe how incredible this hike had been! I could spend all summer at the lakes I'd seen so far. More specifically, I could spend about 5-6 days, so in actuality I spent 20 minutes at the lower lake before continuing around the eastern edge, fishing as I went. There is no real path, and the climb to the upper lake is steep. At one point, I had to turn around because the boulders I chose presented an impasse.
Approaching the outlet of the upper lake, you pass over its creek, which is deep under the boulders beneath your feet. I came abruptly to Upper Crater Lake (~10,575′) at 1:40PM. I fished and took pictures for about an hour, but I didn't get any bites, nor did I see any fish in the waters.
Looking at my topo map, I decided to head back over a low spot closer to the spine separating the cirques. The climb up wasn't strenuous, but the grassy ramps gave way to the standard fare of boulder hell. This line gave me a good view of Loomis Pass, but puts you far above the Pouch Lake I was camped by, and the descent back down to camp wasn't quick.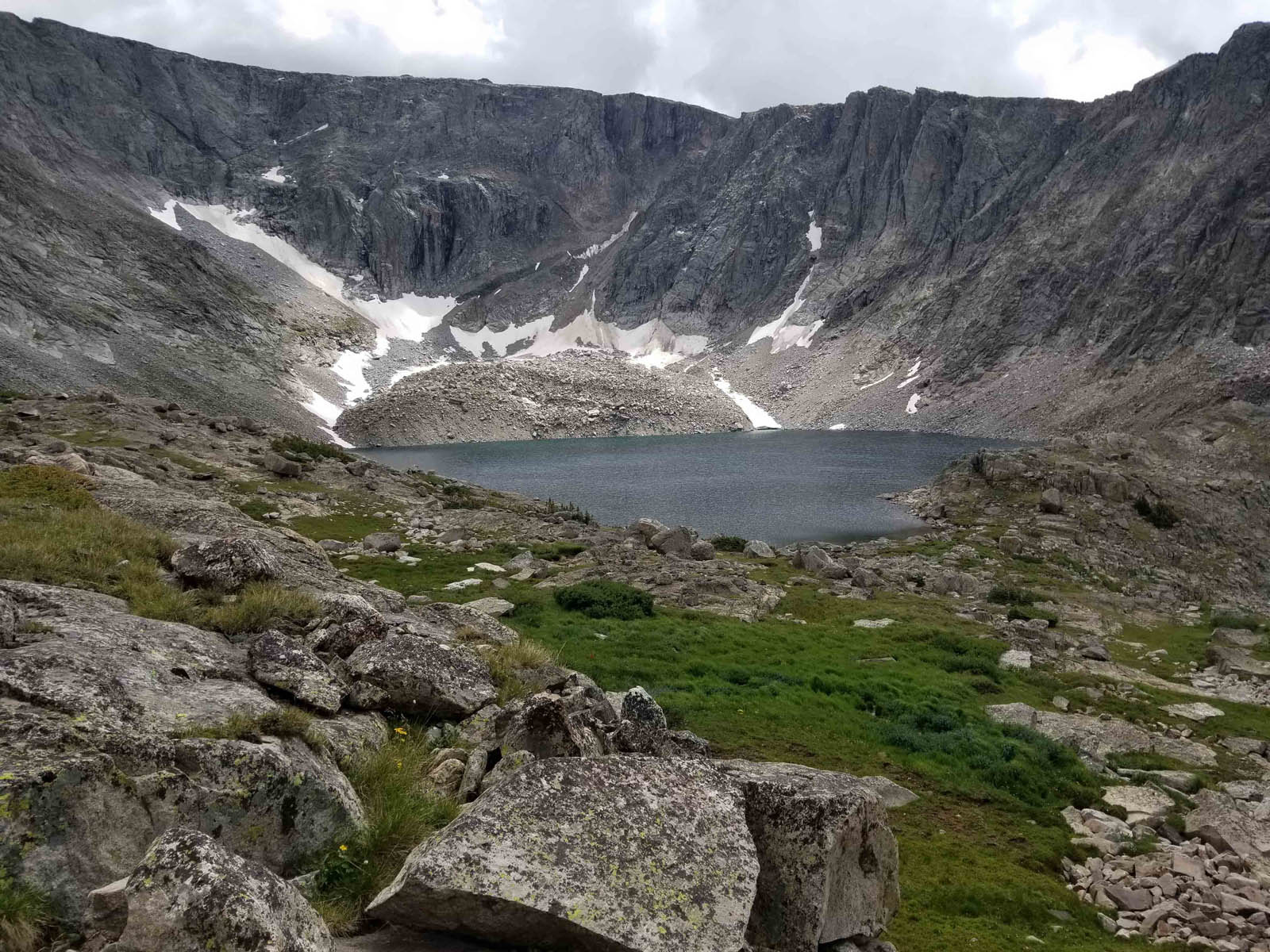 I arrived back at camp and made myself some chicken and rice, which I really liked! It had GREASE on top! Grease! Who doesn't want grease in one's food when out in the great outdoors? I ate at 4:40PM and was packed up at 5:14PM. I figured that I'd head straight to Loomis pass and make my bed there. Hopefully it had marshes so that I could have some water. There was no way that I was going all the way back to Lake Elsa, so instead I headed uphill, then moved north and down the rampy, granite slabs.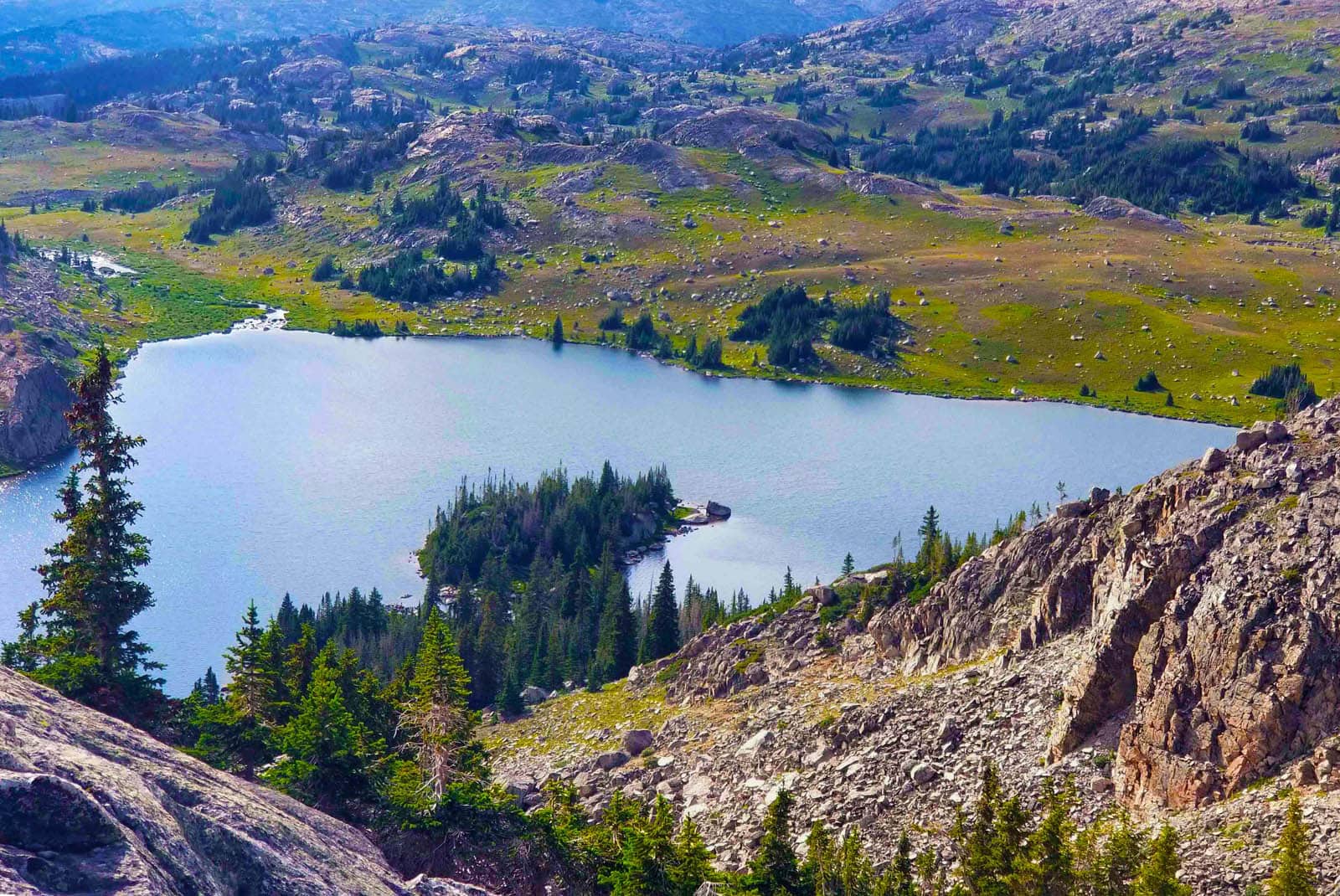 Walking the slabs was much easier than walking over boulders, and this was the most direct method I could find to the marshy pass. Thankfully, I only had to butt-slide a time or two, and the going was quick. I made my way down to the area around the picturesque pond, located around 10,280′. It was a nice little area with a decent outlet creek, but there was no reason to camp there. I continued and made my way across the outlet, then found a small creek coming down the mountain, lending credence to the thought that there was a marsh area at the top of the pass. I filled up my water, drank as much as my heart desired, and began the steep climb. A few places were slow simply because the vegetation was so dense that I couldn't see where my feet were going.
While the hike was steep, I felt pretty good and the climb didn't wind me, so I was able to progress continuously upward and didn't need breaks, though a few times I was slowed significantly while attempting to pick the best line up. The slope started to become gentler starting at 10,800, until I encountered braided creeks at 10,900, so the steep section is about just over 500 feet. At 10,930 I encountered my first pond and saw some gorgeous views back toward trail 060. One of the podcasts I was listening to featured a man giving a shout-out to his lovely wife, who was Peruvian, and who he found very sexy, apparently. I was reminded of a friend of mine who is Peruvian, and a manager at an organization in Wyoming. I think she was also in a motion picture. (See attached.)
At the first point, I stopped to take some pictures, which I've downsized. After putting my camera back in my bag (I hate the hassle of getting it in and out), I then took the north side of what increasingly did indeed become a marshy bunch of springs. Hallelujah. Toward the eastern edge, there are some great, grassy areas to camp. I kept going past that area to see what I could see at the top of the pass.
In the last picture above, you can see that the marsh gives way to dry gravel. I needed to see if there was a way down the other side, anyway, so I took my pack with me and kept going another 500 feet, topping out at 10,975′. I looked over the south side of the pass, but it was a solid, steep snowbank; I'd slide 700 feet to my death on it. The middle section of the pass was all cliffs to inevitable doom, too. Dang it! I finally moseyed over to the north with little hope; I saw another steep snowbank, and a somewhat flat area that I could put my tent on, I supposed. There was a small rivulet of water in that area, but not really enough to do anything with.
It was getting late, and this was promising, so I decided to camp here, where I had water nearby, and maybe I'd find a way down after daybreak the next day. With that resolved, I looked for a place to put my tent. Downhill there was better, if spotty 4G service, which I appreciate—I don't like blasting through my Somewear's satcom allotment if I can get any cell signal with which to text my "safe" messages. Still, at the top there was also a little bit of cell service, and I was closer to better water sources, with less rocks than the eastern side of the pass.
I ended up scurrying around for about 20 minutes before picking a spot to camp. It was windy but my tent is free standing and I could get some good staking in the ground, plus move some boulders to provide a wind-break if needed. I erected my tent in the wind, which wasn't yet too bad.
I fetched water from the north side of marsh, and promptly decided to collect it from the south and east side the next time, as it was too wet for the walking on the north, and I ended up 1000′ from camp before finding a spot that I could access without getting my feet sopping wet. My hands felt like they might freeze right off, too, with the wind beginning to whip by. Thankfully I only had to make one run, and quickly headed back into camp. I had already eaten, so I only snacked as it grew dark out. I also checked on the weather, saving more satcom data. It wasn't the best outlook.
I let everyone know where I was, what I'd be attempting the next day, and how often I'd drop pins. I then fell asleep as the wind buffeted my tent. I slept very well.
Day 3 totals: 3.96 miles, +1676/-1178′, moving time of about 3 hours.
---
⤑ Day 4: Loomis Lake Excursion
---
Morning rolled around and I put my sunscreen on. It dawned on me with a sinking feeling that I'd lost my deodorant. GAH! No. I'd be so stinky and would have to avoid people even more than usual. Even worse, I'd lost my new, waterproof MiFo earbuds and case, which I'd quickly come to love. (Note: the newest version of the MiFos is the series II, which I also now own. I have the noise-canceling Sonys, the Samsung Buds+, and many other earbuds, but the MiFos are my faves by far for hiking.) While thinking about it, I realized that I could have taken them out of my pack the night before while getting pictures. Where had I taken the pictures? Where had I taken them out? Had I taken them out then? It would be like finding a needle in a haystack. I exited my tent filled with first-world distress and began looking through the sea of rocks. God certainly blessed me, because by 0928 I'd found them…and close to my tent! Gotta love having a bright, red deodorant!

I took my toiletries with me and observed the vast land to the east. After I made my way back to my tent, I packed my bag for a day trip and decided to just secure my food to the top of my tent, as I had seen no marmots.
After this was the search for a route down. I looked to the south, but the snow slope was too steep to descend. I tried the cliffs in the middle, but they all became totally vertical. What about the cliffs beside the snow on the south? Could there be a spot there, where I could descend far enough to hop off past the bottom of the snow? The answer was "no." While I found one spot that I started clambering down, it really left me with no "outs" were something to go wrong. Later in the season, it might have been possible to use it, but a snowbank meant that the route I could take became vertical, and I didn't want to chance it.
I explored this, but it went poorly for me.
On the north side of the pass was another snowbank that I couldn't traverse; I started to get anxious that I'd lose a day and have to go the long way around. I had the food for it, of course, but it wasn't a good feeling. Ugh. Thankfully, I recalled the rivulet of water I'd found the previous day, and followed it, leading me to a narrow crack that went down the cliff. Could this be salvific?
Yes! As it turns out, it wasn't too bad. While I couldn't walk down it, I was able to climb down it, and some parts were walkable. There were areas where a fall might incapacitate or kill you—if you were really unlucky—but it wasn't too bad, all things considered. I made my way most of the way down, decided that it was do-able, and then returned to my tent, grabbed my gear, and went down again. The vertical relief of the crack is about 140 feet, so you really aren't in it for long before you're using your hands to lower yourself to dirt and gravel.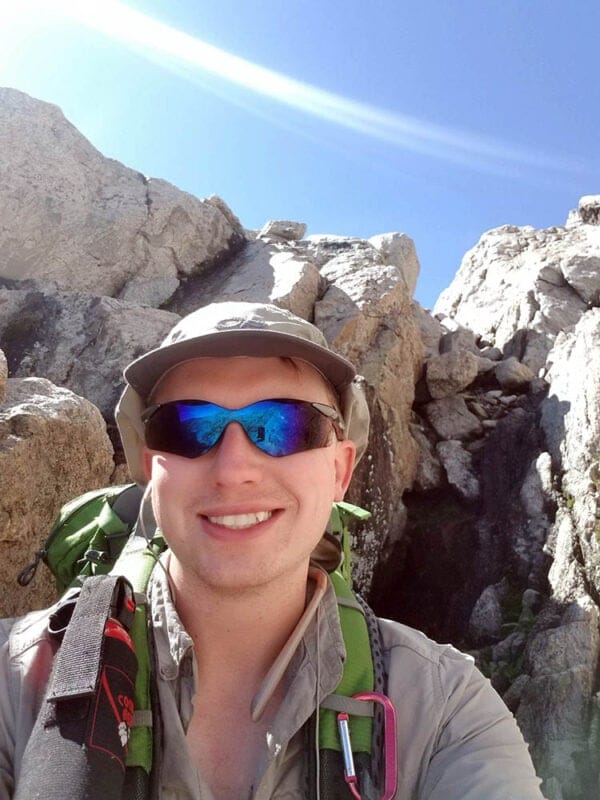 1. A section that you can just walk.
2. Another section that you can just walk.
3. Looking back up at the crack.
About couple of hundred feet of walking led me to the most interesting discovery! A dead elk! Or more precisely, its Euro-mount head! I just used a lot of exclamations as I found it that exciting! I managed to send a picture to some friends; my friend Yue said that I HAD to take it, and I think that she was hoping that I'd give it to her. As it turns out, it costs under $10 to harvest a shed that's attached to a skull. Worth it? Hmmm. I found the rest of the animal's bones another 50 feet down the hill. I wonder how he died?
Oh this poor moose. Oh deer.
There wasn't much time to lose, so from the skull I traversed somewhat downhill and to the south, hoping to avoid losing elevation.
I ended up descending to the trees on the bottom left, then climbing through the boulders on the right, and up the cliffs below the snow more toward the center.
In the photo above, I tacked to the right and tried to follow grassy ramps straight across, rather than angling down towards the trees on the left. This didn't work in my favor, and I was cliffed out, so ended up backtracking. In the end, I traversed down by those trees after all. I stopped once I reached the base of the snowy slopes; notice how the snow actually continues all the way down by the cliffs. Trying to traverse those cliffs was already dangerous; trying to make it across the snow would have made it worse.
From there, I saw an awesome rock, and then entered a hellscape of a boulder field, which I crossed carefully, as some of the boulders were shifty. It was not an area that I would cross early in the day as heating started. Some of the boulders were the size of small houses.
I really wanted that boulder. In the background, the boulder field. Shucks.
My climb through the rocks took me up to 10,700 feet, which was higher than I needed to be. Oops. I descended back to 10,550 and took some pictures of the natural waterslide. I was mesmerized by the beauty, but that sucker would kill you.
I felt really fresh this day, most likely due to the fact that my pace had been so leisurely the entire trip, so I didn't let the sight of the cascade captivate me interminably, and made my way up and over a hill to the south, where I saw the outlet of Loomis Lakes.
Loomis Lakes from a little hill. You can see the outlet ponds, and that the creek is mostly dry, isolating the fish from the lake proper. I went down to the pool on the bottom left, which is featured in the next photo.
It wasn't a crashing creek, but rather running water that appeared to intermittently vanish under rocks; large pools held large trout which were quite hungry, given the competition and their inability to leave. I stopped and fished at two of the pools to great success. I caught some beautiful golden trout!
One of the pools below Loomis Lake. Mostly still, with great fishing. You can see that the creek is meager at this time of year, and the fish are trapped there.
After fishing for an hour, I traveled across rocks and patches of grass to the lower of the Loomis twins. I fished for a while, read a bit, ate some snacks, and listened to some podcasts. Primarily, I'd been listening to kind of a dumb show called "The Greatest Generation," which was an episode-by-episode review of Star Trek: The Next Generation. The hosts had some obsession with Captain Picard's relationship with Wesley, and kept making fun of a different Star Trek podcast called "Mission Log," claiming that it was in the pockets of "Big Rod."
The fishing at Loomis Lakes wasn't great, and it was too windy to switch to flies, so I didn't spend too much time trying at the lower lake. The scenery, though, was GAWJUS!
I kept to the east side of the lake and traversed about 20 feet above it on my way to the second of the two, which helped me avoid clambering over a number of rocks. It only took me about 15 minutes at a leisurely pace to reach the next lake, which was also quite pretty, and also had an outlet which was underground. I didn't see any fish, and again my results were poor.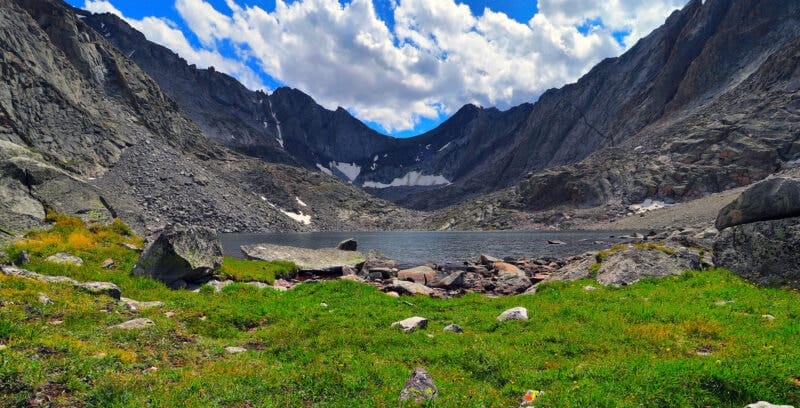 1. A nice place to camp, but windy!
2. There is more of an outlet to the right.
3. I was pretty dang happy!
Since the fishing was bad, I left after only 10 minutes and struck out for Bard Lake. Looking at my topo map, it seemed that I could shoot a low-lying pseudo-saddle and then side-hill to Bard, rather than descending all the way to the drainage and having to pick my way back up, which I very much desired to avoid. I had scoped out the area with my long lens earlier, and it looked like a real crapshoot to climb up. If I could avoid the descent and ascent, I'd take it. Leaving upper Loomis Lake, I looked down upon the lower lake, and proceeded into another hellscape of rocks, climbing steadily uphill. I also listened to an episode of the derided Mission Log, and it was perhaps the worst thing that I've ever heard. The folks there really take themselves seriously, are as dry as the Sahara at midday, and see zebras when they should see only horses.
The little saddle topped out at about 10,700 feet, and the way down to the contour line I hoped to follow is precarious as all get out—the boulder field was the least stable one I'd ever traversed, and I wouldn't go that way again. Worse for me, the odd atmospheric instability of the Cloud Peak Wilderness was beginning to poke it's head above the horizon. In these mountains, I have often observed clouds and storms forming below me, and it looked like this might quickly turn south, if my previous experience was anything to go by.
Rotten clouds starting to form.
The ragged cloud in the center of frame is one I'm quite familiar with in the CPW. It typically whips upward from the valley floor, eventually ensconcing one within a storm.
The general route through the boulder field. It's far worse than it looks.
As I crossed the precipitous boulder field, I had the opportunity to look back on the cliffs near my camp, so I zoomed in to see if there were better ways up or down. There didn't appear to be, though a few routes looked possible. I became convinced that my route was the best, so I'd take it back up. I also saw the elk head again, which I've circled in one of the pictures. Feel free to navigate to the full-size files to see if you think that there is a better way!
I followed grassy ramps along the contour as I approached Bard Lake, noting with trepidation that the cliff was becoming steeper and the ramps narrower; a spatter of rain hit me, too. For the first time of the day, I was getting sweaty; the humidity in the air was increasing rapidly, and it was clinging to my clothes. At 1/3 of a mile from Bard Lake, I became utterly cliffed out—and I was within striking distance! Dang it! I turned around…I'd have to make the descent to the field below, and then cross the worst boulder field in history to get to a cliff near Bard, and then descend the cliff (if I could) down to it.
Where I got cliffed out. In order to traverse this successfully, I'd have to go all the way out of the bottom of the frame, and then pick my way up. It's very rough landscape.
By this time, the clouds had me quite concerned. There was no way that I could make Sawtooth Lakes, and Bard seemed like a poor choice if the weather hit. I reluctantly headed back the way I came, but looked at the best silver lining: I knew how to get to Bard and Sawtooth via the pass I trailblazed, and also knew the topography on the way. I loved this trip so much that I thus didn't feel bad about "saving" the next two sets of lakes for another summer. Heading back, condensation kept fogging my lens. I navigated the cliffs above the fields below, aiming to stay high and descend closer to the cascade, so that I wouldn't duplicate effort.
I followed the grassy path and sweat fogged my lens.
---
The approach to the area of the cascade was quite wet, and I crossed a small creek. As I rounded the corner of the hill, I once again faced fears of being cliffed out, but some slight back-tracking and playing it closer to the cliffs below Loomis provided a nice path to navigate down, after which I entered into another field of boulders. The view beneath the waterfall was gorgeous, but the clouds were really stacking up. I considered crossing the creek at the base in the boulders, but it was too difficult, so I instead followed it downhill, dodging little pools, until I entered into the forest, which was just absolutely beautiful.
The descent down by the cascade, followed by a tromp through the forest and then a creek crossing. Look how beautiful the flowers are!
---
After sitting among the flowers and getting some fluid into me, I assessed which way was the best back to camp. There was no need to follow the natural ascent up the land, since I'd just end up where I came from, nor the need to follow a more low-lying path, as that would add extra walking, leading me to the base of the snowy area that I couldn't traverse down the same morning. Below you can see the route I picked; I only erred once. On my way up, the clouds started really whipping in. I stopped on a grassy opening to take some pictures.
My route down the mountains, across the mountains, and up the mountains.
After taking the picture of the cascade, it began to rain, at first gently, and then worse and worse. I couldn't cover my bag too well, so I hurried as fast as I could up the hill, at times almost jogging. The air was becoming cool, so I was able to move faster, with greater stamina. Ahead of me was a boulder field to navigate on my way back towards the elk's head. The terrain was otherwise quite easily navigable, with elk sign everywhere. It took me 30 minutes to make it from the creek to the elk head, which wasn't too fast, given that it was 1/2 a mile, with an elevation gain of about 700 feet. However, I did spend about 10 minutes stopped taking pictures and videos of the clouds. By the time I reached the elk head, the weather was ominous.
Another boulder field to make it through.
The clouds seemed pissed.
I grabbed the head and decided to lug it up to camp, if I could. It weighed 25-lbs on the dot, and getting it up the cliff was horrendous. Halfway through I was forced to abandon my efforts, as I began to get pelted by hail, which nearly bloodied a lip, and my hands were going stiff from the cold and rain. By the time I reached my tent, I was soaked through. I managed to get under the vestibule as the winds picked up, and got all of my drenched clothes off. I was stuck in the tent for 2.5 hours as the stormed raged, and lightning cracked all around. Not a good scenario, so I watched a movie.
The storm finally subsided, and I made my way outside. Since my clothes were soaked, I wore just my underwear and my down jacket, and put the wet apparel out on a rock to attempt to dry in the wind, which had mostly subside by this point. As you can see, the weather was quite pleasant, and the clouds were receding to the east. Sweet! I made my way down to the crack to retrieve the skull. I also took the time to take pictures of the location of the crevice, since it's somewhat hidden. Pay attention to the clouds in the picture below; the next picture with clouds in that direction was taken only 27 minutes apart.
The clouds cleared up. Carefully note how they look here.
This progression of images shows you how to find the hidden slot.
---
The temperature was mighty pleasant, and apparently the skeeters weren't out, since I didn't get bitten. I made it back down to the skull and started the chore of wrestling it up the slot, while trying not to damage it. As I was climbing up, I looked back east and saw another storm brewing, the same way that the last one had. Man, I needed a dadgum break!
Getting the head up was sure a task. In the last picture, I'm standing with my trophy…as clouds gather overhead. Again.
---
I stowed the elk head by my tent and realized that I was going to be in for one heck of a storm. The clouds were building beneath me and starting to rush up the mountains, and, speaking of clouds, they were piling up above me, too. Great! Storm sandwich. The good news is that I'd have great photos, probably, but on the other hand, well, another lightning storm on an exposed pass isn't my cup of tea.
With my Canon, I got a few shots of the storm down by Buffalo, as well as of my tent. The sun was starting to set, and it was spectacular beyond compare. I also grabbed a shot of the clouds piling up underneath me, then I sat my camera on a rock ledge to film while I took my phone with me to grab water for the night.
1. The storm approaches Kearny Lake Reservoir.
2-4. Sunset at various stages; the contrast of light and dark, of blue and gold was stunning.
5. This time, I took water from the south of the marsh. There were no bugs in the water, and little flowing riffles made it quite easy this time, plus it was only 1/2 the distance.
6. The persistent marshes in late summer. The sky burned alive before giving up its water.
---
I returned to camp as the clouds were starting to reach my camp. My sopping wet clothes were still outside, and I realized that they wouldn't be drying this night, so I reluctantly strung them up inside my tent. It looked like the wind was going to persist for the duration, so perhaps they'd ventilate a little. After taking the picture below, I grabbed my camera and filmed from a couple more locations. As the light faded, my tent became a refuge on a precipice looking into an infinite oblivion. I was in awe at the change of weather, and as the fog overtook the land, thoughts of the 13th Warrior entered my mind.
Featuring one of my Peruvian friend's favorite songs.
Wind whips my tent into a blurred frenzy as the sun burns the mountains in its dying grasp.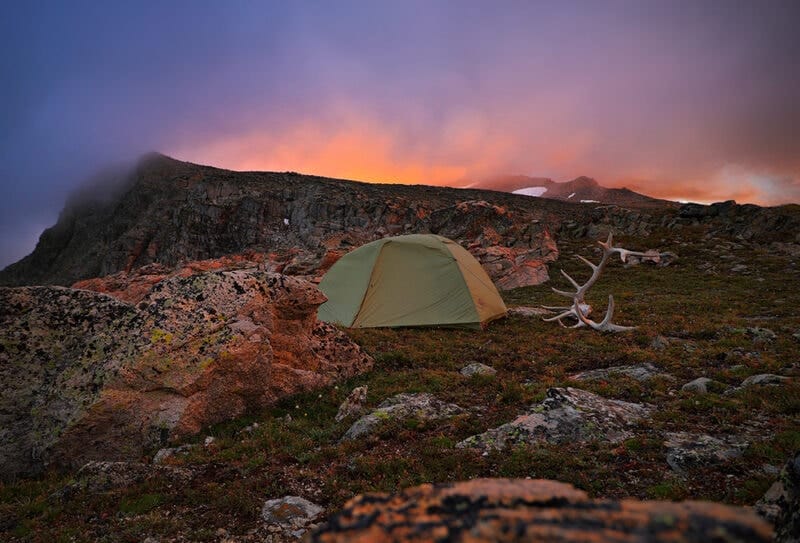 The evening went all 13th Warrior on me after a bit. Prior to that, though, the sun struck the clouds with its dying breath, lighting them on fire.
And then the rain poured forth.
1. A grey abyss.
2. The sun abandons the West.
3. Beware the ancient Wendol.
---
I got back in my tent and snuggled myself away in my cozy sleeping bag as the driving rains arrived. My tent was beaten by the wind all night long, but I slept well enough. My sleeping pad once again lost air, but it wasn't too bad.
Day 4 totals: 3.31 miles, +1543/-1543′, moving time of about 3.5 hours.
---
⤑ Day 5: Rainbow Lake and Geneva Pass Camp
---
This day didn't go as I'd hoped. I woke up and taped my toes and feet, and decided that I'd head back to my car and call it a trip just as soon as the weather improved, as it was a bit nasty out still with the wind. My Peruvian friend Yue had been texting me and had convinced me by this point that I should keep the skull, so I was going to have to deal with that. My paracord would come in handy for strapping the dadgum thing to my pack, but I was going to have to be careful with the weighting of it, because I didn't want to take a tine through my throat if I fell, or to hurt my back by straining stupidly.
The weather finally calmed, so by 10 I was out of the tent. My clothes were kind of dry, but the weather looked like it would have something to say about that! In the panorama, you can zoom in and see the same weather pattern beginning again: storms above, and a storm enveloping the plains and rising up to meet me. My phone said that once again severe thunderstorms were predicted.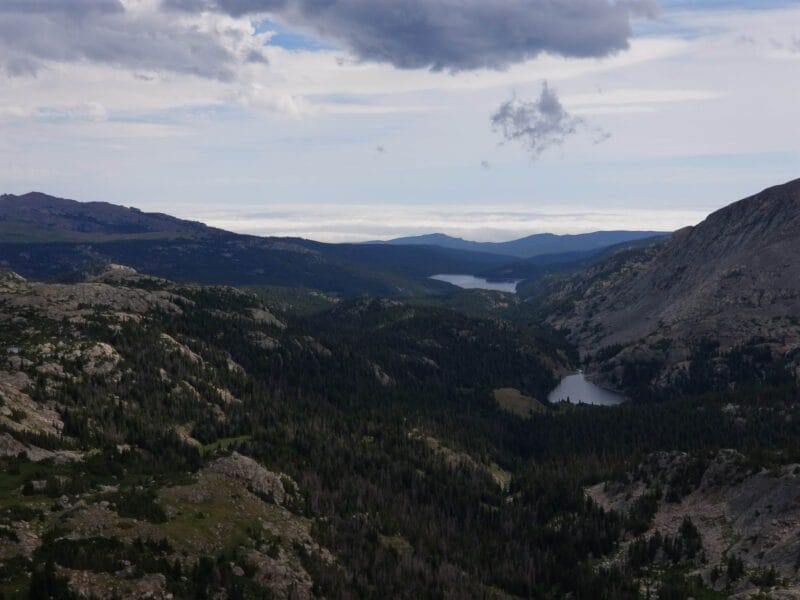 1. Not again.
2. Please not again. (See the overcast sky below me?)
The marsh, the hill on which I camped, and the pass. Oh, and the storms.
I was trying to decide if I should pack up my tent and vamoose as I walked back to my tent. As I approached my little hovel, the sight to the west made the decision for me. NOPE! It looked bad and was getting worse. The obvious choice was to hunker down and have some breakfast and hope that it blew over in a hurry. I could tell that it was going to be wildly windy, so I built up some rocks around my tent from the wind direction. I still had plenty of battery power, too, so I could watch some Star Trek. In the end, even that became difficult as the wind, rain, and thunder got so loud, plus the tent wanted to try and collapse inward at one point, though it held. (I should have staked it better and guyed it with rocks.)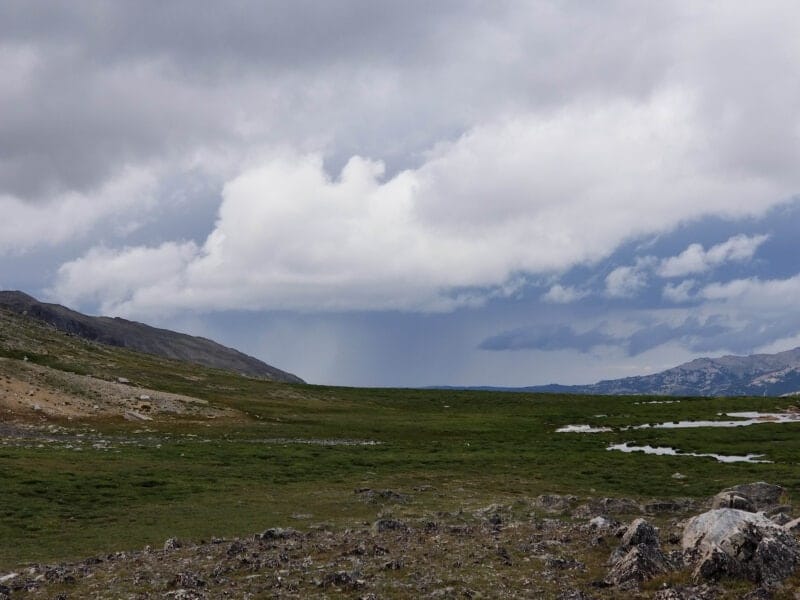 1. Virga to the west.
2. Some fortifications and my charger, still good to go on battery life!
3. Ready to bed back down for a bit.
I was not able to exit my tent until 1:30, which was a massive delay. The rainfly was absolutely soaked, so I set it up to drive in the wind, which was still a real pain in the face. As I took the rainfly off, my foam pad got ripped away; I was very blessed, because it stopped just before going over the cliff, in a eddy behind a big boulder where the wind couldn't get it.
Packing the elk head wasn't as much of a pain as I'd thought that it might be, although my sternum strap broke, which I've had happen once before. I was able to tie it on, but it wasn't as great for support as having an intact strap, and it also made getting the pack on and off much harder. The good news was that, through rolling my foam pad underneath the skull, it had some support to rest on. The tines went forward in front of me, which helped provide a counterbalance, and by strapping my bedding to my chest, I was able to further balance the weight, so that it went straight down to my hips. It wasn't really that uncomfy, but it was awkward. I didn't experience any pain! Unfortunately, to add to the insult of my broken strap, I lost an eartip to my Samsung Level-U Pros, and they developed a further crack near the mic. I had already glued them and leuko-taped them together, so labeled as they might be for vigorous sports usage, it seemed they were not up to the abuse I could throw at them.
The question of how to get back to my Jeep was already settled in my mind—I'd side-hill as much as I could north and west toward Rainbow Lake, and then take the low-lying, off-trail areas back toward Geneva Pass. That would save me a whole lot of descent and let me see some new places. I hoped that the hill wouldn't be too bouldery, but it had seemed passable earlier in the trip. My worry was that I might catch the tines and fall, injuring myself or destroying the skull or my skull.
As I proceeded along the hillside north of the marsh, I had to gain a little bit of elevation in order to avoid some rocks that might trip me up; ironically, I almost biffed it in an area that was gravel and dirt on a slope, due to the extra weight. Hardest for me was the size of the steps I could take. I couldn't change elevation much in a step or the antlers would impact the ground. The views, at least, were quite nice. I saw Cliff Lake from a different angle as Rainbow came into view. There were numerous little water bodies in and around Rainbow.
Birthday/Pouch, Cliff, Sheepherder, Eunice, and Rainbow Lakes. Rainbow Lake is very turquoise.
---
Thankfully, I managed to tack mostly on grass down toward the lake. There were no signs of human wanderings in the area, which was typical for the areas. Unfortunately, there were a couple of creek crossings, too, which weren't bad, but one of which I had to pick a way around. I found out that I really didn't like taking the pack off, oddly enough, or stopping. It was much easier to leave the dumb thing on. Soon I came to Rainbow Lake, and stuck to its south end.
1. A little path, but no signs of humans using it.
2. Rainbow Lake. No one there except me.
---
Rainbow Lake wasn't that pretty, but I liked the glacial milk look it had. While I didn't fish, I saw plenty of brookies swimming around in it. In the picture above, you can see a notch toward the end of the lake. The notch goes uphill a bit and has a few ponds, then cuts right…and has an outlet that way, too. How odd. I followed that route and saw an old footprint in the mud, so someone else had followed this same route. It was a pretty little ramble; if you don't feel like seeing my GPX/KML route again, I've provided a map below, and some more pictures of the walk.
1. Leaving Rainbow Lake.
2. One of the little ponds along the way.
3. A beautiful view from the uppermost pond.
---
The uppermost pond had a rock ledge that was hard for me to navigate, which is in the last picture above, in the foreground. From the last pond, I walked downhill to another pond, then followed a creek down to what was effectively a small lake. At the small lake, I kept right; going left would have taken me back toward Trail 060, and out of my way. I was hoping to keep to the 10,400 line.
1. From the upper pond, I descended to another pond. Ponds, ponds, ponds.
2-4. Mosey on down the creek and keep right past the lake, y'all!
---
When I went right past the lake, there was a small uphill gradient, and then I came down to a marsh area with a braided creek, which I had to cross. Finding a spot to cross without getting wet wasn't the easiest, and once on the other side, I had to decide if I wanted to sidehill to the southwest or try to go steeply up a hill to the 10,400 line exactly. I decided to climb up a bit and see how things looked. The hill flattened a bit after a while, and from there I wanted to keep to the south, but it became all rock ledges and boulders, so I headed back and up a very steep hill to a low-lying point. It was very hard to do, especially when I had to climb through slippery grasses. I felt incredibly tired, but that was probably just because I was being an indolent creature. I did get to see the giant rock stripe and a hidden lake, though.