Review: 2 Weeks in the Best Country on Earth—Fiji!
Review: 2 Weeks in the Best Country on Earth—Fiji!
Reading Time:
70
minutes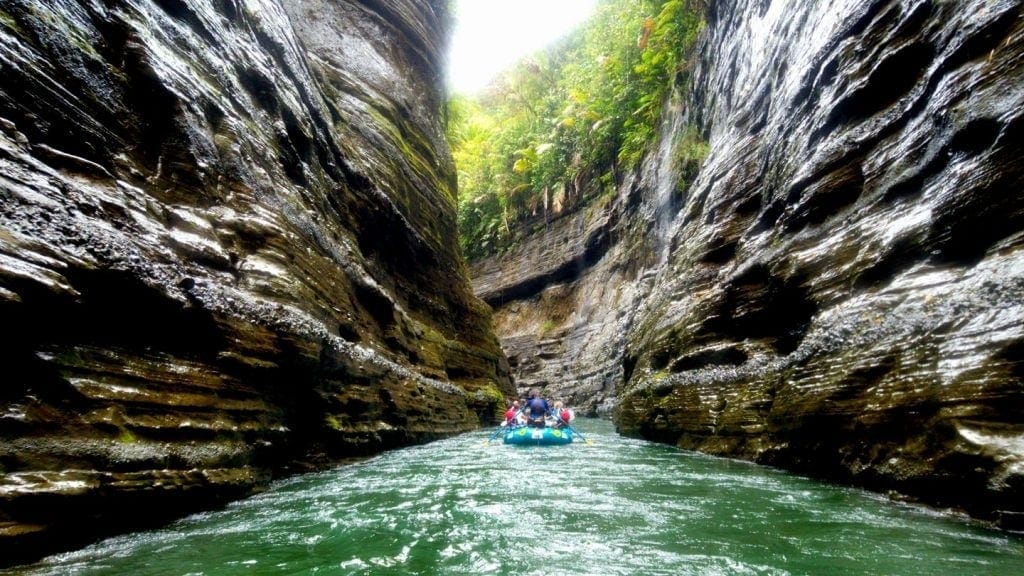 ---
---
➻ Quick Facts
---
We went to Fiji, so I wanted to share just how wonderful it was! The places we visited, the people we met, and the things that we did. Kristi has also contributed some of her thoughts, which you'll find in quote blocks. As an overview, briefly, we stayed at the following resorts/Airbnbs in Fiji:
de Vos, the Private Residence (4/5 room, 5/5 staff, 5/5 activities )
Maui Bay "The View" Adult Villas (5/5 room, ?/5 staff; it was a weird stay, 5/5 things to do)
Tambua Sands Resort (2/5 room due to simplicity and lack of AC/internet, 4/5 staff, 2/5 activities, but excellent landscaping)
Dreamview Villas (8/5 room, 5/5 staff, 2/5 activities, though nearby resort can be utilized)
The Fiji Orchid (Raymond Burr's old place) (5/5 room, 5/5 staff, 1/5 activities, but excellent overnight stay on way to the airport)
And we engaged in the following activities:
1.) Natadola Beach
2.) Kayaking and snorkeling at de Vos.
3.) Rafting the Navua River.
4.) Going to Monuriki Island where Castaway was filmed. (Note: this is different than an actual island called "Castaway Island.")
5.) Visited RakiRaki.
6.) Snorkeled near Wananavu. 
7.) Visited Nananu-i-ra Island.
8.) Went fishing near the Bligh Waters. 
And here is a picture of the overview of the trip: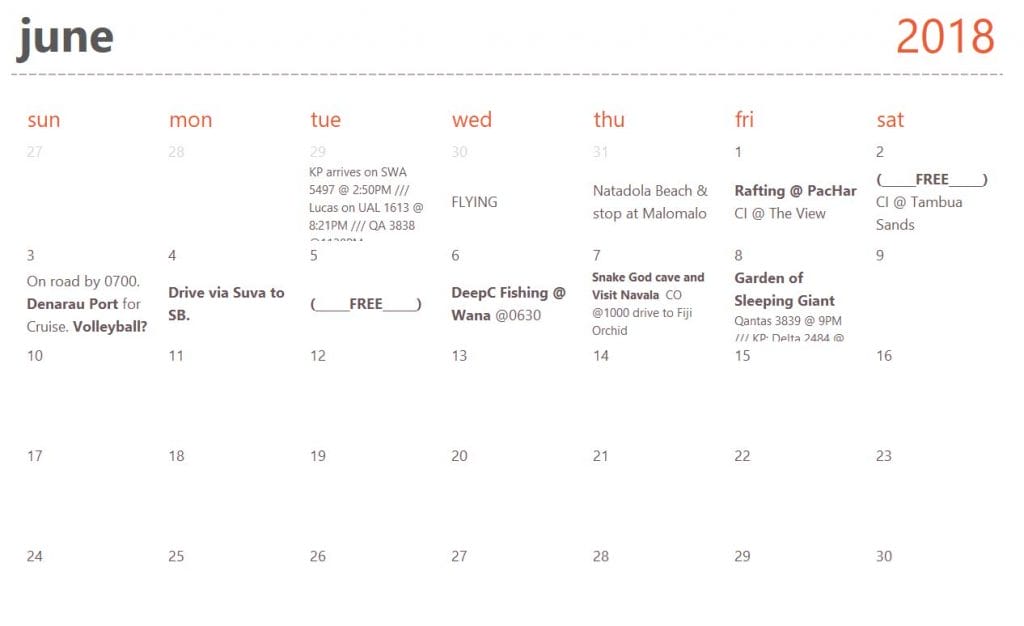 ---
⤷ Introduction: Dreamin' of Fiji
---
After I went to St. Lucia, Martinique, and Trinidad & Tobago in December, I immediately started planning where I'd go on my next "leave annual" slot, and quickly happened upon Fiji or Tahiti as likely places. After some thinking, I chose Fiji, as it was largely regarded as much friendlier than Tahiti, and also far cheaper. Furthermore, my mom, sister, and Kristi were going to be accompanying me, so cheaper was better all around.

My first-bid leave was locked in the low-seniority position of the last week of May and first week of June, so I began looking for flights. We'd all be flying from different areas, and prices were looking somewhat steep, so I decided to play around with the tickets to see how I could finagle a lower price. The first thought I had ended up being the correct one: splitting up all flights so that each segment was on a different airline. It was also much cheaper to buy under the Qantas name than it was under Fiji Airways' own branding, despite it being the same flight. I'll give you an example of my itinerary:
All on one ticket: $2600.
Splitting them up: DEN-LAX on United: $125+ —>LAX-NAN-LAX on Fiji Airways: $1500
LAX-NAN-LAX on Qantas operated by Fiji (same flights): $750.
LAX-DEN on Southwest: $124. 
Using the Qantas total: $999 total from DEN to NAN and back. 

I chose this booking as the times worked and it got me some nice airplanes: 772, A333, A332, 737-700. Well, mostly nice airplanes. I'd never been on the A33X series before, either, and of course I'd never been on Fiji Airways, but after flying international on United, I figured that it couldn't be that bad. Weirdly, booking through cheapoair was in fact by far cheaper than Qantas or Fiji, though they do try to scam you a little with a couple of calls afterward. Bizarre. Keep in mind that you can lose a lot of money if you're not careful when booking through such outfits…do so at your own risk.

Next was booking excursions and hotels. As it turned out, excursions were pretty cheap and Airbnb/VRBO were not bad, and in fact far cheaper than resorts and hotels of similar quality. In fact, Airbnb is probably the way I'll go for most of my bookings from now on. I'll be adding in plenty of details about each stay and major activity. First, though, the flights to get there.
---
• Tuesday, May 29th: Getting to Fiji
---
Flight 1: UAL1613
B772 DEN-LAX
Duration: 1853-2003/ 2h10m / 876 miles.
Altitude: 36,000
Seats: Yep.
May 29th rolled around and I drove to 61st and Pena station in Denver, then grabbed the A-train straight to the heart of the Denver airport. With a non-retried/civ CAC the trip is free. Talked to one of the LEOs on the train who had also worked out of Cheyenne in the military and was currently pursuing a degree in teaching history, which was his real passion. Very nice guy and he told me all about how the A-train security works. He liked the job enough and it was helping him pay for his education.

I arrived at the terminal and took the escalator up past security, then the next escalator up to check-in. United now has you do all the check-in yourself, including tagging your own bags, though the process was not as smooth as I think they've been hoping it'd be. They had a horde of employees trying to guide people to the correct places to go and what to do, and with one exception, these employees were not friendly, bordering on actively hostile. One verbal transaction went as such:

"Is LAX the final destination for this bag?""Yeah, but then I'm taking in on to Fiji!""I don't care where it goes after it leaves United, sir, I only need to know if we are only sending it to LAX."

That's service on United!

Military not on orders gets two free bags checked in, and as I was also carrying a bunch of stuff for Kristi, who was flying out of Kansas City, I used this advantage. The weight limit is about 20-lbs more/bag than standard limits, too, so big props to United for that. That's service on United!
Next was dumping the bags off, and here the UA employee was VERY nice and funny, seemingly amused by the mass of chaos, as well as by my odd last name. He asked me if I was only lugging my two bags to LAX, as he noticed some of my previous stickers (St. Lucia, etc.) on my bags, and when I said no, he asked where I was going. I told him, and he then wanted to chat about his own plans to go there, as like me, he'd noticed how cheap it was. So cool! That's service on United!

I then took my shoulder bag on down to Pre-Check, and I have to ask how people survived without it. The Pre-Check people had me remove my belt and go through additional screening, as well as two guys right behind me, so it wasn't that fast this time. As usual, I told the TSA dude, "Man, you just touch me wherever you gotta touch me and go to town." As usual, this was not received with any friendliness.

That out of the way, it was down to the train and off to the B concourse. The flight was entirely full and they were asking for volunteers check overhead luggage. After a few minutes, I volunteered, and as it turned out, I was the only person on the entire 777 who was willing to do this. SCORE! The gate agent told me to go ahead and board since I was so dang accommodating. (She also loved my last name, which helped, and I am sure my young face.) As such, I was the first passenger on the plane. That's service on United!

For this flight, I'd chosen a seat in front of an exit row, and near the galley. The normal setup seems to be 3-4-3 configuration on this sort of 772, which I think is only for domestic flights, but my seat was 2-0-2. I chose the window seat and the mid-ship flight attendant asked me if I wanted to take any pictures before everyone got on, as it was "such a big plane." He explained that he goes on all sorts of different planes and so sometimes gets their various features confused. Interesting little tidbit.
Soon the first class people had boarded, and then the Great Unwashed came back to join me. The process seemed to work well enough, though apparently everyone was assigned a screaming baby to hold upon check-in. Luckily, I had my Sony MDR1000X noise-canceling headphones with me, which work a little better than the newest offering from Bose.

We pushed back expeditiously and went quickly to the sourthern, west-departure runway. Listening to liveATC, we were cleared for takeoff about 80 seconds before actually arriving at the hold-short lines, and a number of other airplanes waited on us to pass before entering the queue. Not sure what that was about.


Departure was more-of-less straight out and without any turbulence.

The economy seats on the 772 have no screens, but instead a weird holder for your phone. It doesn't work that well, at least on a Samsung Note 8, but they also have their inflight-entertainment intranet, which makes you want to use the dumb holder. As the lighting conditions weren't the best, I made use of the IFE options and watched something with Andy from the Office for a bit. It wasn't very good, by which I mean loathsome.
Inflight internet would have cost me $7.99 for this flight, so I passed on that. The snack service had offerings for pay and for free. I have noticed sometimes that if you pay, you get a whole can of soda, but if you don't, you get only the little cup. As I was hungry, I did the salami snack box, which is actually OK. It was cheaper than getting something at the airport in LAX, and I was also not sure how much time I'd have upon check-in. My neighbor didn't want a snack or a drink, so the flight attendant from before gave me his drink and his snack, too. Three snacks and three drinks! That's service on United! Anyway, the salami is tasty, and I ate it up, then watched pre-downloaded Netflix on my phone.

Looking out the window, I realized that we were over the southern part of the Grand Canyon, getting near LAS, and I verified this with the in-flight map. There's some airport on the rims to the south of the Canyon, though I don't remember it's name, or really much other than the fact that it's near the Peach Springs VOR.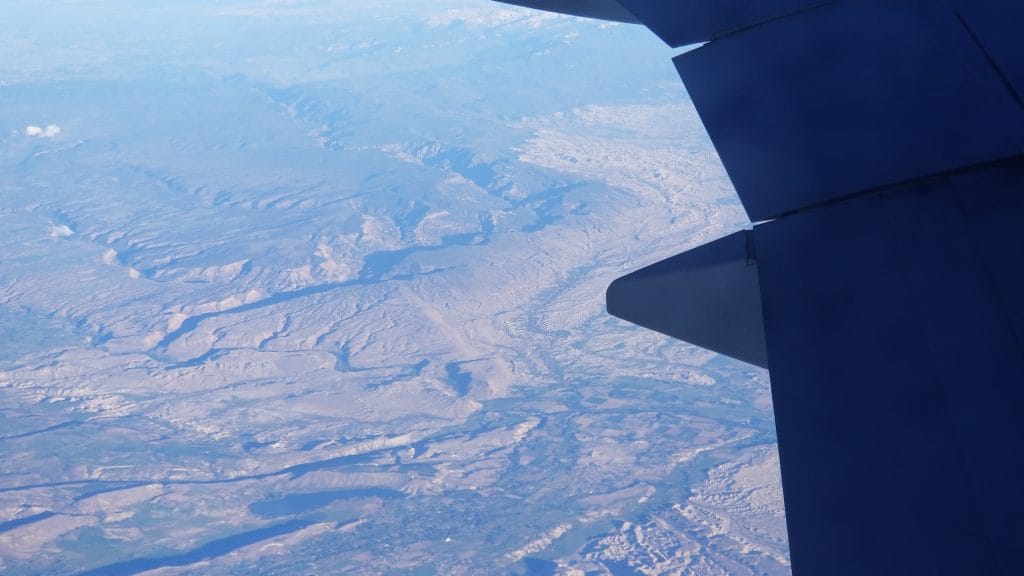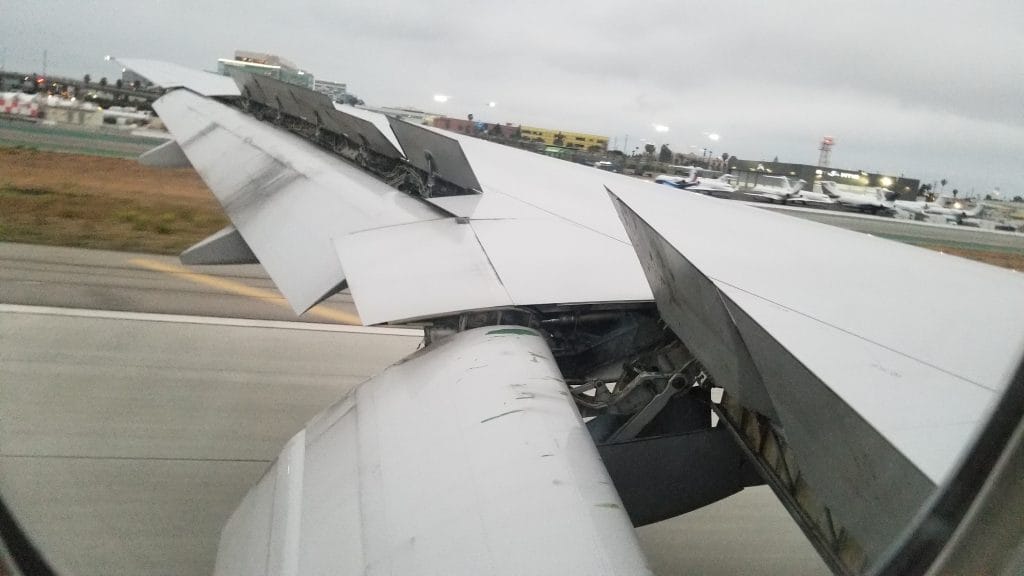 Around 60 miles out, we started our descent, which ended up with an approach that was basically straight in to one of the southern runways. We descended into clouds which remained as a marginal VFR ceiling, and went on to become an IFR deck as the night progressed. Touchdown was not as smooth as I'm accustomed to, and it knocked my phone out of my hands.

We taxied for about 10 minutes all the way back to the United stands and deplaned. Shockingly, deplaning was lightning-fast, at least for me at mid-cabin.
Flight 2: Fiji 811/Qantas 3838
A333 LAX-NAN
29-31 May
Duration: 2354-0610/11h16m (+1 Day, 48 minutes late)/ 5616 miles. 
Altitude: 34,000, step climb to 36,000, then 38,000
Seats: 40A and B

Now a weird note. My mom and sister had departed SLC an hour before I departed DEN, and had texted me when they left, being pretty happy that they were not going to be stressed about their connection time. They were going to be in much sooner, so I texted them as I was walking to baggage claim, as they were flying on Delta which was a bit closer to Thomas Bradley International Terminal (TBIT). When I got to baggage claim, I texted them and asked if they were at TBIT and checked in yet. Turns out that they'd just landed and were not off the runway yet. Ha! How does that happen?

Ugh. The shape of LAX. What a terrible, terrible airport to have to transit between airlines. I easily beat my folks to their bags and claimed them, then we met up and elected to simply walk to the TBIT. (The information guy said that it would be a lot faster for us.) My girl was already checked in, and told me that we should check in at Fiji, not Qantas. I did know that, but I guess I forgot to relay this. Poor Kristi had arrived at 2-3PM, so her wait was very long, but she didn't have as many options in departures.


I went to the Fiji counter and was welcomed with the awesome "Bula!" that they are known for. She looked at my ID and said, "Oh, I checked in your girlfriend! She is so nice." I went on to note that the same people who worked at the counter were somewhat cross-utilized, and, later on, getting back to the states, that the exact same people were working then, too. I'd say that Fiji's operation in LAX isn't big, but it is friendly and efficient.

Fiji lets you check multiple bags, which we did, and then it was on up the escalator to security. LAX is painless in that regard, and we were through in a flash. The walk to Fiji's bus stand is also not that bad, though the remote-stand waiting area is trashy and looks a bit third-world. We met up with Kristi and got a drink.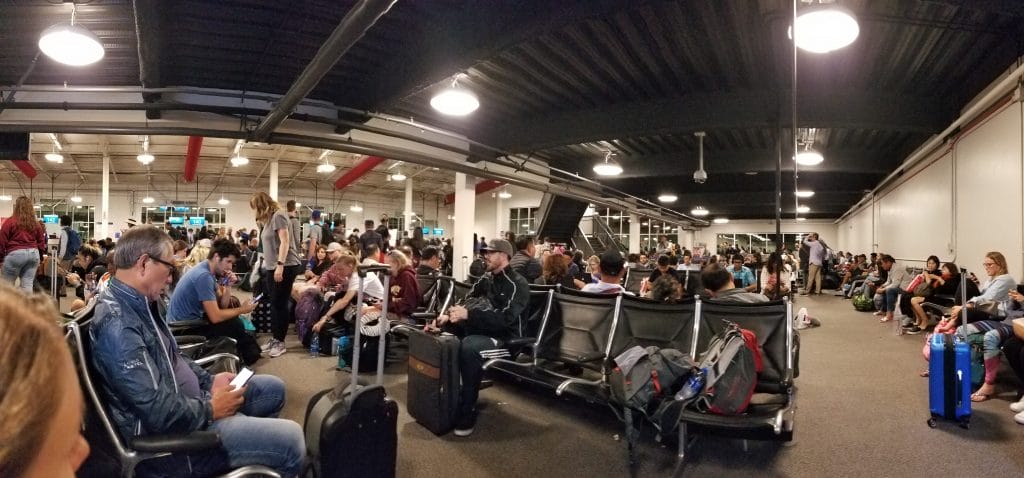 Within an hour we were getting on the bus to head to the Airbus. We then got to walk past the plane when going to the remote gate, which was one of the permanent types with the enclosed ramp. Up the ramp and onto the plane—bula! The flight attendants were incredibly cheerful.


Kristi and I took our seats as everyone packed in on this 100%-full flight. Fiji has 3 A332s and 1 A333, and this was their A333, staffed by all native Fijian flight attendants (In this case, "real" Fijians/Melanesians and not any of the "imported Indians," which is a historical reference given the off nature of slavery on the island). I should mention a few weird facts about this booking before I forget.


As above, I booked through cheapoair. Half scam, but the best price. I also booked the Qantas codeshare (note: FJ just joined Oneworld as a Connect partner, so that's good for a lot of folks), and was scared that I would not get to pick our seats. As it turns out, the site claimed that we couldn't change seats, but by logging on to Qantas, I found out that I could. (Even though it gave me an error each time saying that it wasn't possible.) My family booked through Kayak on the Fiji ticket and couldn't based on the fare rule. I told them to call Fiji directly, and, just like every other experience in Fiji, the agents were totally happy to help, free of charge. Anyway, we all got out seats. This is better than experiences I've had with United, American, Swiss, British, etc.

Back in the real world, their A333 has an extra econ section called the "quiet zone" which allegedly can't be booked in advance. I found out that I at least could book it, but I just didn't want to be up there.

The seats have 32″ pitch, 7.5″ recline, in-seat video with 10.6" monitors, in-seat USB power and entertainment on demand, and also 110V power plugs. Our middle arm rest seemed to be broken, but Kristi somehow fixed it during the middle of the flight. I found the seating to have a lot more room than the BA777 I was on a few months before, and way more than the UA777, albeit the UA was in domestic config. The seats were also clean, which I appreciated. At full recline, I was able to not have my toes of shins touching anything…so that's pretty cool!

While the flight was 100% full with 313 pax, the overhead bins were not used much! Maybe this was because many of the passengers were Fijians, which I also found surprising. One had VERY stinky feet, and I wanted to defenstrate him. Put your shoes on, you nasty old man. We already had pillows and a blanket, which were just ok, and of course got a toothbrush and toothpaste. I did like the designs.
Despite being full, we pushed back on time and made our way all the way to to opposite side of the airport to take the active, only waiting on two Delta 737s to hustle before us. The Aussie captain mentioned only that "the weather in Nadi is…fine."

Departure was straight West and we were in the clouds almost instantly, gradually climbing above them. About 30 minutes after takeoff the meal service began, and the way it works in the rear econ is kind of odd. A drink service happens starting on the left side of the plane and moving backward, followed by a second drink service, and in between someone took our meal choices. The same service then starts in the back of the right side and moves forward. Seemed unusual to me.

Regardless, I selected the chicken, though the two other options were beef and vegetarian. The meal was DELICIOUS, which surprised me. I ate all the sauce from the chicken, and even the mashed potatoes were well seasoned, along with the vegetables. Included in the meal were a chocolate moose, cheese, crackers, bread, etc. Kristi had the same, so I can't say what the other meals were like.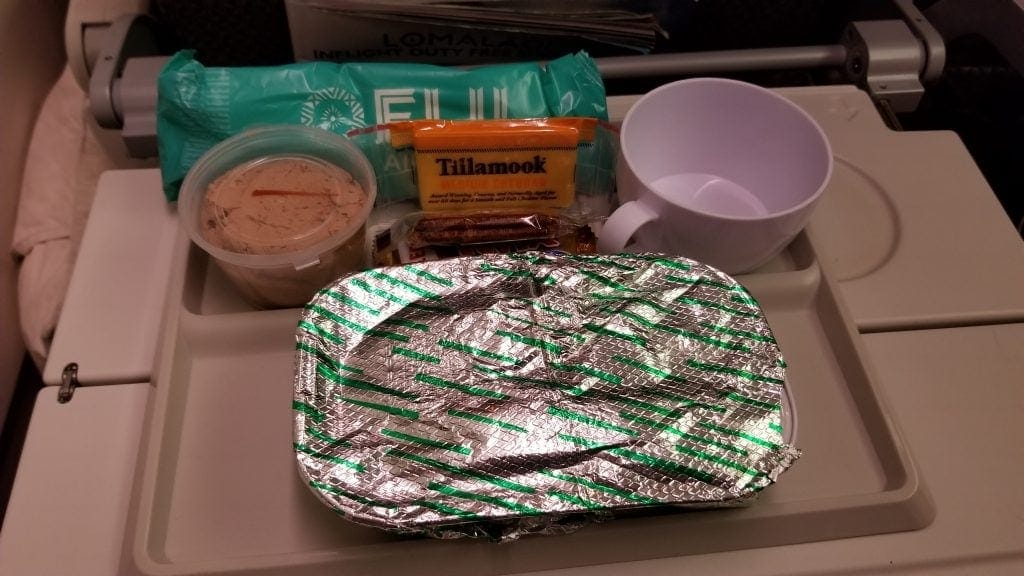 The meal was cleaned up promptly and then a night-time tea service began, along with another alcohol run. (The flight attendants kept reminding everyone that all drinks were free, which was charming.) We took hot teas, because who wants coffee so late, and the weirdest thing happened. As the flight attendants moved away, the second attendant looked at our cups of tea, saw that mine was, well, tea, and exclaimed, "I'm so sorry sir!" She then proceeded to dump milk in my tea only. I don't normally take milk as I'm becoming lactose intolerant, but it was a cute thing. I then selected Fiji Rum, which I will admit nearly knocked me out. Turns out it was 58% ABV and they gave me nearly a whole cup of it. Crap.
While I didn't use the IFE much, the screens were clean, as were the controllers. The system worked smoothly and had a wide selection of movies and sitcoms, with about a 2:1 average of Holly-to-Bollywood. There were also some games that I observed plenty of kids playing quite happily.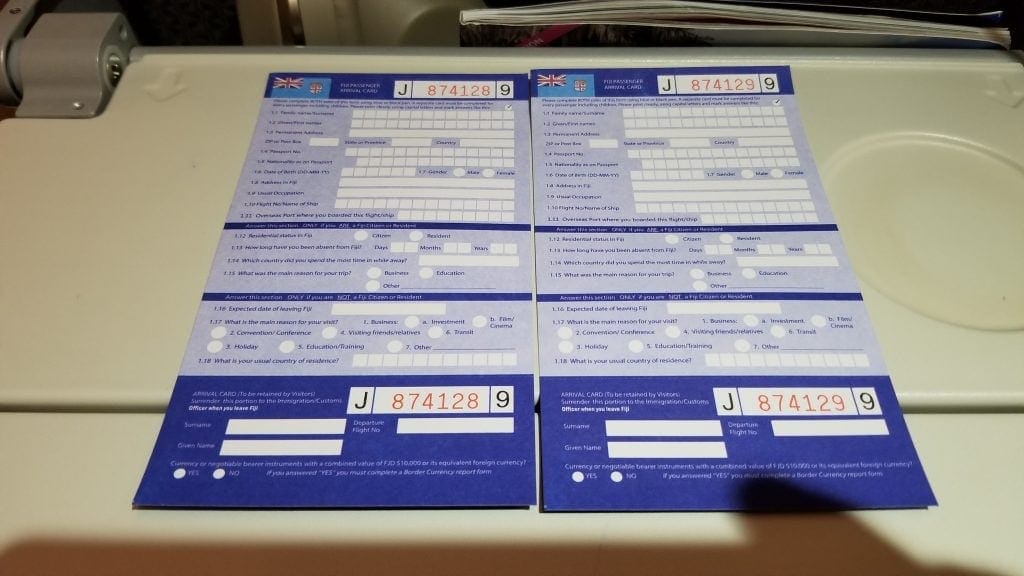 After changing into my pajamas in the one rear lav and bushing my teeth, I went and made our "beds." While Kristi couldn't sleep, I conked out until immediately. There was very little turbulence, and I didn't wake up until approximately 1 hour and 45 minutes before landing, after towelettes had already been passed. This was fine by me, as breakfast service was well underway. I used the wait time to go and change into my arrival clothes, then filled out the immigration card that had been handed out.

Breakfast was typical and thankfully not greasy, consisting of some cheese/egg/squash concoction, which was great, and some chicken sausages, which I didn't care for, and will never care for. Blech. The Fijians seemed to like them, though.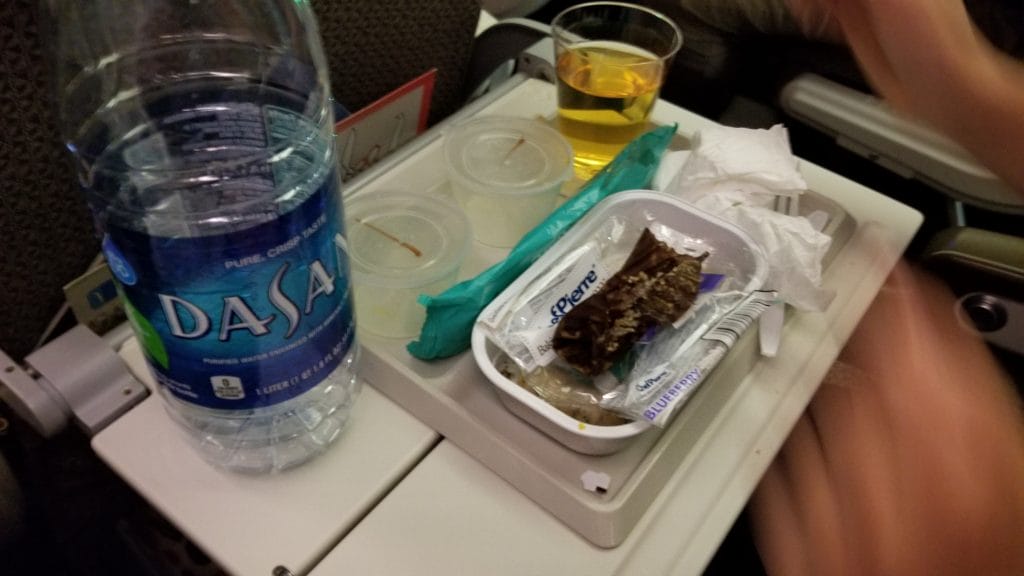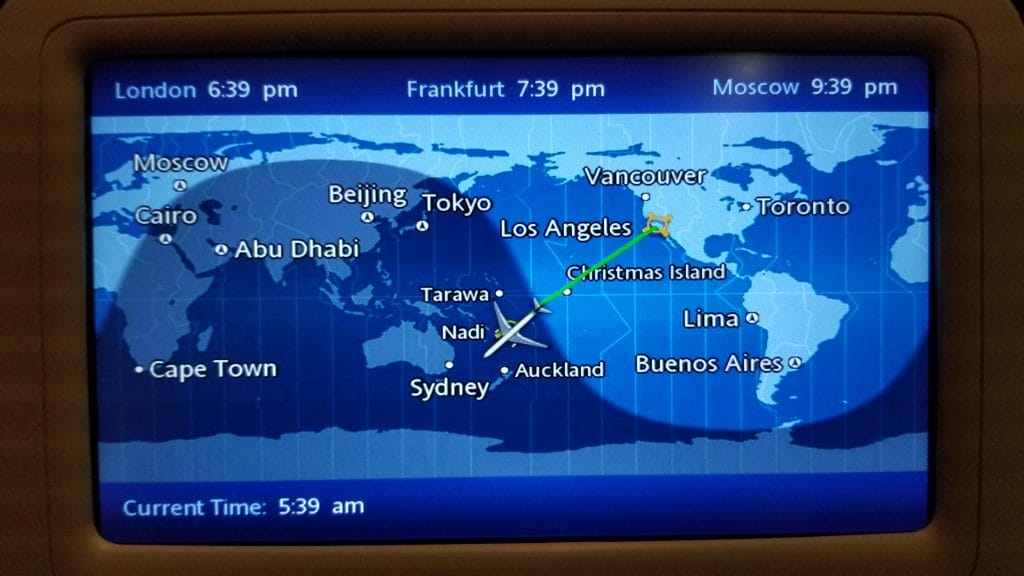 Breakfast was cleaned up 40 minutes before landing, and I looked out the window to see the horizon starting to show some light, as well as lights of various Fijian islands beneath us. The seatbelt sign remained off until we had turned onto a 15-mile final.


Nadi (said Nahn-dee) likes to land runway 02 and depart runway 20. This means that a landing aircraft exits at the very end of the runway, making a right turn, and taxis right to the gate. Departing aircraft conversely push back and are 30 seconds from the runway and ready to depart. This also helps aircraft avoid coming close to the Sabeto mountain range, though I stayed by the Nadi VOR to the NW and noted that most propeller aircraft were fine with a curved approach to land southwest.
We made our approach along the coastline from the NE and turned in over Momi Bay, which has expensive, overwater bungalows. By all accounts, these are not worth the price, as the bay is manmade and rather sterile. Fiji is itself not big on overwater accommodations, unlike Tahiti.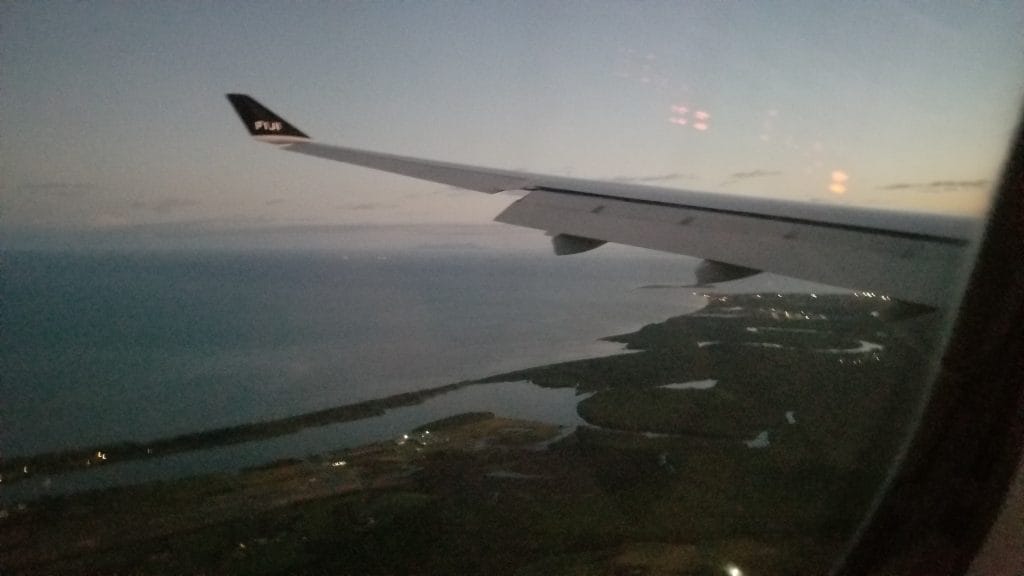 The overhead lights remained on the entire time during landing, so good pictures and videos were impossible. Very little braking was used since we had to go to the end, and the lack of reverse-thrust was a first for me.

We made the right turn at the end, passed by the Fiji hangar, which, as seen, is incredibly inviting. The lead attendant gave us the greeting of, "You are now in Fiji where it is early morning. Welcome to our home. Vinaka."
---
• Thursday, May 31st: Natadola Beach and de Vos, the Private Residence
---
Deplaning took no time at all, and the open-air walkway meant that we got to go right by our jet! The crew sure was friendly as we left, too. Cool!
Though it was not even 0600, some Fijians were playing welcome songs along the immigration queue, and generally being chatty and fun. Immigration itself was quick, and friendly, with greetings of "bula!" It's worth it to get plenty of Fijian cash out of the ATM before you depart, too.
On the way through customs, I got asked by the X-ray technician what was in my luggage. I explained that it was my snokeling gear and she said, "Oh! Fun!" then waved me on.
Budget was our choice for renting a car, and it can best be described as "a right turn down a hallway to the side of the building," and two people were there when I arrived, so getting it all checked out was a breeze. Sadly we were cheap and got a Suzuki Swift, and man was it tight will all the luggage, but we made it fit. Fiji is a right-hand-= drive (RHD), left-hand travel (LHT) country owing to its British history, so be aware of that if you're an American of whatnot. It's easy to get used to, though, and unlike St. Lucia, the drivers and people are very friendly and accommodating.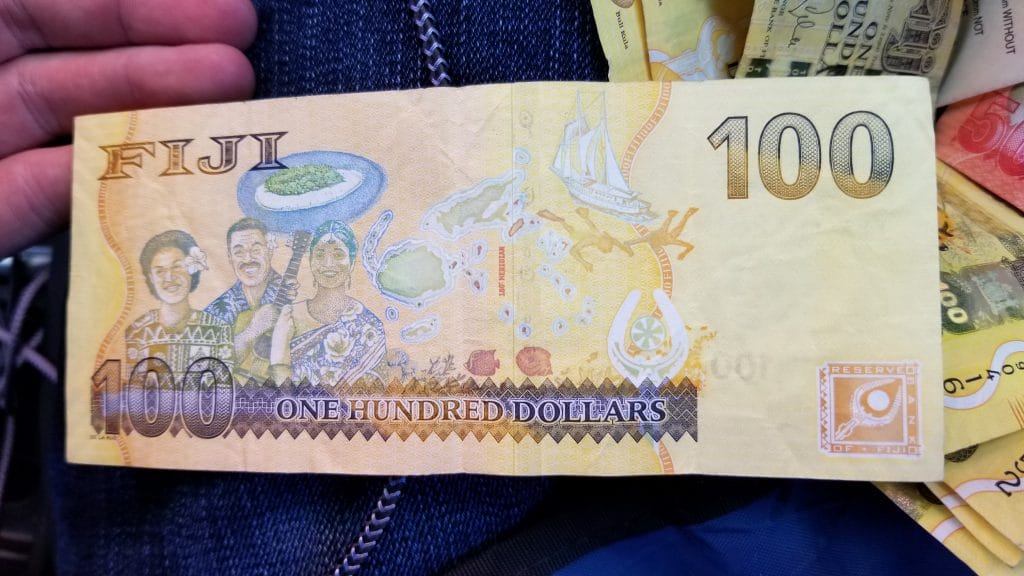 Car in hand (man was that heavy), we began our drive. The McDonald's on the island is obviously a big deal…you'll see what I mean when you drive there. We also saw the cutest baby pug. Who knew that pugs were in Fiji. Anyway, we made one stop to rearrange some luggage before continuing on, and within 45 minutes we were heading into the kinda rural parts of the island.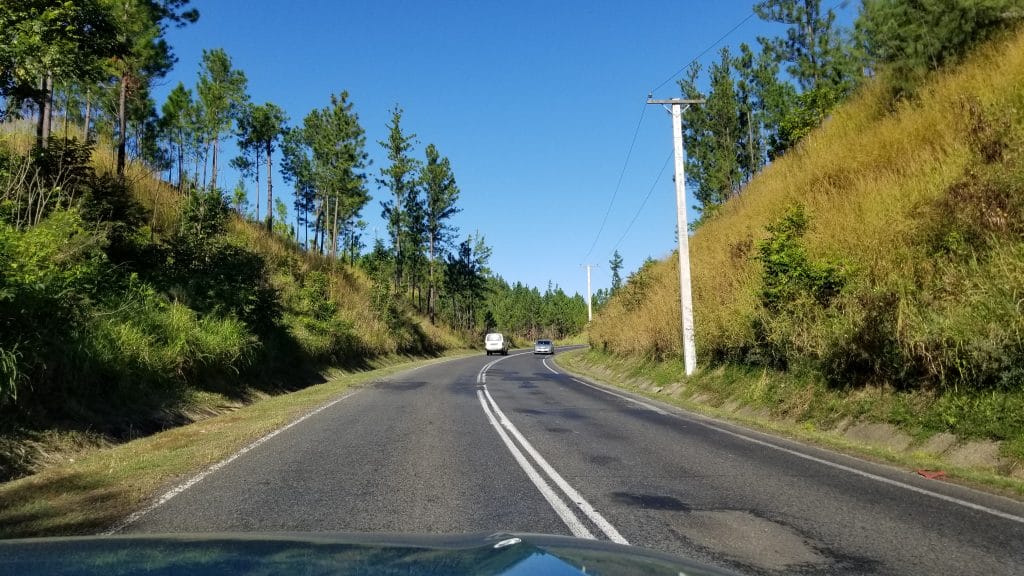 The tropical look turns into something akin to parts of Georgia, with little pine trees that made me think of red clays beneath. There were a few shops here and there, so we stopped at one that claimed to have kava root…however, it seemed that this was more of a kava-sharing hang-out place to play pool, so we just moseyed into the adjacent grocer instead. I picked up plenty of coke and water, along with some goodies. It was at this point that we noted the racial divide in the island, with the Indo-Fijians being very distinct from the Melanesians who are…uh…well, native to the island for longer.
---
► Review: Natadola Beach
---
As we drove to de Vos, we made a stop at Natadola Beach. This is a beautiful beach and free to the public. From the main road (heading kinda towards Sigatoka), make a right on a dirt road, and then follow it down the hill. At a main split, keep right. You'll arrive at the main beach area. There are a couple of vendors, but they aren't aggressive. Mainly offering massages of horseback riding. If you want to use the restrooms there, you either have to pay a vendor or buy a service, so beware of that. I bought my mom a massage, which she loved. It was about 40 minutes long and cost $20USD.

Natadola is a beautiful beach with fun waves to just play in, which we did for quite a while, as our check-in at the Private Residence wasn't until the afternoon. The water is a beautiful, bright blue, and the sand feels nice, despite being mostly coral, IIRC. Anyway, can't beat free. There was also very little trash, which was appealing, and none on the beach itself. After we finished up there, we dried off and headed down the road to see if we could take a backroad in order to avoid backtracking. As we drove southeast, the road became dirt, and we saw some cool, rural areas, but eventually we reached a river crossing that our vehicle couldn't handle. Oh well. We backtracked to the main highway and headed east.
Now for a weird note: do not pull over for law enforcement vehicles going by with their lights on. Pulling over is not expected, apparently. It seems that they drive most everywhere with their lights going, even though they're just driving along at a leisurely pace and not responding to anything. If you pull over, you'll freak the Fijians out, as it takes them by surprise.
---
► Review: de Vos, the Private Residence
---
We continued driving and saw cool signs about Fiji doing better when Fijians unite (given the Melanesian/Indo-Fijian divide) as well as plenty of cool place names. The short, pine-forested area gave way to lush jungle and seaside meanderings along the amazing Coral Coast. Don't expect to really go over 80KPH in Fiji, but with all the beautiful views, you won't want to.
My Verizon plan for Fiji, BTW, was pretty scammy, and rarely worked at all. This meant that navigating was largely old-fashioned. However, the Residence was easy to find, as it's in the Maui Bay area and behind a long, sheltered wall. If you see a gas station on your left, you've just missed it. We made the right into the walled area, and then a left along a little "frontage road."

Soon we pulled in and it was obvious that most people don't bring their own vehicle, as the proprietors had to shuffle their scooters around in the small driveway.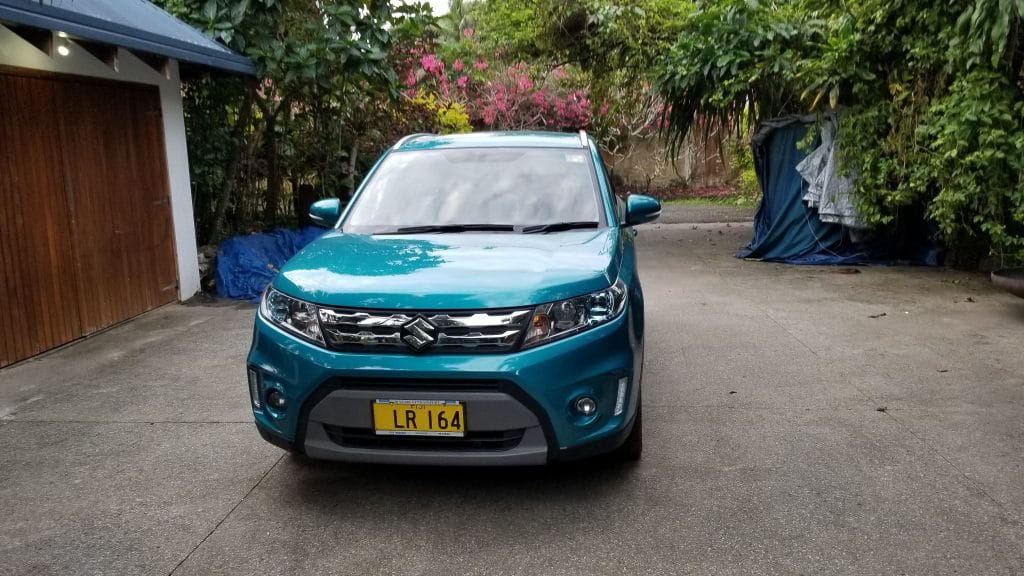 The person that we'd rented from, Julian, was not there at check in, but rather his friend Shawn. Julian, as it turns out, plays for the Fijian rugby team, and so he wasn't around. Shawn was a blast though, and was native to New Zealand. He and his father also own a hotel in Suva, and one night they noted that their elevator had broken. "You can get things fixed in Fiji, but if you want it done right, don't expect it to be fast…it's hard to find the skill."
We were the only people with our own vehicle for the duration of the stay, and many of the Aussies we met were surprised that we chose to drive ourselves and seemed to be taking busses. The pool is clean and huge, but best of all is the staff. From Shawn at check in to a guy who was on his first day of work there, it was just tops. Everyone had genuine interest in us, and also a cool story about their own lives. I felt like I was with best friends. And these people know how to cook, let me tell you. Delicious food, and sometimes they do theme nights…they even cooked us some custom dishes that we'd only heard about!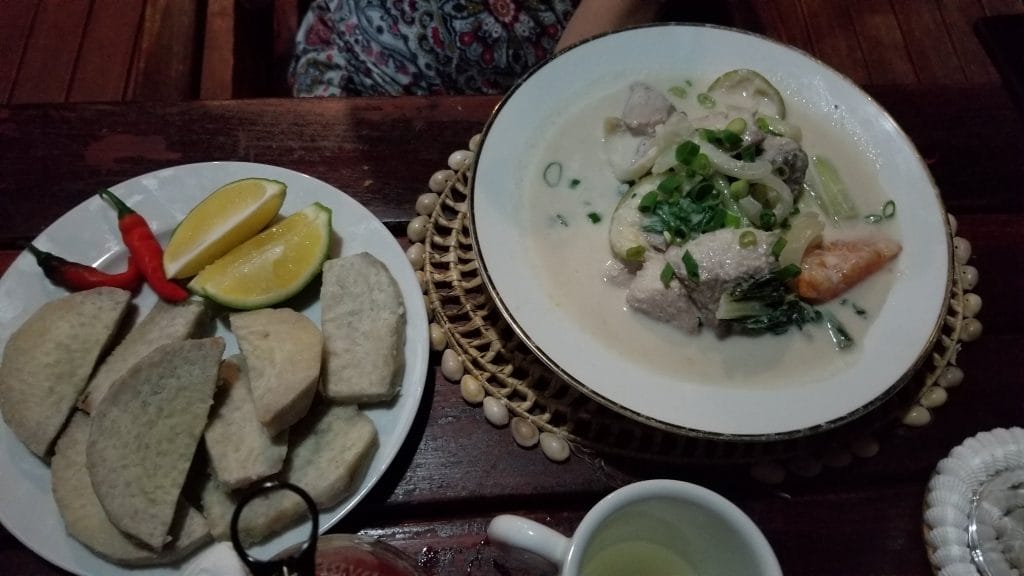 We stayed in one of the big rooms with a plunge pool, and man was it gorgeous, with awesome views of the ocean right outside the door. The room itself is great, though one outlet was on the fritz, as they're pretty old. The AC also worked well, though we didn't really need it much. If you're shy, you might not like that the bathroom utilized cornering instead of a door, but it was no big deal for me, being former military.
It was getting later on in the evening of the 31st, so we chose to eat at de Vos, which is really one of the few places around to get food at night. Luckily the food there is very good and, as I've said, the staff is just a blast.
De Vos is also close to a nice pier, where we found an old, Fijian man snorkel-fishing. They're such a nice people. He told us of his days as a child, floating in canoes on the ocean at night, singing Fijian songs under the moon, and he invited us to have dinner with him and his family. This offer was pretty common from the Fijians! He also expressed how much Fijians like America. While they don't see many Americans (relative to other populations), he said that Fijians feel that America keeps them safe. Not sure how I feel about us being the world police, but it was nice that someone at lease had a kind sentiment to express.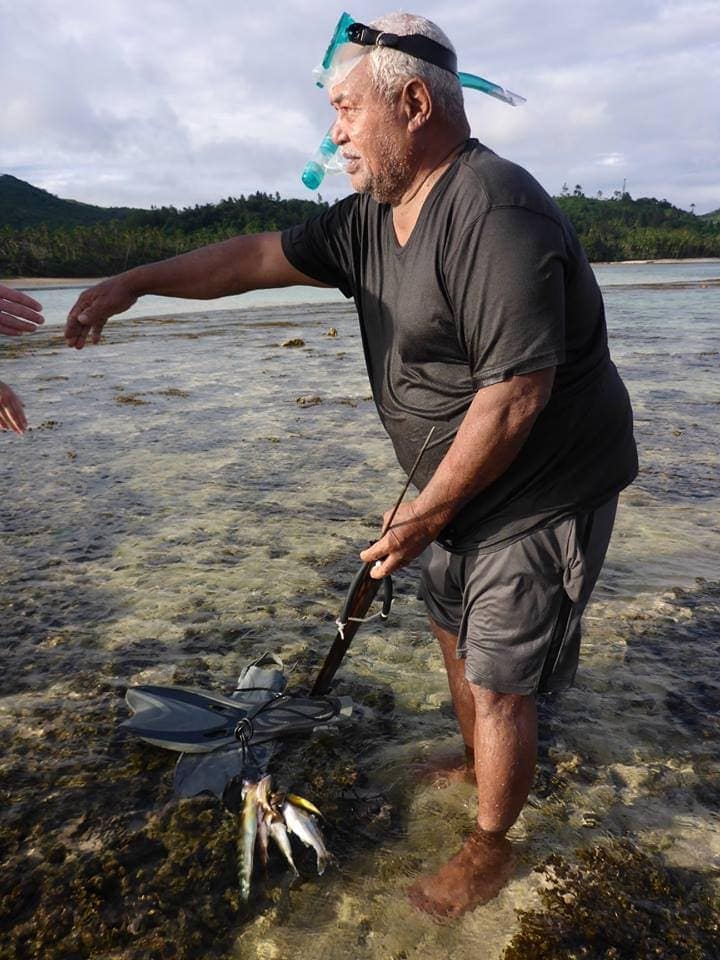 We are definitely going to return to de Vos, because the snorkeling was a true blast, and we loved the kayaks and area. Make sure to go do the Navua River rafting with Rivers Fiji, too, which I detail in just a bit. Also, the gas station that I mentioned earlier is right across the drag and has some awesome ice cream bars from New Zealand. Yum!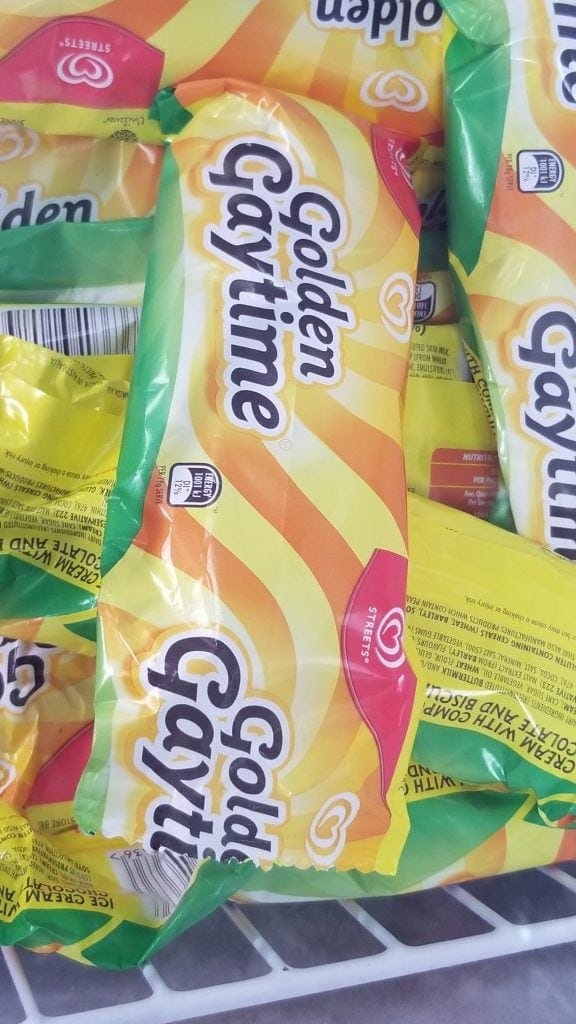 Anyway, I had a feeling that we'd want to return to Fiji, so I booked a few different places to stay, along with de Vos, so that we could split off and decide which area is really more our style. In total, we booked 3 places on the Coral Coast, one on the Sun Coast, and one just north of Nadi.
---
• Friday, June 1st: Rivers Fiji—Rafting Eden and Maui Bay Adults Only Resort
---
---
► Review: Rivers Fiji—Upper Navua River Rafting!
---
Getting up around 0500, we were on the road by 0545 en route to Pacific Harbor. We booked through Rosie Holidays/Travelocity as they had the cheapest prices for this excursion, and we saved considerable cash by self-driving. For all three of us (ol' sis didn't join), the total was $644 USD. To specify, this was the UPPER Navua adventure…it's their longest one, and according to their guides, also the prettiest and the one that they see as being the best value and most fun, both for the guides and the vacationers.
We checked in with Moses, a native Fijian. As it turns out, he'd been flown to America to raft near Vernal, Utah, with OARS. We'd rafted the same spot! How cool! We chatted a bunch and learned about his Christianity and how he felt about the company. He said that most of the money went to the rural tribe, and that the guides were all from the village, and very thankful for the respect that they received, as well as the money. Conserving the Navua River is incredibly important to me, as well as to them. It has been called Eden's River by some, and…well, if you put one material thing on your bucket list for life, this is it, in my opinion.
Mom got some coffee and we all used the restroom, and soon enough everyone was loaded into the mountain bus. We backtracked toward Sigatoka and then turned up into the mountains. The drive up takes an hour or so, but man is it beautiful. It got chilly up in the mountain tops, which was especially noticeable when we got out to take pictures. During the ride we learned a ton about the local tribes, various trees (fascinating believe it or not), the differences between mountain hunting dogs and lazy sea dogs, how white people taste like chicken, etc.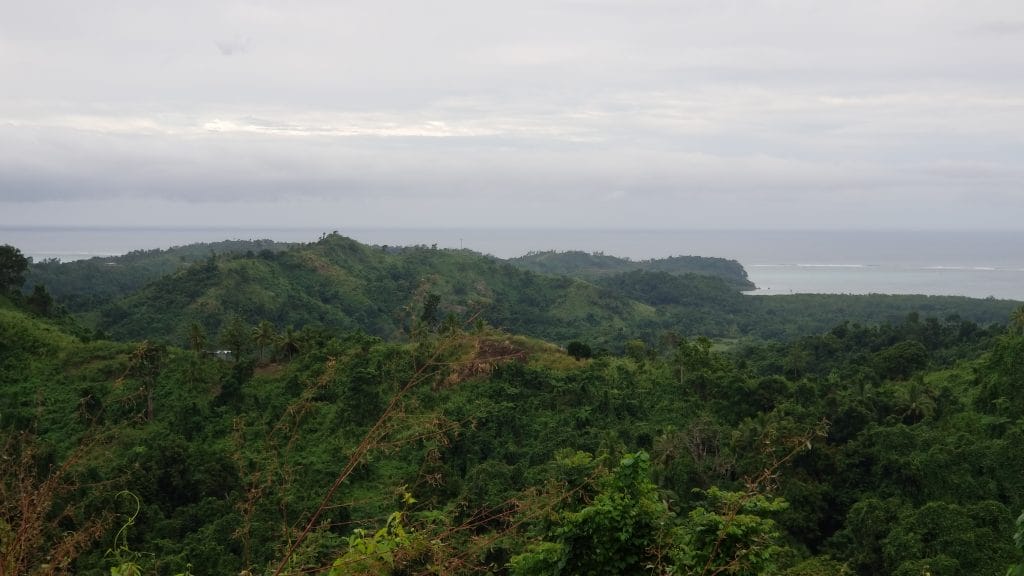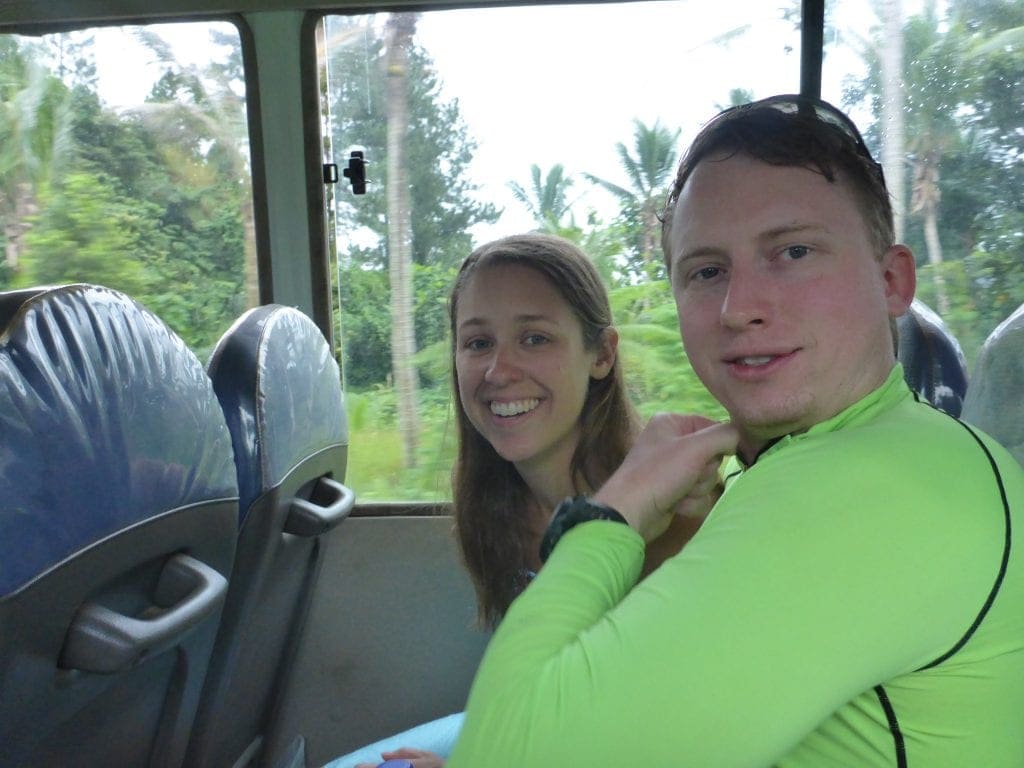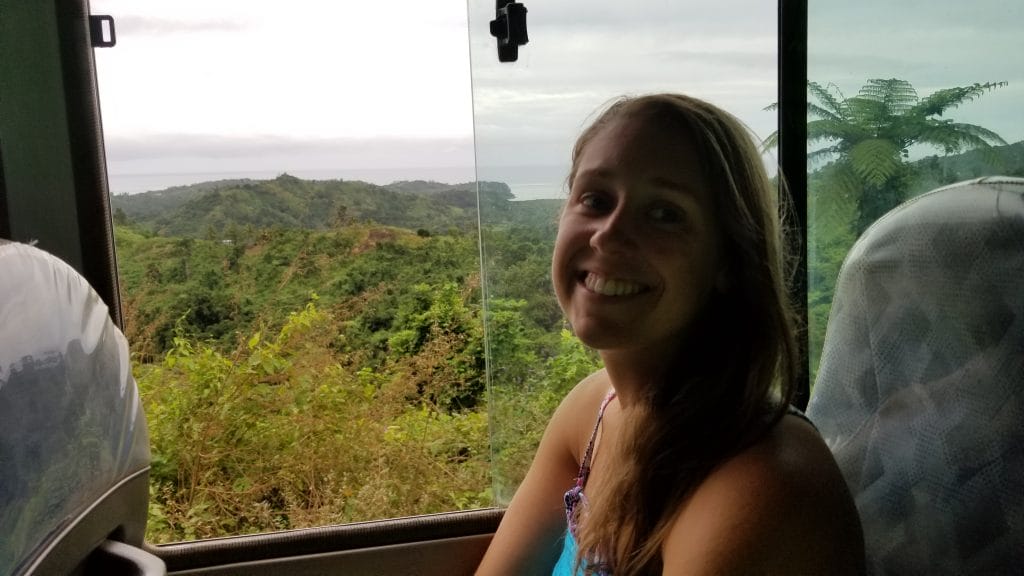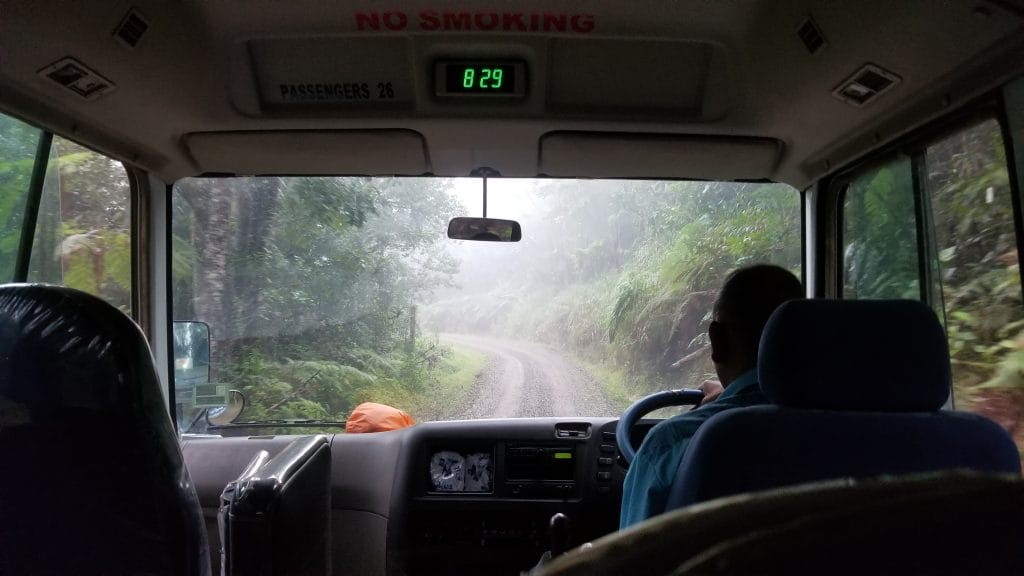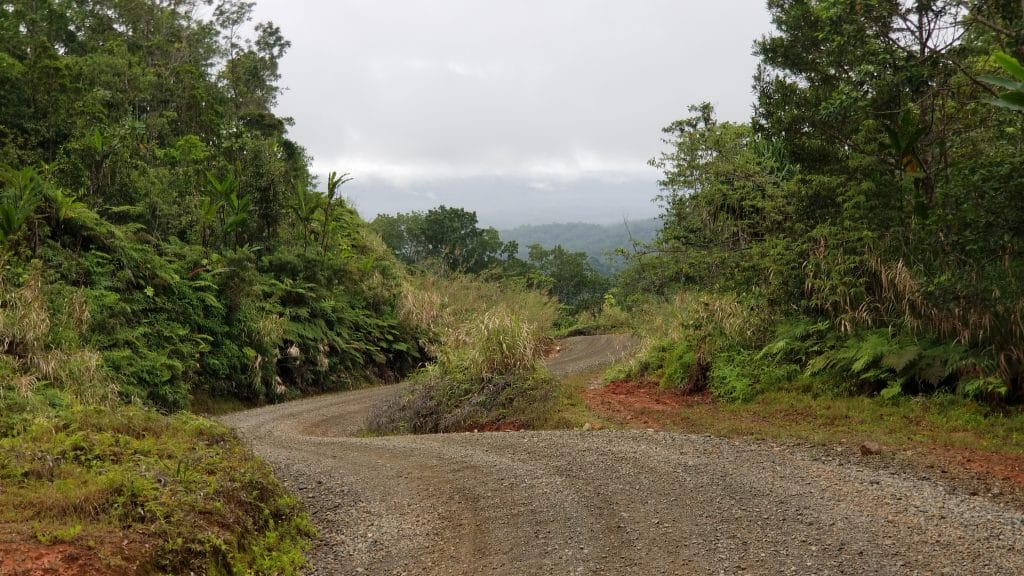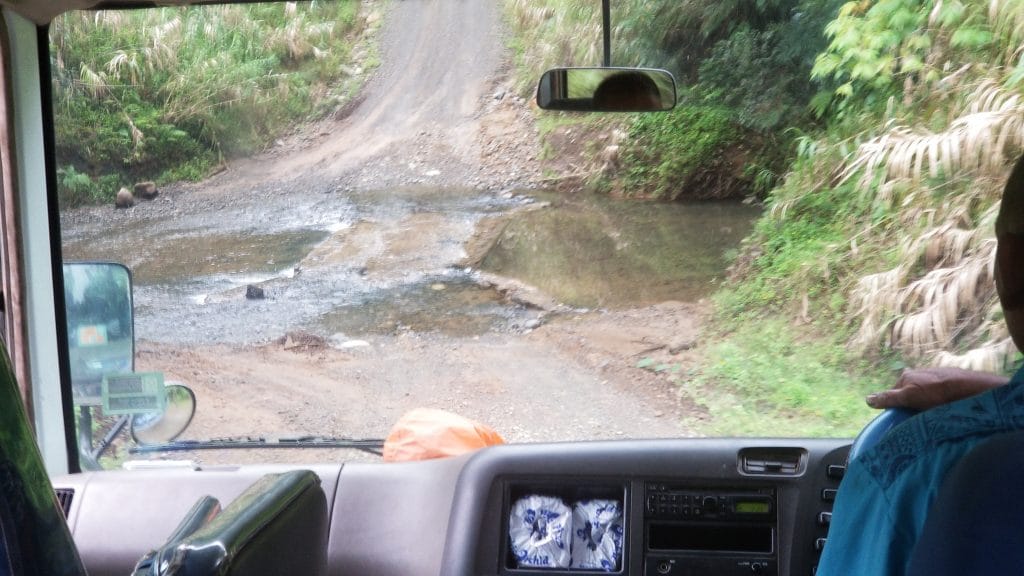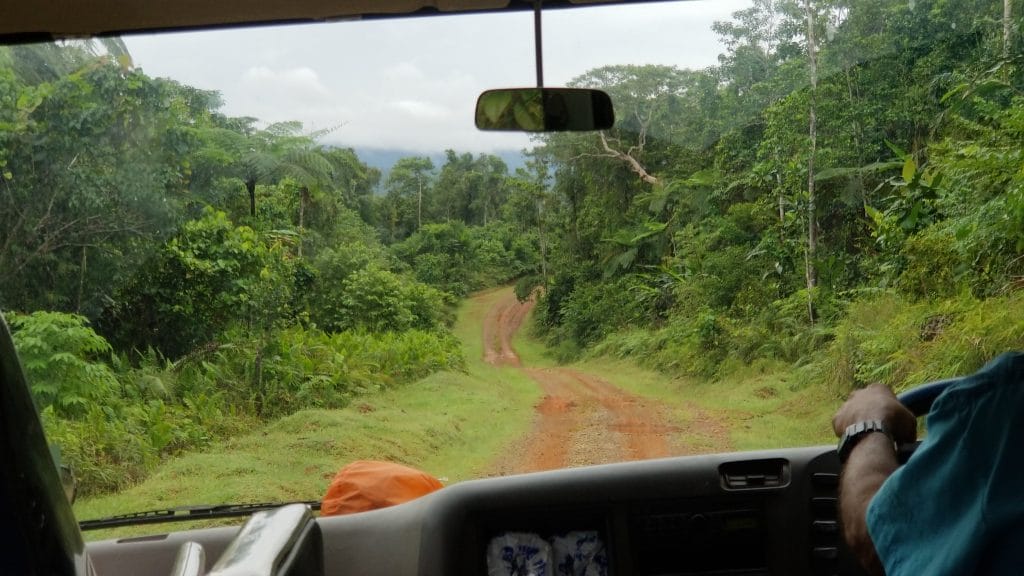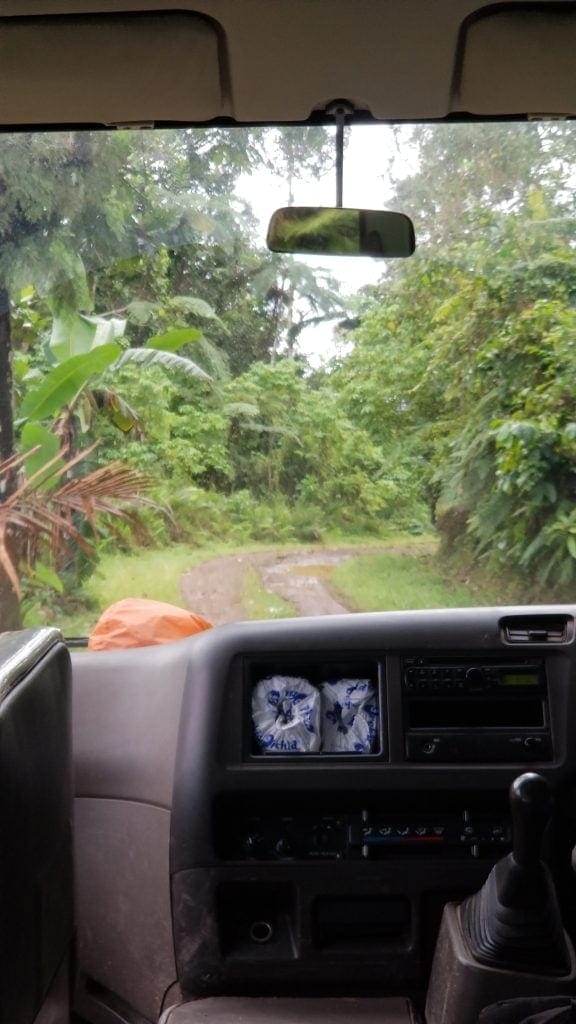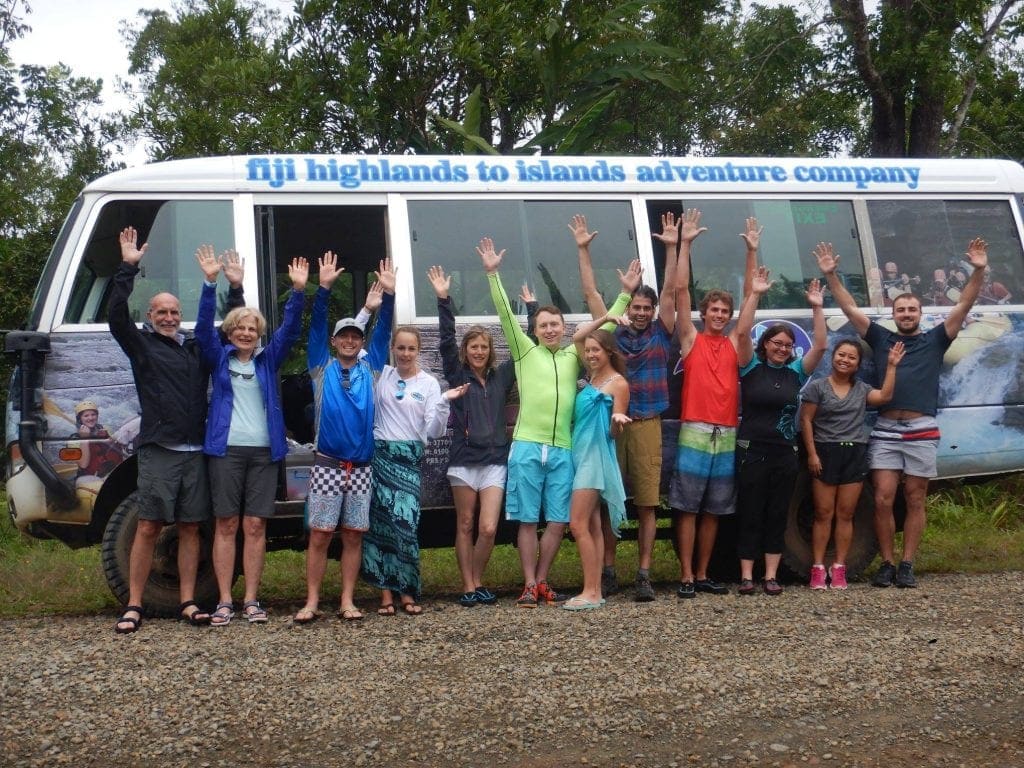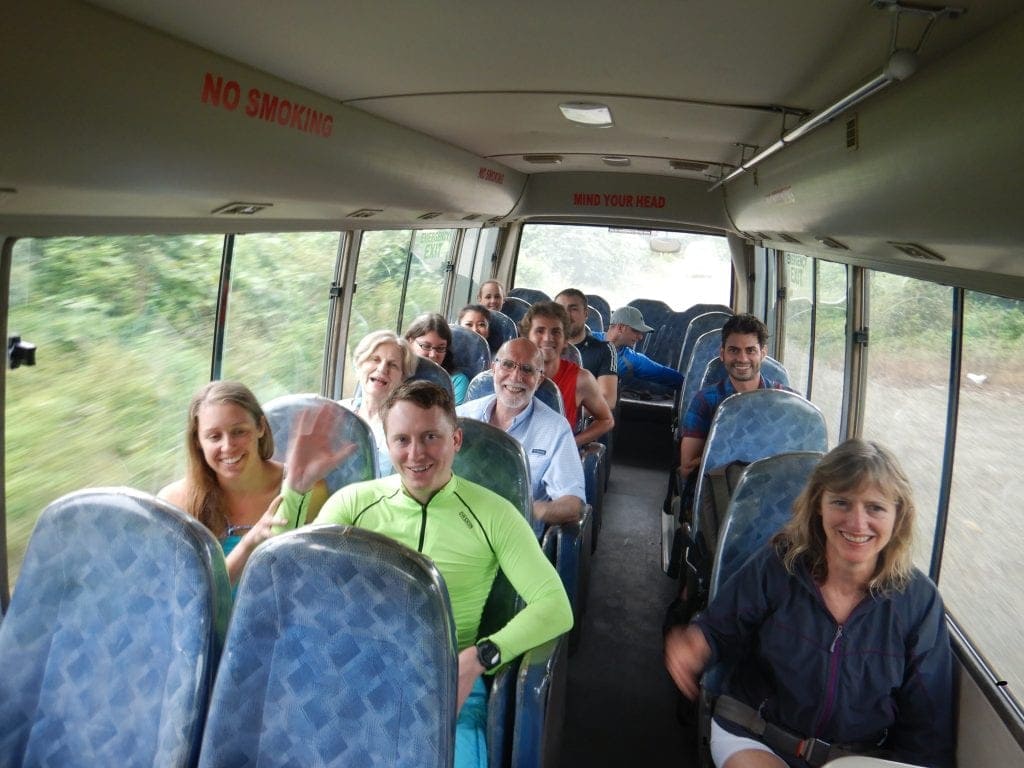 Because I don't want to spoil anything, I'll leave out many of the details, but they're fascinating. We also stopped to pick up a local guy (he appeared out of the trees with a machete) and then dropped him off into some other trees. Apparently he goes out and chops things in the forest for his living.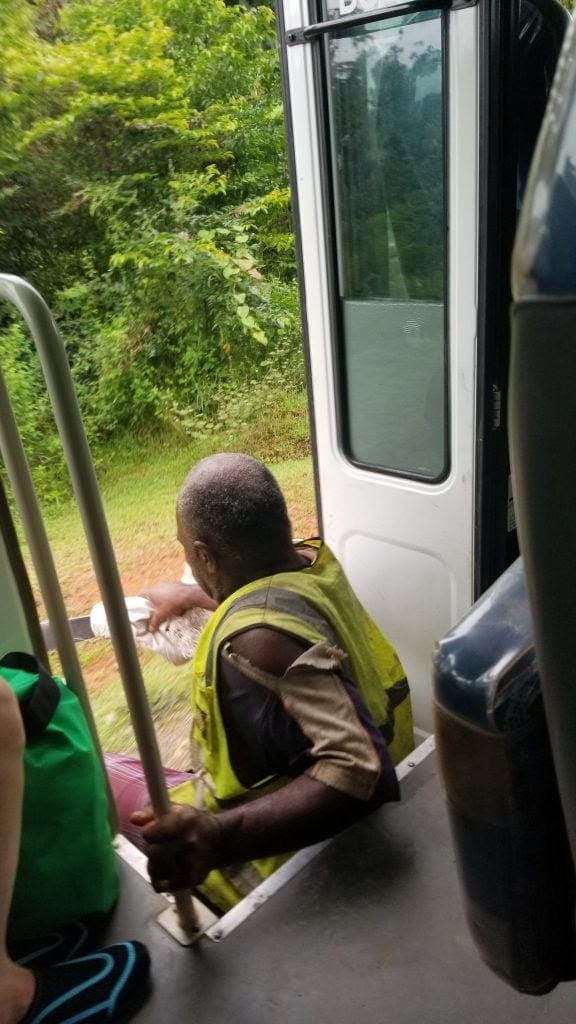 A right turn down a secondary road takes you to a few toilets where you'll suit up for the rafting. There we split into groups, and I was with Kristi, Shawn (from the maritime provinces), mom, and our guide, Toby. Toby had grown up in the village and was very thankful for the job, though he said that for the longest time he was terrified of drowning, as well as terrified of being shot by Americans, based on Western movies he'd watched.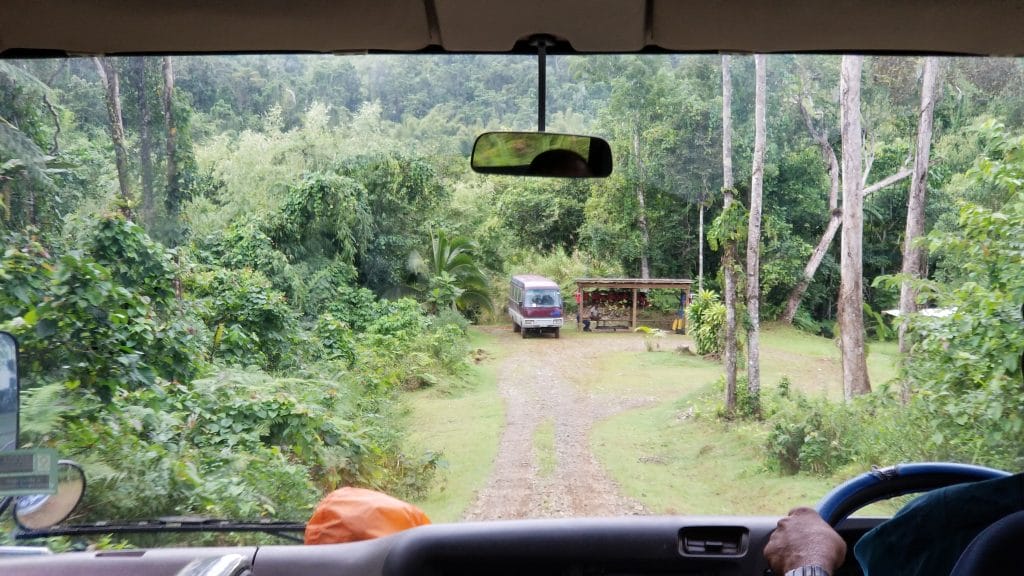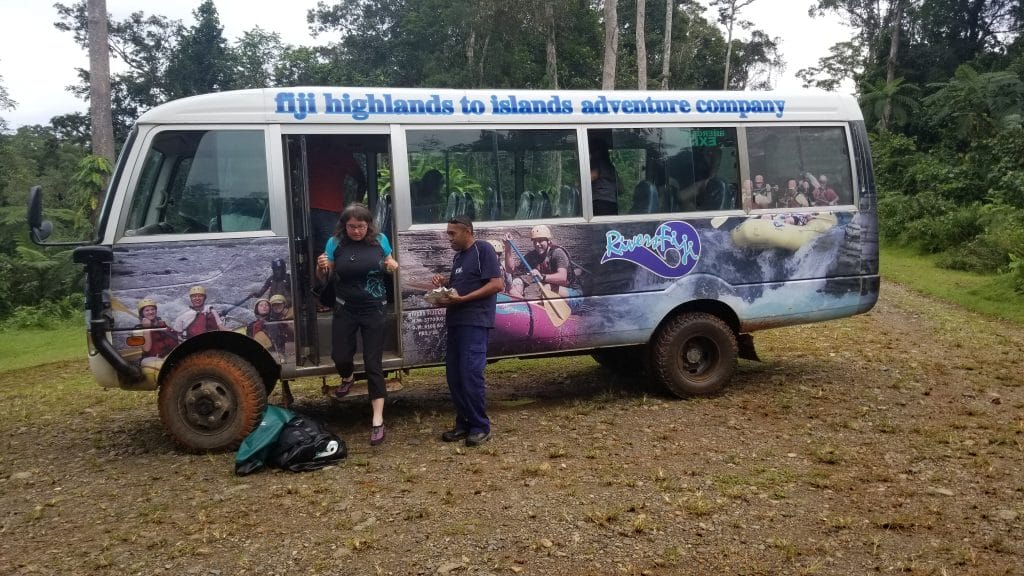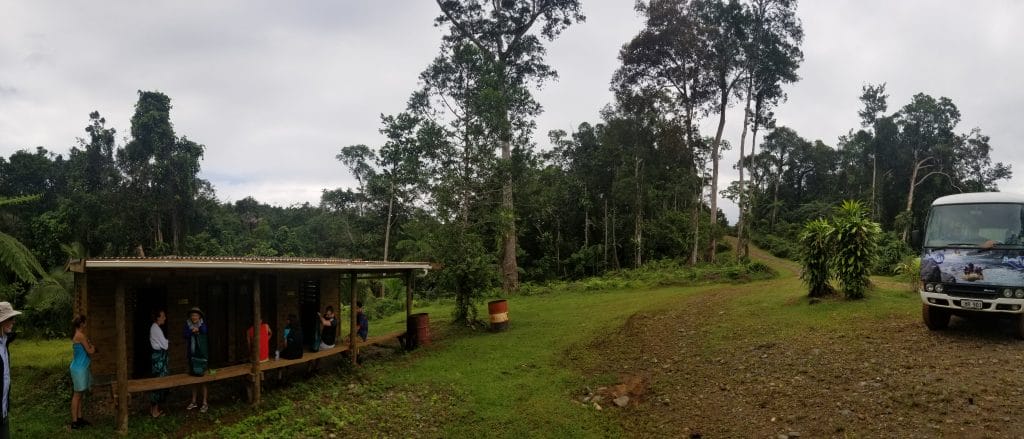 From there, it's a 15-20 minute walk down to the river, and some of the steps can be quite slippery, so watch out! I almost ate it once. Apparently the river can get up to 30-feet higher on the walls during heavy rains, too, so sometimes they have to cancel the trips. We were blessed to have a very nice level, though it was a bit muddy from the rains.
I'll be very succinct about the trip: it's beautiful. You'll go through miles of canyons before it opens up, and also some very minor rapids, but they're still fun. Midway you'll have lunch by another beautiful river, and the lunch is pretty dang good. Toby told us that Christianity has saved Fiji, and that his favorite pastime is farming. I was shocked to hear that, but Fijians derive much pleasure from life itself, which was very refreshing to me. I'd sure love to live there. Of additional note, a guide/photographer on a kayak accompanies you on the trip, so you can buy the photos at the end (via the cloud) for about $40 I think. With the incredible waterfalls (SO MANY!) it's worth it.
Tuki!!!
For about the first half of our rafting trip, our guide Toby would have us all yell, "Tuki!!" and all 4 clap our oars together after successfully passing a section of faster moving rapids. We blindly followed his instruction and yelled it with exceptional enthusiasm. About half way through the adventure Toby decided to tell us all the meaning of the word. Thereafter we were all a little more bashful about shouting out the word (except for Lucas… I don't think his level of enthusiasm changed a bit.)

[Tuki means "hammer" on some Fijian islands…on others it means "sex."—Lucas]

—Kristi Palmer
We had lunch and then rafted on down as the river slowly opened up, passing by streams and little villages which are mostly accessed by river. What a way to live! Finally we got out by a little hamlet, changed clothes, and then had another bus ride back down the mountains, this time coming out close to town.
Overall I'd say that this was some of the best money that I've ever spent. The drive back to de Vos was easy, and Kristi and I checked in at the View, which is right down the street.
---
► Review: Maui Bay "The View" Adult Villas
---
5/5 room,
?/5 staff,
5/5 activities
As I mentioned, one of the days we decided to stay on the western side of Maui Bay, at a place called "Maui Bay The View Adult Villas." We arrived and had a hard time figuring out which building was which as there were no signs. We finally guessed correctly, and went along a pathway to what is the back of the property (?) which seems to serve as the front. No one was around, and there was no check in area that we could discern. It was gorgeous, though. Eventually we wandered into a dark, communal area, and met a lady who gave us a strange look. We explained that we had a reservation, and she said, "Oh yes. Let me know if you have any questions." We immediately did have questions like, "Where is our room? How do we get in?" We'd booked through booking.com, and there were no instructions about this. Turns out that the key was just waiting for us in the door, so in we went. I still have no clue how we were expected to figure this out.
The night became stormy, but we used the T-shaped infinity pool a bit, then went and showered. There is an indoor and outdoor bath, and I used the outdoor which, since I find them very exotic. 😛 I'll let the pictures of the place speak for themselves. It was just beautiful.
Which brings me to looks…this whole area is amazing. The bed was so comfy. The AC was ice cold. Like de Vos down the road, there is plenty to do. We had little interaction with the staff beyond what I mentioned, so I can't comment too much on that, but as far as rooms go, it's great, and the mini-infinity pool is serene. Worth the money! Because we didn't know the eating schedule, we just ate at de Vos with my mom and Sarah.
---
• Saturday, June 2nd: Aussie Eye Docs and Tambua Sands Resort
---
Leaving the View in the morning for our free day, we went and joined my mom and sister and drove right down the road to He-ni Uwa, which was yummy. I got some of the Fijian tea. As usual, there were a ton of Australians hanging out, and I need to relay a quick story about a couple of them.
Prior to my vacation to Fiji, I was trying to quickly deal with some very disturbing symptoms which were getting worse rapidly, including intermittent blindness.

"But God, who comforts the downcast, comforted us by the coming of Titus." (2 Corinthians 7:6)

Over the preceding 1.5 months, I had started to develop very strange symptoms, including near-total vision-field blindness that would sometimes beset me. It got bad enough that I managed to get an urgent visit to the eye doctor right before my trip. After running an hour of tests, including assessing all of my blood vessels, doing retinal scans, etc., the doctor determined three things:

1.) My eyesight is spectacular. (This is true. It is way better than 20/20.)
2.) One eye was previously ripped open, but the vision was still better than 20/20. (True.)
3.) I possibly had some type of cancer growing around my optic nerve, or in the area of the brain which processes vision for my right eye.

As such, I set off toward the South Pacific with intermittent blindness and the smoldering, background worry that I might lose my eyesight entirely, or, worse yet, that my brain was corrupted. It certainly was affected my emotions.

The most memorable encounter, perhaps of my life, occurred at the He-ni Uwa. I consider it a full-on blessing in the "coming of Titus" way. The chances of flying half-way across the world and having this exact encounter are staggeringly small.
While I was drinking my Fijian tea, the nicest, older Aussie couple ever struck up a riotous conversation with us—we talked for over two hours. They were hilarious, encouraging, and wanted us youngin's to not just visit Australia, but to move there, as they thought that their country would be better off for it. (Too many FIFOs, they said.)

And as it turns out, the husband was a therapeutic eye doctor who has gone all over the world offering his time and talent for free to those without access or funds. Just a blessing to those he comes across.

And he was a blessing to me. Upon hearing of my symptoms, and without million-dollar machines, he laughed and knew exactly what was up. In fact, he showed me how to recreate what was going on, in broad daylight, immediately, just by using his hands. It wasn't what anyone would think of off the bat, except perhaps for him, and I thought he might be wrong. Yet I took his suggestions. I started paying attention to the onset of these symptoms, and he ended up being completely correct.

This man comforted me greatly! He showed me how to get rid of all my visual artifacts. I'd say that he made me happier than Skippy the Bush Kangaroo, and thankful that God sent me somewhere to meet a man like that—and to talk with his hilarious wife.

But eventually we parted ways. Afterwards, Kristi and I went to the Tambua Sands Resort.

Silly Aussies
Man, I could just listen to their accents forever. And their senses of humor were on par – so quick witted! And much of the time they were funny even when they were serious. The wife went on a mini rant about how Americans use too many words. For instance, horseback riding. "What's the point of "back"? Where else are you going to ride on a horse?! Why not just say horse riding?!" She was a hoot. And she made a very good point.

["You Americans never say anything with three words when you can say the same thing with four!" —Lucas]

Quokkas
Lucas went through a phase where he was obsessed with talking about quokkas – even if it just meant he said the word in an Australian accent. Well, after establishing some rapport with the friendly Aussie couple, he decided to ask their thoughts on quokkas. I still vividly remember the gentleman's disgusted facial expression – but boy was Lucas amused! Quokkas are cute to Lucas, but to the typical native Australian, they're simply a rodent.

[Note: The doctor asked my sister, "So, how'dooyah feel about a quokka?" which got the whole thing started off! The couple also felt that everyone should be eating roo meat. 😀 —Lucas]

Blindness
As soon as the Aussie gent mentioned that he was an eye doctor, I knew this could potentially be a God-orchestrated encounter. I was sitting directly across from the man and as soon as he mentioned his profession, I looked up at Clairice and Lucas who were standing right behind me. Clairice mumbled something to Lucas nudging him to inquiry but Lucas shrugged it off. As a result, Clairice began explaining Lucas' symptoms. As Lucas mentioned, the gentleman quickly shrugged it off like it was no big deal. He had all of us walk to the railing and look out to the ocean. He then instructed each of us to very gently press on the outside of our eye and watch as our vision slowly was being compromised. Lucas soon was confirming, "Yes, this is exactly what my symptoms have been." Apparently the way Lucas was sleeping was simply putting a little extra pressure in just the right spot. So the cure – change sleep position. Praise God. I was truly in awe of God's provision after this rare encounter.

—Kristi Palmer

And later that evening…
---
► Review: Tambua Sands Resort 
---
2/5 room
4/5 staff,
2/5 activities
Check-in at the Sands was smooth and it's a picturesque place in total; perhaps the prettiest we stayed at as far as the beach and all goes. We got a nice welcome drink and then a very kind man carried our bags out to one of the far huts.
The rooms are very simple, and ours had neither AC nor wifi, which was fine with us. They're very simple and meant to encourage you to be out and about, which Fiji itself is made for! Also, with the fan on, we didn't get warm at all, though we were there in what amounts to winter for the area. There was a really weird, drunk woman who kept calling Kristi "Rachel," which I didn't care for.
I don't know about the activities that they offer, but there seemed to be less to do on site than at some other places we stayed at. However, please don't trust that too much, as we just weren't there all that much, instead being out rafting and seeing other islands and such. I did partake in some photography here at sunrise and sunset, though, because as I mentioned elsewhere, the views are great.
---
• Sunday, June 3rd: Are You Tom Hanks?
---
---
► Review: Monuriki Island/Cruisin' Fiji/Castaway
---
Kristi and I drove to de Vos and picked up my mom and sister, and began our trip to Denrau for our cruise to see the island where Tom Hanks' Castaway was filmed. We were blessed again in that we left early, as a storm had knocked down some trees, so there was a delay in getting up toward Nadi. Then, when we got there, the documents on my phone wouldn't open, so I couldn't figure out which counter to go to, and the time of the boat's departure was nearing.
Again, the Fijians really shine. A lady saw our distress and offered to let us use her mobile hotspot, then guided us to the boat—and refused a tip! "I want you to enjoy your stay!"
This trip was also a blast. Remember, Fiji Gold is for girls or gays, whereas Fiji Bitter is for boys. (That's what the G and B stand for.) One Aussie drank the entire time but seemed to never be affected at all, and was entirely jovial. All of us were stunned by it. Some Chinese boy tried to hit on my sister, but she gave him the cold shoulder.
The Island Cruise
Once we reached the island where Tom Hanks' movie Castaway was filmed, we had a fun photoshoot with our Wilson volleyball! At one point, Lucas left. I don't even remember what he said he was going to do but I do remember it took him much longer than I expected. So, I thought this was maybe just another one those moments where he was enjoying doing his own thing, so I carried on with Wilson selfies throughout the island (with Lucas' cell phone…so, yes, I am to blame for "stealing" his gadgets – oops).

While exploring the island with Wilson and treating him like my best bud, a few other tourists took noticed and eagerly asked if they could borrow him for a photo opp. So I let them do so for a small fee (I'm kidding). It was fun to bring some extra joy to the world in a silly but simple way! Somewhere along the line I crossed paths again with Clairice and Sarah. One of the cruise captains motioned for us to follow him into the woods. He led us through the wilderness and reached a little open area (it's not as creepy as it sounds, I promise). He picked out a tree that had some coconuts at the top. Then, with our cameras ready, we watched as he climbed this very tall tree, knocked down a couple coconuts, and returned safely to land. It was an incredible demonstration of athleticism! Very impressive!

—Kristi Palmer
The first stop was Mana Sand Island, where I tried to teach Kristi to snorkel…she had some issues that I won't relate here. (Hi Kristi.) 😉 The longer the day wore on, the worse the weather got, but it was still awesome. My trip was a bit spoiled on Monuriki Island (Castaway filming) as m family vanished with my stuff, and I spent the entire time looking for them. Guess I'll have to go back! I sure loved the songs that Fijians sang the entire time.
When we got back, we ate at a pizzeria (ok) and I bought some rum. As night was creeping up, we headed out and got back to de Vos rather late.
Snorkeling
My first time snorkeling was when we were out on the Island Cruise. Our first stop was on the tiniest island I'd ever seen! (Seriously, it was a small mound of sand.) When they allowed us off the boat, it was mild chaos. Everyone was so excited to snorkel! I had no prior experience but how hard could it be? Well, Lucas took off like a madman and I followed. He gave me a "crash course" and then took off. I listened to the instruction he gave and gave this 'ol snorkeling gig a shot! First attempt: water got into my goggles. No big deal, right? I resituated my goggles and was back at it. Water in my goggles again.

After a few attempts at resituating the goggles, I sought Lucas and Clairice's assistance. I've always had a small head so maybe that was the issue? We brainstormed. Shortly after they hollered for us to all get back on the boat. I could tell Lucas was super bummed that he spent most of the short time helping me with my goggles but he was very patient and we got on the boat and moved on. At the next stop, I tried using some kid-sized goggles. I could tell instantly that these were absolutely too small.

I don't remember the exact time it was realized but I believe I mentioned something about air bubbles coming out of my nose. Lucas laughed and told me I had to focus on breathing through my mouth/snorkel only. I felt sheepish when I realized the problem all along was because I was exhaling through my nose thus causing the goggles to depart from my face. (I give you readers permission to chuckle.) The rest of the snorkeling experience on the cruise was just okay. Often times Lucas took off on his own mini adventure while I played around within a safe distance of the boat.


The next days offered a calmer experience for practicing snorkeling. When we stayed at de Vos, the 4 of us were able to take two canoes out a little ways. The water was shallow (2-4 feet in most areas?) for a good distance and beautifully clear. The water was relatively still and the sounds of the ocean were peaceful. Very few others out on the water – and even so, they were at a far enough distance that it didn't disrupt our private experience. This allowed Sarah and I to obtain more individualized snorkel training from Lucas and Clairice. Once I got the hang of not breathing out of my nose, I was loving it. I quickly came to understand Lucas' love for the activity.


We were provided with another snorkeling adventure one day when we took a boat from The Villas over to __ (island?). Sarah enjoyed reading a book under a shade tree while Lucas, Clairice, and I enjoyed some more snorkeling. We 3 went out a good distance when Clairice decided to go back and check on Sarah. Lucas and I continued our adventure. This experience offered much deeper waters than before, so Lucas provided me some training with how snorkel more underwater rather than just from the surface. Again, this was so peaceful and a great opportunity for Lucas and I to bond over nature. The only downfall that Lucas also mentioned was the lack of vibrant colors. I assume this has something to do with the fact it was their winter season. I am looking forward to returning during a time frame where the reefs offer more vibrant colors for snorkeling.

—Kristi Palmer
---
• Monday, June 4th: Snorkeling de Vos plus Dreamview Villas via King's Road
---
Mom rambled and got some pictures of the area around de Vos before the rest of us dragged our unmiserable butts out of bed.
The next day we snorkeled some and then got showered and headed out to the Dreamview Villas up by Rakiraki/Volivoli. The trip up was just gorgeous along King's Road! Other than Suva, where the American Embassy (please hire me) is, it was all very rural and beautiful. Passing by villages, locals would yell "BULA!!!!" at us so happily.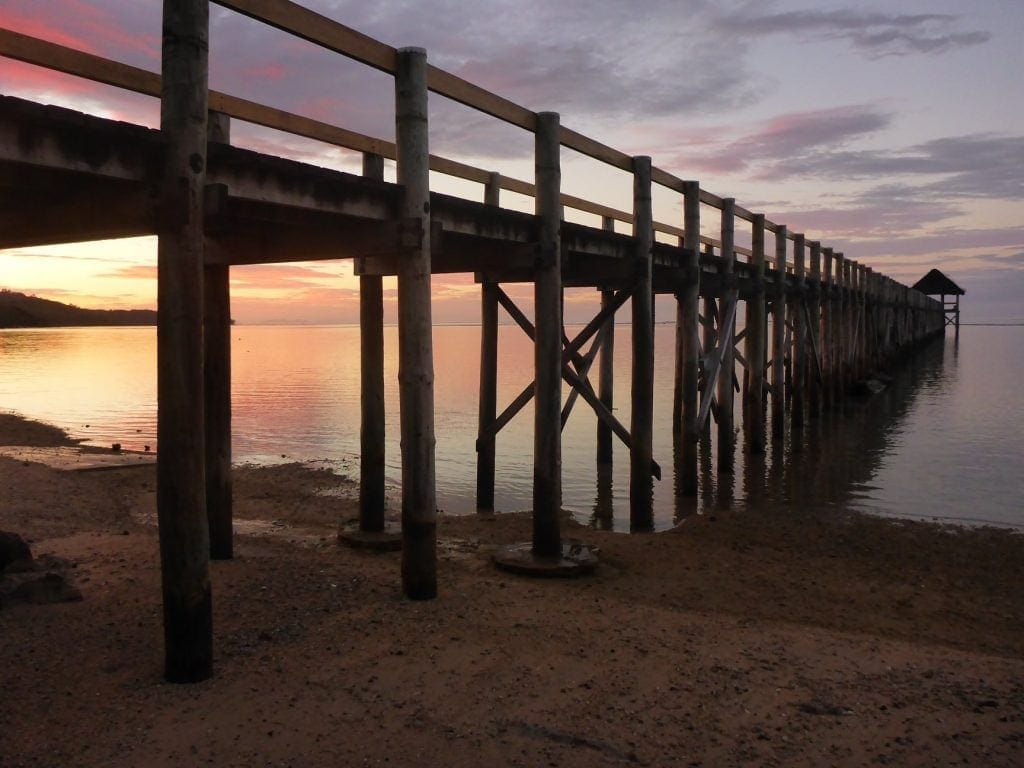 ---
► Review: Dreamview Villas
---
8/5 room,
5/5 staff,
2/5 activities
We ended up at Dreamview Villas as our other property, not connected with them, got flooded. As one of the men who runs Dreamview also helps out with that property, he gave us the option to book there for 1/2 off. Wow! Yes we will! Getting to the location was amazing, as this side of the island looks more volcanic with pretty, maize-colored fields, sugar cane, etc.
First, Ronil (sp?) was so dang nice, and even brought my mom fresh fruit that he'd acquired. While we were there, it was very quiet, and we didn't see other people. The villas do have dream views of the sunsets. Just amazing. And they're huge! I can't even imagine how expensive a place like this would be to rent in the states. If this were in Jackson, you'd pay $4000/night probably.
The villas are self-contained units, so if you want to do all your laundry, do it here. They also have TV and facilities to cook in, etc., which we took advantage of. If you can and they aren't took busy, make sure to go down to Wananavu for a dinner or two, and go fishing, snorkeling, and also visit Nananu-i-Ra, which is a very cheap, 10-minute boat ride. We had some great snorkeling there and that place is chill as all get-out.
Anyway, we also went down to the pier below the joint and did some snorkeling, which was mostly bleached, sadly, but still had tons of fish. Even saw some sea turtles. It's cool how it has a big drop-off, too. Still, snorkeling is why you go out to the Bligh Water.
A couple of closing comments, I suppose. The grounds are very picturesque and we lounged on them. I loved that goats were used to trim the grass. The infinity pool has an amazing view of Nananu-i-Ra and some other islands. We never really saw anyone else around.
This is perhaps the best value we experienced in Fiji, and for me, perhaps the best in any of my travels.
The Villas
I would have to say that my favorite overall location and view was staying at The Villas. While I liked quaintness and privacy of the Fiji Orchid the most, the major perks of The Villas included the view from the hilltop, watching the sunset, the infinity pool, and a short drive (or optional walk) down to a nice restaurant and/or a variety of excursions. I did, however, appreciate the kitchen and laundry options at The Villas, which Fiji Orchid did not have. Knowing laundry can be an option, I am excited to pack so much less next time! It was so nice to arrive back home with a giant suitcase of clean laundry to unpack! So, if I could have it my way, I would place the Fiji Orchid room on the hilltop location of the Villas and add a small kitchen and laundry.

—Kristi Palmer

Kava giggles and Dr Dream
The natives often asked if we had tried Kava and when we'd answer "not yet" they would giggle and with their Fijian accent say, "Kava makes you crazy." Well, of course we were curious. My first taste of Kava was at the restaurant just down from The Villas. I didn't feel anything. However, one night at The Villas, we decided to try Kava before bed. I remember it tasted terrible and was very gritty. Not a pleasant texture in the least. And it causes your tongue to get a little tingly. Odd sensation. Well, I didn't really feel much but I got very sleepy. It's hard to tell if this was Kava-induced, a result from all the outdoor extravaganzas, or some combination of the two. Regardless, I decided to relax in bed and read a book. I very quickly melted into the bed and was unbelievably relaxed but not yet asleep – but boy was I close to having the best night of sleep of my life.


But then in walks Lucas…


Lucas makes quite the grand entrance. With no regard to the fact that my eyes were closed, he begins yakking away and laughing about something regarding a mishap with the air conditioning unit in his mom and sister's room – I'm not sure… (Again, I was on the verge of the best sleep of my life. I guarantee my mouth was probably wide open and darn near slobbering.) He is blubbering away at a volume that I didn't know his voice was capable of (or was it emphasized by my kava…?) At this point – with eyes still closed, I might add – I lifted a hand and talked in a soft voice and asked him to quiet down. I told him I didn't mind if he wanted to talk to me but to talk "like this" (in a soft voice I was demonstrating.)

Lucas – the smart alek that he is – took my request and ran with it. Lucas lowered his voice and started talk in deep, soothing (and mocking) tones. He rambled on and on… and on…….and onnnn…. in this super goofy voice. Somewhere in his rambling he named this alter ego "Dr. Dream." I can't remember half the topics Dr. Dream was rambling on about but I remember I was laughing so hard I was crying, shaking, and accomplishing an ab workout. This went on for probably about 20-30 minutes. Lucas was also making himself laugh more than I'd ever experience! (even up to the time of writing this almost a year after the trip). Man, that was seriously one of the hardest laughs I've ever had in my life. All this to say that I think it's true when the natives say, "Kava makes you crazy."

—Kristi Palmer
---
⇨ Snorkeling by Dreamview—2.5/5
---
---
⇨ Fishing with Wananavu—4/5
---