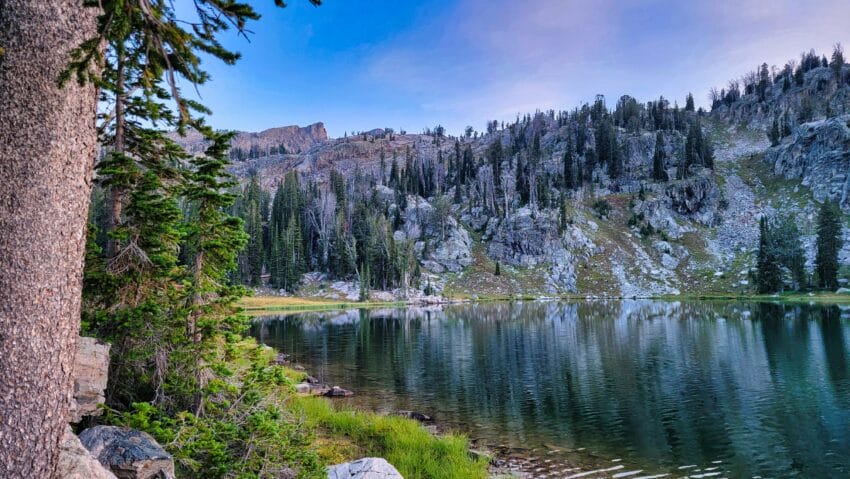 Review: 25 Mundane Miles Hiking Goodwin Lake, Turquoise Lake, & the Gros Ventre
Review: 25 Mundane Miles Hiking Goodwin Lake, Turquoise Lake, & the Gros Ventre
Reading Time:
43
minutes
Although Turquoise Lake looks beautiful on the maps, I found this hike fairly mundane. I was happy to be out and about, but I have no plans to return. Status: Not proofread.
---
---
---
➤Quick Facts
Information at a Glance
Time of Year: Sep 10th, 11th, and 12th
Notable Features: Goodwin Lake, Jackson Peak, Lake 10250, Turquoise Lake, Pinnacle Peak Pass, Little Granite Lake, Little Granite Creek
Total Miles: ~24.6 miles
Elevation Gain/Loss: +6432/-8036′ (Better to hike west to east.)
Elevation Min, Avg, Max: 6502, 9208, 10738
General Route:
—Goodwin Lake Trail 4016 ►Goodwin Lake ►Jackson Peak Trail ► Goodwin Lake Trail 4016 ► OFF TRAIL ►Turquoise Lake ► Pinnacle Peak Pass to Little Granite Lake ►ON TRAIL and OFF TRAIL Granite Highline Trail 4019 ►Some Confused Wandering Among Overgrown Warrens of Trails ►ON TRAIL ►Little Granite Creek Trail 4022 ►Little Granite Creek Trailhead
GPS Track Download Download the file after getting a free Gaia account (I love them!) or direct download for Google Earth/phone viewing here.
Housekeeping: Feel free to contact me. Images compressed.
Interactive Map (Click to See)
---
⤷Introduction
My wife, daughter, and I had spent the first weekend in September playing on OHVs around Dunoir, WY, camping at Moon Lake, and visiting some nearby hot springs.
I wanted to do something for the 11th and 12th but was planning on staying closer to Jackson Hole given my work schedule. In September, the days are appreciably shorter, and that was also a factor.
For quite some time I'd wanted to hike up the Granite drainage to Turquoise Lake, but it seemed like a but much for a lake of unknown beauty. On the other hand, I had really enjoyed a couple of hikes in the Gros Ventre, so if there were a way to make it happen, I felt it was worth it. Following a lot of studying of maps, I found that I could probably leave work and hike to Goodwin Lake, hike up to Jackson Peak and over to Turquoise Lake the next day, and then head out along the backcountry, popping over by Pinnacle Peak Pass and exiting to Granite Hot Springs. This would avoid the elevation gain associated with going east-west, would make it a point-to-point hike, and would throw in Jackson Peak and Goodwin Lake. I also considered going up from Flat Creek or my house, but those seemed somewhat boring.
Below: My route in red (from right to left) and my original proposal in yellow. My house is up neat the purple smudge.
For my proposed route, the biggest concern I had was mileage (approaching 30) and terrain. I desired to see follow along the mountains, but the terrain looked like miles of boulderfields, which really slow things down. Pinnacle Pass (or at least that's what I call it) also seemed pretty unholy, being quite steep and intensely rocky. My wife agreed that she could pick me up and take me back to my Jeep after I was done with the trip.
---
---
⤑Day 1: The Road to Goodwin Lake Trailhead Hates You
I got off work around 4:45 and drove south into the town of Jackson, stopping by Dairy Queen to get a big meal, and the only food I'd have for the entire day. It was untasty and probably not the best decision, but I wanted something fast, and this was the only fast food en route to the trailhead.
Getting to the trailhead itself requires very high clearance and a tolerance for potentially damaging the crap out of one's vehicle. The road was so rough that it kept setting off my accident sensor on my dashcam. Anyway, below is the video. It has some abrupt cuts which were typically me stopping to discern how best to go forward, but also some missing segments because I didn't notice that certain sections had been placed into the accident folder of the dashcam. I have not found the desire to remake the video, so this is what you get. Probably gives you a better idea of how much slamming around your vehicle is going to take, too, assuming you don't rip out the oilpan.
I arrived at the trailhead at 5:50PM and put on my brand new Montrails. I have been using the Columbia Trans Alps FKT III for some years now, and when I burn through one pair, I've been blessed to be able to replace them with another. These shoes are perfect for my feet, have a nice toe box, are very protective without being too jarring, and have the best grip I've personally ever used. Here's an Amazon link in case you want to check them out. I don't get any sort of benefits from linking to them…just really like the shoes!
Although I had been nervous that the trailhead would be packed, there were only two trucks, making me optimistic that Goodwin Lake might not be too crowded. My goal for the evening was to reach the lake, set up camp, and hit the hay after reading something and maybe watching an episode of Stranger Things. If the lake was crowded, my alternative plan was to head down through the forest to Lake 9215, or one of the ponds above it in the drainage. A creek runs down the mountain there, and there's also a wintertime warming shack in the area.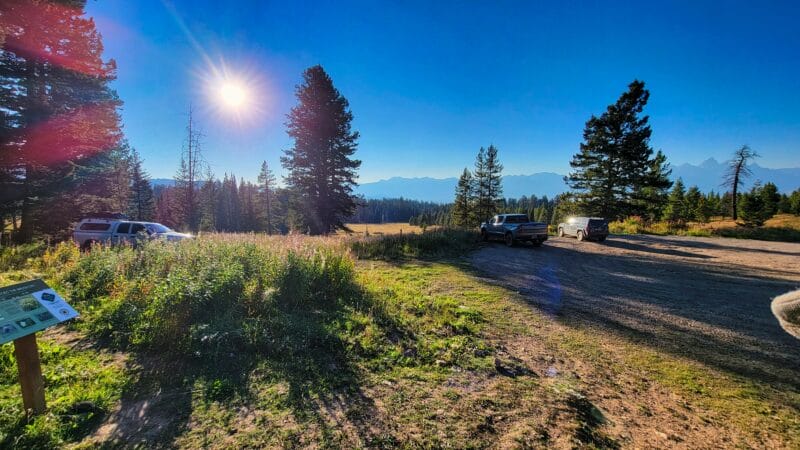 I ended up leaving the trailhead at 6:20. While I had packed a lot of my cold-weather gear (extra down liner, down pants, etc.), the temperature was warm as I marched in an upward arc along the well-established trail. Just over 1500 feet later, I broke out of the forest into bald hillside, and there the sun felt like it was really cooking me. Though I'd had plenty to drink before leaving my vehicle, I was worried that I might become parched along the way to the lake, so I'd also packed a couple of bottles of water. Given how easily water infiltrates downward in this area, I was certain that I'd not have a spot to fill up along the way. (I was correct about that, by the way!)
As something of a blessing, the trail through the treeless side of the hill beelined uphill, which meant that I didn't have to spend much time baking under the oppressive sun. The shade from the trees was welcome in the still air, as was just how easy the path was. Unlike some trails, this wasn't scrabbly, which I appreciated.
At mile one, the gradient decreased and became relatively flat. Being in shape, I was able to just job certain sections of it, though I found myself stopping for pictures as the sun filtered through the evergreen canopy directly on my right, illuminating golden motes, and creating shadows which darted and leaped about the forest floor.
While I could intermittently see toward the Hole of Jackson and the drainage to the east, it wasn't until mile 1.5 that I really got to look down into the canyon containing Sheep Creek. As I trotted ahead, I wondered where I'd really start to feel the elevation gain. As it would turn out, the elevation gain to Goodwin Lake would not be significant enough for me to feel oppressed by the earth itself.
Just over 2 1/4 miles in, the trail finally cut north and left the spine of the ridge, which is good because that's also where the ridgeline starts cranking uphill to Jackson Peak. I took the opportunity to look for cell service, which I knew I wouldn't have, and message my wife that I was fine and close to camp. Shockingly I DID have service. Because I am protective of my satcom messages, I prefer to check for cell service first.
After taking some pictures of the pretty sunset and Jackson Lake, I pressed forward across an area of rockpiles. The trail really didn't get super bouldery itself and was very walkable. As I moved onward, the air became cooler, and eventually the last remnant of red, burning glow faded from the mountainsides. The air was still and quiet as I ambled uphill.
At 7:45 I came upon a creek crossing some 500+ feet from Goodwin Lake; there a sign informed me of where camping was allowed. I am not a huge fan of camping in congested areas. The hygiene of humans often leaves a little to be desired, and my last such experience at the hot springs over by Salmon, ID was incredibly off-putting.
Five minutes later I was at Goodwin Lake and availed myself of the opportunity to check it out before darkness fell, then scurried uphill, albeit quietly, in search of a place to camp. When I'm in populated areas I prefer to be quiet so as not to disturb other campers, but as I gently climbed through the wooded hillside to the north of the lake, I saw no one.
Pleasantly surprising was the fact that the campsites were level, well kept, and had no people! Given that that they were relatively close together, I wouldn't want to camp here if others were around, but with no one nearby, it was pretty nice.
The sites were mostly up on something of a high-point, though a well-maintained trail to them also led downhill to another flat spot. I decided to camp up top as it was a little closer to the water, the area was a little more level, and the large boulders were convenient for placing my pack without getting dirt everywhere.
After taking off my pack, I went and got water, filling up my 1-gallon gravity system, my Jetboil, and a bottle. Upon returning to my camping area, I started getting everything out, only to find the water bottles from the Jeep. Oops. Well that was why my pack was heavier. Rookie mistake.
I lightly munched on some lentil loops. As you can see below, the remainder of my food consisted of m very favorite Peak Refuel Homestyle Chicken and Rice, a little bag of Ruffles, a pink Snowball, and some chips. I had a couple of other little snacks tucked away (gummy worms, for one!), but nothing significant given then short duration of the hike, and the fact that I wouldn't be out for too long. I set up a small fire in an old fire pit; using the long-shutter mode, it ended up looking like a forest fire, while the moon looked like a 737's landing lights.
After hanging my bear bag and giving myself forest bath, I watched some episodes of Stranger Things; it gave me a craving for peanut butter. As is my proclivity, I fell asleep far too late. To my displeasure, I woke up around 2AM covered in sweat; the moon also made it difficult to sleep. The temperature outside had gotten warmer during the night, so I had to de-layer and try to cool off.
---
---
⤑Day 2: Hiking from Goodwin Lake to Jackson Peak, a Real Turquoise Lake, and a Lake Named Turquoise Lake
At 0810 I awoke from the sun's rays blasting into my tent. The temperature was cool but not at all brisk, so unlike my previous hike, icing on the tent was not a concern. I mumbled to myself about needing to get up but not wanting to, debated internally about whether or not I should go run and pee, and finally decided to heat up some water and make myself a warm, carbonated, orange energy drink. While I was doing this, I half-watched another episode of Stranger Things. Below are some pictures from my camp. I'm always glad to see that I have a wedding ring! The glasses you see are my Costa Men's Cut 580g sunglasses, which I have taken to wearing because they have much better clarity than the Jackson Nemesis glasses which I take on "rougher" outings. They also don't smear sunscreen directly on the lens like the Nemesis glasses do, but thanks to their cost ($99 on Woot), I bring a protective case with them everywhere. I have found that I much prefer the actual glass versions (580g, not 580p), even though they are heavier. These glasses also work with my Shockz bone-conduction headset. (Notice my gloves, which are missing entire pieces from my Roaring Fork adventure.)
After getting water and packing, I was on the road around 9:20. With the air being dead still, I got some nice photos of Goodwin Lake. The blue reflection of the sky was contrasted by the deep green of the lake in the shadows. For being really just an average lake, it still had some charm.
The trail around the side of the lake wraps north as you leave the lake and develops a steeper gradient. As I climbed, a tendon in my right leg ached a bit, but a hobbly gait seemed to relieve the pressure. I hoped it wouldn't become a thing for this hike.
The forest gave way to grassy flats, which eventually led me to a sign for Jackson Peak. Not wanting to carry my pack up, I went off to a nearby knoll and stashed it. As I did, two girls went running by on the trail, zipping upward toward the peak, and a man with pack goats descended toward Goodwin Lake. It seemed best to me to go far away from the trail and use the restroom before going up, but the ground was hard to dig in. Consequently, I didn't start the climb until 10:15.
The trail up Jackson Peak was far more docile than I expected. It cuts over to the ridge, an the turn to climb northbound seems to feature the steepest spot, with the most loose dirt and gravel. My Montrails were perfect for this, though, and I didn't have a problem. The two gals passed me heading back down, and I arrived at the top having taken less than 15 minutes to amble up the 700+ vertical feet. As I said, it was far more docile than expected, and at less than one mile from intersection to peak, probably worth adding on if you're already in the area. To the south, I watched the two girls take off running toward Granite Hot Springs, following the path that I'd soon take. Shucks they were fast!
Below: The initial climb, looking along the trail southward, and all the views from the top, including my work!
Jackson Peak was deserted, so I had the place to myself. The peak is really just a big rockpile, but the views of the Tetons, the airport, etc., are hard to beat. Unfortunately, it was rather smoky, especially looking south, so my pictures weren't the best. Still, I enjoyed seeing the airplanes climb out of the valley, hawks diving after creatures in the rocks, and the beautiful vista of the western reaches of Wyoming. Given that I had the place to myself and was in no particular hurry, I relaxed and read a while, giving my right leg some rest. After about an hour, I decided that at some point indulgence becomes sloth, so it was time to head out. Additionally, I saw some people coming up the trail and wanted them to have the mountain to themselves, too. What a luxurious way to hike, taking breaks to my heart's content.
On the way down I passed a man and a woman with a lhasa apso. The man told me not to be startled, because another one of the creatures was somewhere to be found. As I reached the one switchback on the mountain, two women climbed up past me, and although I didn't know it, they would be the last people I would encounter on this hike. While apparently this peak is somewhat popular as a day hike, I'm not sure that I'd personally find it worth it. Seems like a hot, dusty sorta walk to me.
Below: That switchback I keep mentioning. I considered whether or not climbing the ridge from the north would ever be fun. Probably not.
By the time I reached my pack, the temperature had gone from pleasant to surprisingly warm. Although I had been curious about a lake on the Jackson side of the ridge and had at one point considered a hike to it, I certainly wasn't with the sun hammering through the smoky haze. Instead I looked at my map and considered the potential for water along the route: minimal. A couple of marshes and on pond up high and off the trail were likely my only potential sources of water for the next 5 or so miles. I'd packed a bottle from Goodwin Lake in preparation, but as is generally the case with me, the sight of parched land had my throat feeing drier than it was.
Saddling up, I headed annoyingly downhill, across a dry creek, and then started upward again. The trail follows a shelf beneath the ridgeline, and has a habit of climbing and descending in rolling waves. In about 4 miles, I'd end up gaining and losing around 1200 feet. Talk about a waste. I was very glad to be wearing my Montrails, as at times the trail went from being nicely packed dirt to rather treacherous bits of loose limestone.
Below: People on Jackson Peak, changing views of the Sleeping Indian, and views along the trail.
Around a mile and a half from the junction to Jackson Peak, I came across a low-lying saddle that interested me (as it would look somewhat toward my house), so I took off my pack and decided to walk uphill to take a look. First, though, I ate some dried lentil loops and had a bit of my water. The grasses and plants were dry and rattily as I made my way through them, releasing a torrent of sound and the occasional late-season grasshopper. The saddle was a disappointment, looking down into forest and mountains, but mostly having a blocked view of anything interesting. A use trail descended into it, leading to who-knows-where. I spent little time there before returning to my pack and getting back on the road.
Below: Looking down the drainage, the view towards the saddle, the view from the saddle, and the use trail that goes up to the saddle.
The trail continued its ups and downs, passing both dried meltponds and a couple which suprisingly still had water. I was not as thirsty as I'd expected, so I didn't utilize any of the stagnant water. Just over 8 miles into my adventure, the trail started to descend more steeply, and looked for all the world like it was going to take me far further down than I had any desire to go. To my joy, it ended up being something of an illusion, and quickly I was walking along a flat which was listed prominently as a marsh on my old map. Perhaps it used to be, but now there was plenty of water, thought the marshy margins would make it somewhat difficult to access. I didn't feel thirsty so I kept going.
A couple minutes past the ponds I arrived at the junction of Goodwin Lake Trail and Trail 4018. 4018 didn't seem that well worn, and I'm not sure when one might have cause to use it; given that there was no marking for it on the trail sign at the junction. Looking southeast, I wasn't sure which saddle in the ridgeline I'd need to climb, but following the trail toward Turquoise Lake no longer seemed in my best interest as I wanted to head more directly toward Lake 10250.
I elected to head uphill rather too soon, but was graced with a shelf below the cliffs that made for pleasant walking. Needing to dig a cathole, I found myself not too displeased with myself for my decision. The shelf ended up being very walkable and gave me impressive views of moirane-looking rockpiles beneath sharp cliffs. The geology in this area was no longer limestone, a fact happily reveled in by a small creek which burst forth from the bottom of one of the boulder fields. I should have filled up with water there, but I was busy listening to weirdo Roger Stone on an interview, and his bizarre story gave me the energy to traverse some of the till and head uphill toward an off-trail pass I'd identified.
Below: An animal trail going to one of the many saddles in the area. Looking back at the ponds. Views approaching the boulderfields along the shelf. A marmot. The boulderfields, me, the creek, and where I started my climb.
In the last picture above you can see a low point just to the left of center. The climb up there was about 500 feet and not too bad, or at least not so steep that it was particularly memorable. At the top I was afforded awesome views of the Tetons and Snow King. Elk had been bedding down in the area, leaving it a little smelly, but I found a nice place to sit and communicate with my family, letting them know that I'd be at Turquoise Lake for the night, and where I planned to exit my hike the day after, albeit tentatively. As I did so, numerous jets zipped overhead, from an American Airbus A319 to a privately-owned Citation. I guess the airport was still busy enough, albeit off peak.
After checking my map and making sure I was vectoring myself correctly, I said a final goodbye to views of the Tetons, then headed down the hillside aiming toward Lake 10250. The climb down was a little harder than the climb up, as there were more loose rocks. I would have been better served by going straight down, rather than angling toward the lake, as it was grassier. Oh well. My goal was to follow the main spine of the mountains, but that was a mistake. In one of the pictures below, you can see the route I should have taken in yellow, with the route I actually took in red.
I ended up on a little, flat shelf (this area of the Gros Ventre has little shelfs everywhere) with a meager creek flowing along it. I was starting to get a little thirsty, but the map showed what might be better sources of water nearby, so I continued on. An embankment with a defined animal trail helped me avoid rockpiles and losing about 75 feet to another shelf. At 10,100 feet I reached a small pond, or so it was depicted on my map. By this point in the year, the pond was leaning more toward glorified mud puddle status. As much as I wanted water, this wasn't the place for getting it. The picture below this paragraph points to the sad, little thing.
Immediately after the mud puddle, an annoying rockpiled hillside presented itself. The rocks were not the most stable, so I tried to traverse across more than down, hoping to avoid as much elevation loss as I could while also not causing a rockslide. I was forced to descend only 50 or so feet and soon was back in mostly flat, grassy terrain. This section is in magenta below. The second magenta, as well as yellow, is discussed in a bit.
Unfortunately my decisions from earlier really caught up to me: the terrain required me to navigate even more treacherous rockpiled hillsides. At this point I was ready to climb down a couple hundred feet to the grass, but the rocks were wickedly shifty, tumbling beneath my feet at the slightest pressure. The areas of dirt were graveled and eroded, presenting very little traction. If I started to fall, I'd likely break a bone…or a several. Given the options, I made my way carefully to where the rockpile and scree became more legitimately a boulder field. In all, the while traverse was only about 800 feet, but it took me around 20 minutes, so I definitely should have taken the gains and losses in elevation. Note before I forget: immediately prior to the rocky hell, I saw a low-lying, steep saddle that I wanted to climb. I didn't, but if anyone does, please take a picture and let me know if I missed out.
Below: the first, scrabbly hillside, which was more treacherous than it seemed; the last boulderfield I walked through, and the flat creek.
Around 4:15 I reached a small creek which was pretty flat and didn't have much in the way of easy places to get water. I didn't want to disturb the rocks and stir up sediment, so I walked upstream hoping to find a pool, but discovered that the creek just went underground. Careful collection of water it was, then. I headed downstream about 150 feet until I found a place where the water was flowing quickly enough for collection; a nearby boulder taller than me provided a great place to put my gravity bag.
Since I was already stopped, I ate a bag of Ruffles chips, which the picture above probably tipped you off to. The salt and fat were delightful, though to be honest I was not all that hungry. After finishing and repacking everything, I slowly made my way up a grassy hillside to a little pond, which abutted a massive rockpile which had the appearance of a moraine. This was a great place to strip off my pack, so I did that and then started picking my way toward Lake 10250. The lake was only 1000 feet away, and even with the rocks I easily made it there in about 10 minutes, even stopping to take some picture of the Tetons, which as it turned out, I had not seen the last of.
Below: Scenes from the walk up.
Lake 10250 itself was an absolute stunner, despite its diminutive size. The blue colors of it were enough to enthrall me for quite some time. Pictures don't do it justice. Unfortunately, it's obviously fishless and has very steep, rock-laden sides. If you wanted to camp nearby, your only option would probably be on a small hill to the east, which has scrub-trees on it, but even that wouldn't be pleasant. Anyway, I stuck around to watch the shadows paint the lake.
Below: Lake 10250 and your favorite Lucasaurus (AKA Daddy Dinosaur per my child???). The glasses are the Costa del Mar Men's Cut sunglasses in 580g coconut fade. I love them like nobody's business. Excellent polarization, the glass doesn't scratch, and they're not too heavy for being glass.
As the shadows lengthened, I recognized that it was time for me to go, and so off I went. Prior to the hike, I'd noticed a little passage down from the pond below Lake 10250 which would lead me to Turquoise Lake. If I happened to feel more adventurous, I could see an additional couple of ponds and head further south to a more substantial creek, then cut back north once I reached Turquoise Lake's elevation (~9480′). Once I reached the pond, it seemed to me that the chute immediately adjacent was really quick and had nice views, so I started off that way.
Below: Entryway into the main chute.
The descent was easy, but around 10,100 I encountered a steep rockpile. I vectored south to look for the lower of the aforementioned ponds, but found it too cliffy to be worth pursuing, so the rock pile it was. Thankfully it wasn't too bad after I applied a little care in my navigation, and I dropped down into a shelf with braided streams and nice views of Turquoise Lake. Although the chute continued, it seemed to be steep and rocky again, and I had little interest in twisting an ankle, so I made my way south.
Below: Pictures from the climb down.
The descent took me over rock ledges and into the forest. I decided to make a cathole while still far away from the lake, and then continued on. I was confronted with yet another creek, but this one was a little more substantial. I wasn't terribly thirsty, so I disregarded it and pressed on. Finally, I reached flatter ground and emerged from the trees looking at a meadow. I wasn't too sure what I was seeing, as it had a pond in it…was the pond attached to the lake? Did I need to go east? I tried out some higher ground on the west and found that I was able to navigate without getting wet. As it turned out, a small creek/channel connected the lake and the pond, and it was easy enough to just hop over.
Below: Around Turquoise Lake, the pass I'd use the next day, the little pond that I broke out nearby, and one of the numerous ponds around Turquoise Lake.
Turquoise Lake had a number of ponds around its eastern edge, but rather than the banks of the lake being marshy, they were firm and rocky. The ponds were separated by small, treed rises, under which sat granite prominences which sometimes burst through the ground. That's always a pleasing scenario as it makes camping so much easier. As the sun was going away quickly, I put down my pack and looked all around for the best spot to camp, eventually settling for a spot which showed signs of previous use and had hosted a fire at some point. The ground was level and dry, and the site hidden from view. After doing some preliminary unpacking (when I have large boulders available, I like to set out my camp items so I can access them easily during setup), I took out my tenkara rod an did some flyfishing. The trout were biting like mad, and in under 30 minutes I'd caught and released at least 10. That was enough for the night, so after quickly checking out more of the lakeside and discovering I was there alone, I headed back to set up camp. I also observed that I could have rather easily made it all the way down the chute I'd been in, but my chosen path was probably easier, if a little less direct.
Below: The area around Turquoise Lake, which isn't at all turquoise, unlike Lake 10250. The vertical/portrait-oriented picture shows the chute which I avoided.
With darkness creeping in, I got my tent set up and made dinner, which was the excellent Peak Refuel Chicken and Rice, which I've said before is perhaps my favorite wilderness meal. Coupled with berry Propel, some gummy worms, and a cherry handpie, I was truly living high on the hog. As darkness set in, I ate by the fire and felt sadness that my family wasn't with me, but also had the distinct feeling that this was perhaps the most pleasant evening I'd ever experienced while camping. The air was pleasantly warm, and despite a slight smell of smoke from distant fires, the skies were still relatively clear.
Below: Scenes from dinner time. I was able to use the long-exposure setting on my phone to get a cool shot near the fire which made it look like the forest was burning down; coupled with the moon, the scene was really bright.
With dinner completed, I bathed myself (so nice when no one is around and you can go des nudo) outside, dumping hot water all over my head and down my body, using my Rainleaf microfiber camp towel to scrub in the biodegradable soap. The air was so nice that I didn't get cold even when I strayed from the fire, and thanks to the previous cold spell, I didn't have to worry about mosquitoes.
After drying off and setting out the towel to dry, I brushed my teeth, checked my bear bag, and crawled inside my tent. Another episode of Stranger Things entertained me before I fell asleep.
---
---
⤑Day 3: The Rocks Aren't That Bad, But Don't Get Lost After Pinnacle Pass
0700 is a terrible time to get up, but it was the time I rolled out of bed and went to pee. The morning was just as beautiful as the evening, and I said some prayers as I walked around taking pictures. The ponds and lake were dead still, creating amazing reflection; the smoke in the air added depth to the landscape. I was very blessed indeed! As you can see below, I was pretty impressed with the views.
My goal for the day was to climb the pass previously mentioned and then head toward the saddle above Little Granite Lake, right by Pinnacle Peak. 10-11 miles would take me to Little Granite Creek Trailhead, though an additional 1.5-2 would take me to Granite Hot Springs. Regardless of which route I chose, about 4-5 miles of the journey would be off-trail orienteering, and I hoped that it would not be endless rockfields as I'd encountered at places like Frozen Lakes in the Bighorns. After hydrating, I set off at 0930, passing north of the pond this time, then climbing a small, forested, ridge-like feature which broke out into an open field.
Below: Aiming at the pass.
Climbing steadily southeast, I re-entered the forest and came to the creek I'd considered following the previous day when I was leaving Lake 10250. The creek was very steep and would be excellent for collecting water, which I didn't yet need. A couple of minutes later I started climbing toward the pass, sticking to the open, grassy slopes and avoiding the steeper, forested areas. A few rock shelves were present, but the going was otherwise quite easy, though I found myself wishing there were something of a breeze. About half a mile and 400 vertical feet past the creek crossing, I found myself looking back from the top of the pass.
Below: The creek I crossed along the way, the pass, and views while climbing the pass.
The ridgeline to the northeast was phenomenal and gave the appearance that it was its own island in the sky. In reality, if you were to traverse along the bottom of it, you'd find a way up and discover that it's a shelf in the shape of an arrowhead, and the pass is located at the point of the arrowhead. Beyond this peculiar looking shelf is another, higher one, featuring the same shape, and beyond that the terrain climbs into a V-shaped mountain. It's a cool area.
My map convinced me to head southwest, using a couple of ponds/lakes to guide me along a relatively flat area. Heading north would take me precipitously down into forested canyons, which I had no interest in doing. Walking in this area wasn't as unpleasant as I'd feared it might be, though granite outcroppings the size of small yachts and sometimes bigger made it anything but direct, with lots of ups, downs, lefts, and rights. Due to the granite layer, water was easy to find, from tiny ponds to small creeks.
Below: Numerous opportunities for water existed in the area. In the picturesfrom
In all, the elevation difference from the pass to the point where I had to start descending was only about 80 feet, and I ended up climbing a total of about 140 feet. A pond at 10025 marked by high point for this section of the journey, and from there I descended down to a pond at 9075 feet. This pond marked the point where I started following the drainage down around 200 feet, as cliffs impeded journey along any contour lines above that. As I made my way down, the creek was often hidden from view beneath the boulders that were everywhere.
I took lunch at a very small pond along the route and nestled myself under some spruce trees to watch some more Stranger Things as I ate almost all the rest of the food that was in my pack. (None of it very healthy.) The creek just below the pond presented a great place to get water, so I chugged a lot to rehydrate myself, and also put on some sunblock. My head had been hurting, and as it turned out, removing my hat made the headache go away. The hat had become too small after journeying many miles with me. I attempted to stretch it out, then elected to climb along a small hillside to the north of the creek to make my descent. I had been tempted to cross the creek and make my way along the cliff bands, but it probably wasn't worth saving the 75 feet of lost elevation. From pond 9758, I re-oriented myself and saw the gaps I'd have to shoot while heading toward the final pass into the Granite Creek drainage.
Below: Lunch spot, pond 9758, the gaps to shoot, and me.
I left the pond and tried to stick to grassy areas. As I climbed, there were fewer pleasant spots to walk, and the bands of exposed rock jutting out became preferable to the boulderfields, at least when I could use them to ascend. This half mile felt pretty long. Though it was only a 300 foot climb until things leveled out, the lack of wind had me really feeling it. I finally crossed the first low point at 10 past noon. Before me was the pass I was aiming for.
Below: Looking back and toward the rest of the Gros Ventre during the climb up. Boulderfields not featured much as I have read horror stories of people dropping their phones into them, never to be found again. The last picture is the ultimate pass I'd have to get through.
While I had previous considered checking out a couple of the lakes nearby, I was able to peek at one and see that it wasn't worth visiting. Instead, I made my way to pond 9987. As seen in the last of the pictures above, this area is heavily rock-laden, but also above the treeline, and it does have plenty of grass to walk on. Numerous birds were at pond 9987, flitting here and there and generally seeming upset with my presence. I doubt too many humans venture around the area.

Below: A true fir tree, pond 9987, pond 9940, and some small creeks.
Before climbing the pass, I went downhill to look at pond 9898. It was in a nice location and would be a good candidate to camp at, as long as the water wasn't teeming with amphipods. The gentle, braided creek that led to it was a suitable place to gather water, which I did before heading toward the pass.
Below: Pond 9898.
The next 205 feet in elevation gain we're too bad and I found plenty of grassy slopes to walk on. The topography in the area seemed a bit disorienting for some reason. I think I typically expect a canyon drainage to be one main slot in the mountains, but there seemed to be a whole bunch of smaller canyons around, simply running together.

At 10,200′, found a flat spot with a small pool of water still remaining and views of the barely visible Tetons behind. Though I'd hoped that it might be a gradual, steady climb up to 10450 and the pass, the mountains here were very lumpy, and I spent a great deal of time discerning which route would be the easiest. while I was walking. There were no game trails to hint at the best routes. To distract myself, I listened to a podcast where some people drank some sort of new-age energy drink for a month and found that it wasn't all it was made out to be.
Below: The initial climb, the small, level area, the Tetons, looking back from when I'd come, and the first sighting of Pinnacle Peak.