Review: 22 Miles Hiking Three Waters Mountain, Native Lake, & Roaring Fork
Review: 22 Miles Hiking Three Waters Mountain, Native Lake, & Roaring Fork
Reading Time:
51
minutes
---
This hike is one for those who like solitude, stunning views, and horrible deadfall. Not for the easily lost. Status: Not yet proofread.
---
---
➤Quick Facts
Information at a Glance
Date of Visit: August 27th-29th
Notable Features: Three Waters Mountain, Trail 832 Pass AKA Simpson Lake Pass, Lake 11318, Dads Lake (Northern Wind River Range Dads Lake), Roaring Fork, Crescent Lake, Faler Lake Pass, Native Lake, Alexander Park, Osborn Mountain, Roaring Fork River, Roaring Fork Trail 146, Gunsight Pass CDT Trail 094 Gunsight Pass CDT Trail 094
Total Miles: ~21.9 miles
Elevation Gain/Loss: +/-5894′
Elevation Min, Avg, Max: 8913, 10296, 11594
General Route:
—OFF TRAIL Gunsight Pass Parking Spot ►Three Waters Mountain ►Lake 10971 ► Simpson Lake Pass ► Dads Lake ►Crescent Lake ► Faler Lake Pass ►Native Lake ►Utter Hell ►ON TRAIL ►Roaring Fork Trail 146 ►Gunsight Pass CDT Trail 094
GPS Track Download Download the file after getting a free Gaia account (I love them!) or direct download for Google Earth/phone viewing here.
Elevation Profile

---
⤷Introduction
When the days are long and the hiking season is just beginning, I'm always in pit performance, which as you might have guessed, is the opposite of peak performance. This always puts me in the position of having the longest days when I can hike the least total distance/day. With the end of August approaching, I was in better shape, but the days were getting pretty short. By this point I'd hiked most of the nearby, overnight hikes I could accommodate with such little time off, so I was looking for something close by which would be new to me. After some consideration, I wrote off Ross Lake and elected to shoot for Three Waters Mountain, Crescent Lake, Native Lake, and the Roaring Fork trail. Three Waters Mountain is the triple point for the Colombia, Mississippi, and Colorado watersheds, but more importantly, it hosts forest road/FR 649, which terminates at (there are many named this) Gunsight Pass. If FR 649 was drivable, I could shave off some hiking distance and only hike around 20 miles or so.
Google Earth said leaving work, driving up to Dunoir, and ingressing that way would save me time vs going from Jackson to Cora and the Green River entry point, so I planned on it. Looking at satellite imagery, I saw a horse trailer that was about 2 miles from the terminus of the forest road, so I thought I might be able to drag my Cheap Patriot at least that far, at least if rains hadn't washed out the road, given that we'd had a few, severe storms.
---
---
⤑Day 1: The Forest Roads
I was done controlling at 4:45 PM and hit the road. The drive up and over Togwotee Pass was uneventful, and I found myself hoping that the drive over Dunoir and to Gunsight Pass would be as well. I took road 263 quite a long way, finally crossing a creek where I then made a left and took road 370640, which was very rough. Though there were many ways I could get to where I wanted, I decided to stick with Google Maps as long as I could. 370640 never became a great road, and I'd recommend it only for higher-clearance vehicles. Eventually I took another left on FR 647, which was worse than 370640. I stopped by a couple of ponds just below the 9400 contour lines, but the ponds were stagnant cow watering holes. There were infinite, ripe Rocky Mountain gooseberries, which I rather enjoy, so I ate a few handfuls. I debated for some time on whether or not I should camp in my Jeep there, but the place was somewhat smelly. I went back to my Jeep and continued along the road until I found a dirt track that broke right and toward the nearby ridgeline, which overlooks the Green River.
Below: Three Waters Mountain from 370640, then everything around the cow ponds.
I parked just off the road and took a quick jog up the road/OTV trail, thinking that I would likely not get much closer to the overlooking ridgeline, and wanting to watch what I hoped would be a pretty sunset. Upon reaching the ridge, the wind was a wee bit nippy, leaving my skin numb on my hands. I was shocked to have cell service, but also delighted, as it allowed me to call my wife and child, and to text my family my plan, so they'd be able to view it after we got off the phone. This also saved some data with my satcom, which is a precious resource. The chat really buoyed my spirits—I wished my little one and my wife were with me—and the gorgeous views of the Tetons, the Gros Ventre, and the Winds only made it better.
Below: The track to the ridgeline and views from it.
With sunset completed, I ran back down to my Jeep and drove on for a while more until I found a nice place to park along a side trail. It also smelled of cows, but it was getting late, so I closed all the windows and called it good enough. Dinner was a homemade chicken/bacon wrap, and bedtime came after. I didn't set an alarm, instead deciding to let the sun wake me up.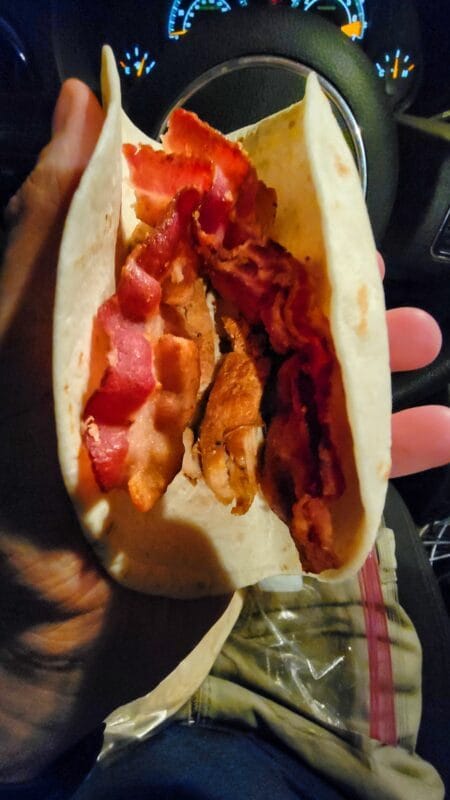 ---
---
⤑Day 2: Gunsight Pass to Upper Roaring Fork
I woke up at 0634 which was earlier than I wanted, given how cold it was. The frost on the vehicle windows did make for a pretty sight, at least. I decided to go on an early morning jog up to the ridgeline and see if I could let my family know of my plans, once again aiming to save a satcom message. The morning was crisp and a bit windy once I got to the ridge, but the views were unbeatable. Once at the top, I let my family know that my planned route was on Gaia's website, but I wasn't sure if I was going to go down Gunsight Pass and up to Crescent, or along Three Waters Mountain to Crescent. Regardless, I planned on ending the night in the general vicinity of Crescent Lake if I could.
An outfitter's camp—or something like it—was nestled up on the ridge. Was it for some of the Mexican sheep herders? Were there sheep here? I didn't know, but the camp was a true outdoor mansion. I looked down on Roaring Fork where it entered the Green River, a place I've kayaked often.
Chats done, I jogged back to my Jeep, packed it up, and started the drive to Gunsight Pass. The road was pretty dadgum awful, and my Jeep Patriot only handled it well as it's more of a go-kart than a real vehicle. I was surprised to find myself driving up a bald hill all the way to the end of the road. A video of the entire drive from the highway to the terminus is below, with rock-moving segments taken out to save you some boring viewing.
I parked and got out in rather breezy conditions. The air was really chilly for the time of year, and despite the moisture being sucked from me, there appeared to be moisture, as haze added depth to the landscape. I set out my solar shower and had a little breakfast/lunch before throwing on my pack. I was blessed to have an extra buff that my wife had purchased for me, as well as my Stio shirt and military gloves. The temperatures were low enough that I'd be just warm enough wearing all of them.
Before leaving, I took pictures of some memorials/graves.
At 1043 I started a steep walk down to the low point at Gunsight Pass, where the Continental Divide Trail cuts through and then meanders through the alti-fields. Looking down the trail, I decided it was going to be miserable to walk up, but overall more of a known entity than Three Waters Mountain, so frontloading the risk was the best option.
Below: Gunsight Pass, south and north.
An animal trail meandered near the fenceline,. I followed it up into a small meadow, then back into the trees, popping out into an expansive section of bald hillside; there were intermittent OTV trails here and there. Using my map, I pegged a nice route up, which was really just pressing straight on and using a lone tree to orient myself.
Below: cow trails to bald hills.
After about 400 feet of climb the mountainside flattened out, and although I'd only gone a mile, the views behind me of the Tetons were rather flattering to Wyoming. There were also a number of rather cool rock formations which I was drawn to, and which reminded me of Wyoming's Vedauwoo. (VEE-duh-voo) A plane's contrail also cast a cool shadow in the somewhat hazy air.
Below: OTV trails, shadows, rock formations, and more.
I had to stop and do some unexpected work on my phone; the views around me were however quite grand, as in order to get cell service I'd been forced to walk toward the canyon walls. Getting work done proved difficult as the security measures for remote access had changed both without warning and overnight. The beloved Ms. Necessary saved me by helping with the login. Note: had the work issue not have arisen, I would probably not have climbed straight up the bald hill. My original plan had been to follow a nearby drainage to the east to avoid the hill, but that was when I was considering the route in reverse, and when I had no plans of going up to find cell service. You can see what I mean in the picture below, where my GPS track is in green, and the red dots are the route I'd planned: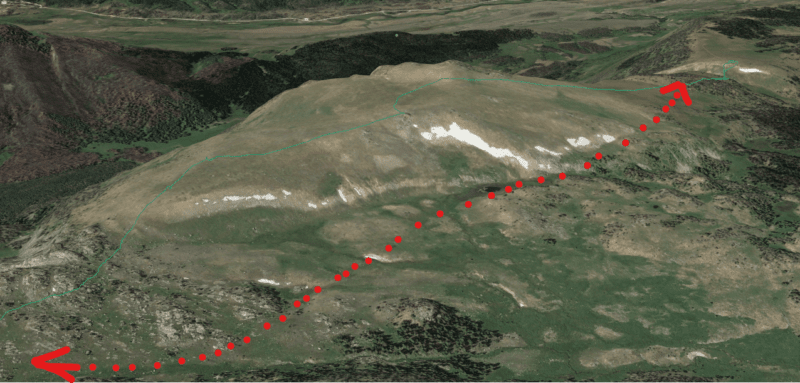 After completing my work, I wandered around and looked at some of the more interesting rock formations, then looked at my map. A slight northern bow along the side of the mountain was less direct but avoided going steeply downhill through possible cliffs and saved me a lot of return climb. It was worth the extra distance.
Below: View from a bald flat of Three Waters Mountain, panorama of the area I was heading to, the direct path that lost and gained too much elevation, and a nice view of the Tetons.
Picking my path toward the wider spaced contour lines wasn't very difficult; animal trails also helped guide the way. Soon I was out of the scrub forest and following the game trail across numerous, small rivulets but kept pressing on; the trail had some gradual undulations but nothing serious. A Challenger zipped by overhead on its way to Jackson. From the heading, it was going direct to DNW.
By 1230 I reached a creek of decent size and got water while listening to Dr. James Lindsays' New Discourses podcast. On this one, he discussed the philosophy of many in the World Economic Forum and their views of transhumanism, as well as implementing enforced scarcity on plebians. Not nice people, if you ask me.
I filled my entire Sawyer bag and drank almost all of it, which surprised even me, as it's a full gallon. The water itself was very cold, much like the air, but I wasn't certain when I'd find water again. The Sawyer gravity system has been perhaps my favorite investment in improving my quality of life while camping. It's light, easy to use, and makes drinking water an easy pleasure instead of a chore. In this case, I used a large boulder to set the bag on, and let it gravity filter into my smaller bag water pouch below. When I hike, I typically bring at least two pouches, and reserve one of them for electrolytes and energy mixes. At night, I like to keep the pouches in my tent so that I can have an energy drink right when I wake up, and so that I don't have to freeze myself getting water.
Below: Sidehilling until I found an animal trail, which I then followed (next two pictures) between small ponds and puddles. Final picture: The surprisingly large creek where I got water.
With the watering complete, I climbed just under 200 feet up a gradual hillside, where I stopped to download another podcast and take in views of the Tetons. The large, bald flat where I'd stopped for far too long to do work was also in view, adding to the vastness of the scene.
Below: Vast scenes. The large field is the place I did work on my phone, while the less jagged peaks are the Gros Ventre Range.
At first I made a sharp left and started heading up the hill, wondering if I should perhaps aim for the 11400 contour line and follow it out. If Three Waters Mountain were similar to Union Peak, this could save me willow-based misery which I'd endured when hiking around Seven Lakes. That particularly poor decision truly haunted me, but my map and satellite imagery indicated a lot less vegetation than Union Peak. The other factors were obvious: if I could follow lower contour lines, I'd save a lot of climbing and also be able to take a more direct track. On the other hand, the contours were tight, and I could find myself cliffed out or having to do a lot of scurrying up and down and backtracking, which always makes me…I dunno, but anxious+surly is a good description.
After deliberating for far too long, I walked to the edge of a small saddle where I could look somewhat along the mountainside and see what was coming. Or at least I wished I could see more, but the bend in the mountainside meant I could only see about a mile or so. I did get some nice views of Downs Mountain, at least.
Feeling very fickle, I finally decided to take the lower contour route, as it allowed me to track toward water bodies (nothing indicated water at the top of the mountain), and I also saw a very well-worn game trail going down to a larger pond about 150 feet lower and a quarter mile distant. You'll see those in the picture below.
I descended down to the game trail and followed it toward the pond I previously mentioned. While the low-angle granite slabs were tempting, I decided to stick to the west of the pond to avoid a marshy area. To the southeast I made out the game trail steeply climbing through some small trees. After circumnavigating more marsh, I reached the trail and started climbing. The pictures I have of it make it seem benign, but it was scrabbly with loose rock and, in a couple of areas, marshy springs. Gross. The views of the Tetons remained fabulous.
Below: The pond, the trail that felt steep and uninviting though it was actually benign, and the Tetons peeking at me.
Thankfully it was only about 100 vertical feet (I swear it felt worse for some reason), after which I broke out into a flat looking at yet another pond. Beyond the pond was slabby hillside, leading me to wonder which way this modern man should go. I could follow the pond's presumed outlet down to a large, somewhat flat, forested area around the 10400 mark, or I could climb the slabs up to 11,200. In the end, I decided to attempt to look around an outcropping and perhaps follow a vertical gash in the land up, or if it looked better from that point, to continue side-hilling. As you might be able to tell, I prefer to avoid going up and down.
Below: the pond near the slabby mountainside.
As I listened to Joe Rogan talk with Seth Dillon about abortion, I moved on past the pond and down a gnarly rockpile. There was no way to side-hill along the area, so I carefully picked my way down while wondering if I'd break a leg, or two legs, or two legs and an arm, or two legs and two arms, or two legs, two arms and a neck. That would be embarrassing. I got a great and first view of Native Lake, as well as a nice look at the road to Green River Lakes, both of which are pictured below. The mountain with ears is Doubletop Peak, which I hiked near previously. As a side note, I really wish that Seth and his brother had not had such a falling out with the wonderful Ethan Nicole, and I hope that they make up prior to passing away. Holding to Christian convictions, it is my belief that it's better to be friends prior to death, as otherwise the heavenly reunion seems a bit awkward. Regardless, I hope God blesses them all with fruitful spiritual lives, and I miss submitting stuff to the Babylon Bee.
11 minutes after leaving the pond, I'd only traversed 1400 feet (+50/-75), but was invigorated by the sight of the gash in the side of the mountain, which was my mentally-marked place to make an ascent. In retrospect, I probably should have made the climb up to about 11,100, but I instead elected to keep sidehilling, which meant crossing the scar in the hillside. It was deeper than it looked, but I found a good way to hop down into it and cross. On the other side I passed through a quick forest and back into the open, which then brought me into pathfinding through rocks and sections of grass. Across Roaring Fork Canyon, an awesome rockslide was present.
Below: the gash, Osborn Mountain, and the rock slide.
At 10,950 feet I ran into a cliff and chute which prevented me from sidehilling. I guess I didn't take pictures of it, but it's completely impassable, and I recall it vividly in my memory. Avoidance advised.
A quick climb to 11,100 helped me clear the chasm, and from there I shot mostly sideways, until I stopped to take in the view at 11,200. I also checked in with family and explained that I'd be off-grid soon. Before departing the little crest I was on, I obviously had to take some pictures. Osborn Mountain and Roaring Fork were nothing if not spectacular. The rugged, rock-strewn terrain capping yellow fields above dark forests simply blew me away, and Native Lake stood out as a jewel. Across Three Waters Mountain, I saw a large rock outcropping with a low point which provided me with some orientation: I'd head for it, then down the slopes toward the next ponds and lakes on the map.

Below: Zooming out. The low point is observed in both the standalone photo and the panorama.
Upon reaching the gap, I stopped and had a lengthy lunch, or at least it felt that way as I shoved Snowballs, lentil loops, and chips into my face—I was only carrying a little water with me at this point, so it was a risky affair. In actuality, the stop was only about 15 minutes. I had unstrapped my Canon to get some pictures, and the process always makes things feel longer, mostly because it's irritating.
Leaving the rocky gap, I climbed a little bit around some outcroppings and soon rounded a bend in the mountain, which gave me views of the small lake I'd been heading to on my map. Downs Mountain was well in view by this point, showing just how far I'd come. The framing of the scenery here is stunning, and seems larger than I'd even thought to hope it could. Despite not having the soaring towers seen in the Cirque, or the scraped walls of Titcomb Basin, the sheer rugged might of the land made me praise the Lord out loud. I was truly blessed by such a gorgeous vista, and at this point determined that the walk would be worth it for my friends Peggy and Hank, as well as my wife, and my mother.
Below: Views from just beyond the rocky gap. Can you spot the game trail?
While the view was well worth it, being high enough to see the lake was unfortunate, as there was no way to get to it without losing and then retaking a great deal of elevation. Sidehilling would run me into a massive boulder field of, well, massive boulders. I looked and realized I could shoot a line toward the grassy, flat top of Three Waters Mountain, which would perhaps offer me nice views for the large climb, and then descend the neck of the mountain to the pass overlooking Simpson Lake. It was tempting.
In the end I decided to straight-line it toward the lake, as it was nearly 4PM and probably time for me to desist from my leisurely pace and constant picture-taking. Route finding was easy and I hopped over a couple of creeks which were flowing very well. As I crossed them, I looked over toward Native Lake and wondered how steep the creeks would become while heading toward Roaring Fork. From the topo map, some of Three Waters Mountain seemed to be a sheer cliff, but by this point, it seemed like I'd left that section behind.
Trekking toward the lake brought me to a section of cliffy hillside which drove me lower. I tried to beeline as much as possible and avoided traversing down into a forest of scrub pines. In doing so, I ended up finding three creeks within 500 feet of each other. Oddly enough, two of the creeks joined together about 200 feet from where I crossed them. Had I gone lower into the forest, I would have seen the first 2 creeks form into a nice waterfall, but I missed that…guess that's a reason to go back!
My path took me across one final creek some 475′ lower than the rocky gap I'd left before reaching a (get this) creek at the base o the massive field of boulders I had spied earlier and chosen to avoid. Deep pools of water enticed me, but I decided to quench my thirst later. I hopped some huge boulders, and followed a gully southeast in the general direction of the lake I'd spied earlier. The game trail from one of the photos above was nearby, but I avoided it in favor of saving a little distance—the trail seemed intermittent and not really heading where I was, anyway.
Below: A nice creek, a look back toward the rock gap (note the small stature of the trees), a view up toward the top of Three Waters Mountain, and where the creek was underground.
The creek I was following vanished underground, so I continued up the gully until I reached a tiny meltpond. This wasn't the water I'd seen earlier, which I realized must be more off to my right. Following a quick course correction, the lake popped into view. More properly, it was a set of connected ponds surrounded by alti-marshes. The western edge had a large outcropping and wasn't as flat as the east, so I went east for the ease of the stroll. Although I was thirsty, the ponds didn't appeal to me, so I pressed on. In the distance a well-worn trail descended Faler Pass. It looked so close, and yet the circuitous loop to get there meant it was really quite a ways away. To my south, I looked into the rock-laden landscape that would take me into upper Roaring Fork. It appeared desolate and treeless. Hopefully I'd find a good place to camp.
Below: Leaving the meltpond and looking at the grassy slopes I could have climbed. The larger pond which I didn't stop at for water–what an amazing color. Speaking of amazing, look at my hair in that wind!
Around 4:20PM, I got my first view of lake 10,791 (ish). Common for the area, a creek ran into it from the north and a small cascade presented a great opportunity to collect and filter some water. I once again drank an enormous amount of water, which took me about 15 minutes. I arrived at the lake at 4:44, so it was getting a little late for me to still not be in the upper Roaring Fork area. You know what that meant? Yep! More pictures. Once I was level with the lake, the view of Osborn Mountain was just flat-out impressive. While it's nothing to give a second thought to when viewed from the Green River side (unless you're my friend Tom Ruppenthal, who has climbed it with his bride), from Three Waters Mountain it's rather impressive. I was also presented with an amazing view of Faler Pass, which had an incredibly prominent trail going down it. This trail seemed to descend even further, though I wasn't sure where. You'd think it was going to Native Lake, as that would seem to be attractive, but that didn't appear to be the case.
Below: Lake 10791 with the creek to the left, a view of the pass to Faler Lake, and Osborn Mountain.
As I made my way around the lake, it became evident that heading east was better than south due to a large, marshy area. A gradual, 150 foot climb following a game trail across a grassy rise brought a large waterfall into prominence. I knew that I'd end up near it, but I wasn't sure what getting there would be like.
Below: the game trail, looking back on Lake 10791, and the waterfall.
As the pass into Simpson Lake was very close, I marched up the unnamed trail to it and took a look at things. I've hiked the area around Simpson Lake, so getting to see it from the pass near Marion Lake, as well as from the pass into Roaring Fork, was quite a treat for me. Sandra and Pinto Lake were both visible, and Pinto looked worth a trip in the future. We plan on renting quads one year and going back to Granite Lake, so maybe we'll do a quick hike over and hit up Pinto and Divide Lakes.
Below: Simpson Lake, Sandra Lake, Union Peak, looking into Yellowstone, Pinto Lake wide and zoomed in. In the wide panorama, I've hidden a green X which shows a place I camped during another hike…and that place has significant historical value.
With such a beautiful view of Simpson Lake, leaving was a shame, but as I stared 5PM came and went, which meant it was time to press on the upward way. Having just crossed the Continental Divide, I decided to stick with the eastern section for a while, climbing along a spine and upward towards the Dads Lake drainage. The walk was easy enough, though the shadows were starting to appear, indicating that I needed to pick up my pace. I trudged uphill for about a quarter of a mile before popping back to the west side of the divide. During the climb I encountered a plethora of humpbacked camel crickets. The cold, whipping wind made them very lethargic, though it invigorated me.
Below: looking back in the direction I came from, one of the numerous unnamed lakes along the southern flank of Three Waters Mountain (still need to explore that area), the plateau below the ridge I climbed, and one of the many crickets Klaus Schwab and the World Economic Forum would like you to eat.
The waterfall I'd seen previously was in view, and boy did the creek below have some steep sides. As I got nearer to the waterfall, I saw that I could descend a scree-filled chute and make a steep traverse directly to it, though I'd have to navigate pillars of rock. I was quite interested in getting some photos up close, but not as interested in a treacherous rock coming loose and sending me rolling head over butt over head over butt (as has been the proclivity of my own, dear mother in the past), so I kept east and climbed along the ridge. Along the way I encountered a rock which reminded me to praise my Creator!
Below: Another view of waterfall, showing the grassy ramps I would choose not to traverse, the steep chute, a cross, and a glimpse of Rim Lake.
Instead of climbing right by the waterfall, I climbed up toward Lake 11318 and stuck closer to the ridge leading up Shale Mountain, which helped me avoid rock hopping. At 5:46 PM, Lake 11318 came into view. Behind me were excellent views of Three Waters Mountain, which looks like it's a pleasure to walk if you get to the top. The next time I do this hike, I'll likely climb it and then walk down, if only to say I've done it.
Lake 11318 was quite pretty, and shockingly there were a few places you could put a tent without having to spend time on a boulder. I was vaguely tempted to do just that, but my mileage indicator told me that I needed to cover more distance for the day, or the next day would not be a pleasant endeavor. Too bad, because I could have gotten some great shots of the waterfall at sunset.
At this time of year, crossing the outlet was a breeze. There were no fish, but I also didn't see amphipods, which was a plus. The southern bank of the lake was far less steep than the buttress of Shale Mountain and had many more areas with grass to walk on. My map indicated some ponds were up on the hillside south of the lake, and I was curious to check them out, but I decided that it was too late for me to be meandering. I really wanted to score Dads Lake to the east, as I've been to the other Dads Lake in the Wind River Range a bunch of times. I also enjoy collecting the various matched lakes in Wyoming. There are numerous ones, such as Solitude, Rainbow, etc.
While I was heading east around 11318, my laziness got the better of me. Attempting to stick to to smooth granite rather than rock-hop, I ended up on a line that simply became cliff. Backtracking would have added 10 minutes, so I very carefully found a place I could sit my butt, then turn around and hang down. I was suspended a little in the air, but was able to see the ground below me and drop. I made it safely down, but I typically don't like doing that with a pack on.
Below: Creek exiting Lake 11318, Lake 11318 from near the outlet, a no-kidding decent spot to hold over, windswept water looking at Three Waters Mountain, and a nice view leaving Lake 11318.
The creek between Lake 11318 and Dads Lake was somewhat visible at the inlet to 11318, but then went underground. Dads Lake was less than a half mile away, but it was pretty much entirely boulder hopping up to it. Popping out at the top of the "creek," I found a billion little birds which were calling Dads Lake home, based on how they acted territorially and had left tons of poop everywhere.
Below: the inlet area near Lake 11318, a video of what I saw upon reaching Dads Lake, and walking around Dads Lake.
Dads Lake was charming, with a lower and upper segment separated by a small waterfall. I wasn't sure if I could cross at the waterfall, but I sure wanted to get a good look at the thing, so I marched my butt up to take a look, and was pleasantly surprised that I could just rock hop across.
There were a few places to camp near Dads Lake, though they all had rocks poking up. Not the best situation, not the worst situation. I should have stayed and camped there just to say I'd camped at a lake at 11,469′, but I wanted to cover more ground, and I could rough it later on at Lake 11751 if I swung back around some other time. I decided to press on toward Lake 10802 (on the Roaring Fork) which was just under a mile away. By this point the shadows were rather nippy and the wind was still battering me as if I were a tender, young sapling.
Below: Views of Dads Lake. Campable, if close to the water.
I wondered if I might get a spot of cell service to message my wife if I climbed to a high point to the west, so I angled that way and climbed a bit. It was soon obvious that it would take too long to get to even check, and rather unlikely anyway, so I abandoned the plan and headed toward a gulch that led down to the Roaring Fork. The immediate area near Dads Lake is pretty cool, because two creeks essentially split around 11,500 feet, and one goes to Dads Lake while the other goes to Roaring Fork. Eventually they both end up together again.
Below: The caterpillar, 3 views from the highest point of the hike (11549), and a picture approaching the gulch, then looking down the gulch toward Lake 11034, which I had some desire to camp at.
I descended to 11,455 feet and then had to decide if I wanted to go down the gulch or to its other side and follow a contour line, which could then take me to–yeah, it was complicated, so I elected not to. The sides of the gulch were very steep and I wanted to avoid crawling down rocks the whole way, so I found some grassy ramps in the midst of cliff-like bands and followed them, hoping I wouldn't get cliffed out. Below me was a small pond with verdant grasses. The view into upper Roaring Fork was to die for, but the wind whipping up the gulch, combined with the lack of sun, was punishing. Taking off my military gloves to get pictures was not a pleasant experience in the least.
Having safely clambered down just under 400 feet, I reached Lake 11180. The outlet side had very thick, lush grass, and there were numerous places to camp. I would have called it a night, but I didn't much care for the cold wind being funneled at me—even with my gloves, now sporting holes in the fingers from all of the rock-grabbing ascending and descending I'd done, my hands were cold, and my nose wanted to run. Besides the present cold, in the morning the sun would stay hidden for a long time. If I hurried, perhaps I'd see the sunset from the the lake at the bottom of the small canyon.
Below: Looking back up toward Dads Lake, Lake 11180, and views into upper Roaring Fork.
It was 1658 by the time I left Lake 11180, and while I knew that I had to hurry, I wasn't really worried about nightfall as I had my Black Diamond headlamp with me. I stuck to grass as much as I could which meant that I crossed the creek 4 times on the way down. Around 11050 feet, I ditched the ditch and sidehilled to the west. The views were spectacular, but the sidehilling was full of treacherous, slippery scree. My ankles felt the angle of the hill.
At 1726 I reached the flat of Lake 10802. A small hill erupts from the flat and runs west, but I didn't explore that area. There was blissfully little wind by this point, so I looked around at places I could camp, which were effectively endless. By the creek seemed windiest, so I marched over to the lake and explored its nearest edge. Closer to the outlet I found some decent spots to camp which were pretty calm. By 1955, my tent was pitched a good distance from the water. I took some pictures before finishing the setup.
After taking the photos, I completed my camp setup: aired up my mattress and pillows, tied the pillows to the mattress, set out my Enlightened Equipment down blanket along with my Wind Hard blanket, put my chargers in the retention nets, set my pills, chapstick, and sundries in their proper places, got my sandals ready for any late night bathroom runs, went downstream to the outlet waterfalls to get plenty of water, fetched firewood (lots of dead sticks all around, but only a few trees, and not ones which could be collected), started a fire, made drinks with Proper for dinner, thanked God for my rechargable Black Diamond Spot 400-R headlamp, and set my Peak Refuel homestyle chicken and rice (best thing in the world) cooking. How do you know that I really love it? Because I don't get paid squat to link it, but go through the effort to save you the time. I also ate some cookies and chips. 🙂
After dinner, I cleaned up and put my messy and smelly items inside 3 odor-proof bags. Probably no bears around, but also no trees, so best to be careful. As always, once I was snuggled in bed, I read and watched a show…with my self-defense leashed to my wrist. I ended up going to sleep around 1130.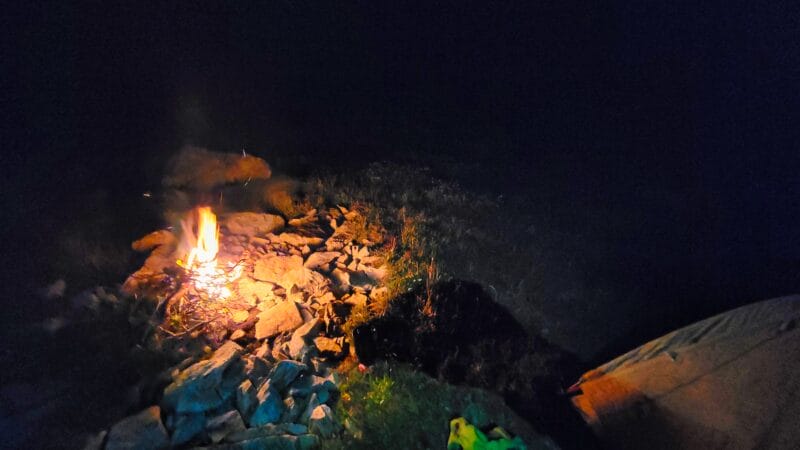 ---
---
⤑Day 3: Crescent Lake, Faler Pass, Native Lake, Roaring Fork, and Back to Gunsight Pass
The temperature dropped below freezing, but I'd anticipated that and slept with my water filter. I woke up refreshed around 0800 and decided to read and drink some energy mix before getting out of the tent to pack. When the sun was finally fully up, I slithered out of bed to find that the air was dead still, which is a rarity in the Wind River Range. The reflections on the lake were awesome, though I was less pleased with the ice on the ground and on my tent. Consequently, I decided to eat the rest of my food and let the tent dry a bit before setting out. I also refilled my water bag (and myself, effectively a water bag with bones) and was displeased to find amphipods in the water. I hate those things, especially when they are so numerous that they make filtering water almost impossible (reference Bewmark Lake and Lunch Lake).
Below: Morning scenes.
Although I hadn't built a fire ring (verboten these days), I made sure to disperse the ashy remnants of my fire so that it would be easier for nature to fully erase over the coming winter and spring. At 0945 I set off, sticking to my side of the creek(s) and heading up the drainage to find a spot to cross. The braided channels had marshy areas that made them untenable. Crossing the creek out of the Dads Lake area was easy (and there were no amphipods at all), but finding a spot to cross Roaring Fork was much more difficult—not because it was deep, but because I was not interested in taking off my shoes to cross. In the end, I traveled uphill a ways before crossing, and then went across the hill to the waterfall at Lake 11000. A strange feature caught my eye. What is the explanation for it?
Below: Creek from the Dads Lake area, the lake I camped at, the strange feature, and a broader overview.
The waterfall was pretty to climb beside, and despite there being numerous insects flying around, none of them were the biting or sucking types. In fact, no mosquitos or biting flies had pestered me the entire trip! Hallelujah!
I reached Lake 11000 at 1015 and marveled at its color, as well as the waterfall that fed into it. It only took me 4 minutes to traverse around the edge and up toward the low-lying traverse between point 11281 and the wall to the east, which rises abruptly to 11400-11600 feet. There appeared to be very few easy routes up those cliffs. The traverse acts as a natural funnel and has a few lakes/ponds which drain down to Crescent Lake.
Below: Lake 11000 (ish). (11034 on google earth)
At 1026, I looked around, made sure I was alone, and stopped to take a pee. Right after I was done, I noticed slight movement toward Crescent Lake, and shortly after the figure of a man crested the rise heading toward me. I was surprised that anyone might be out here, but thought that he was perhaps doing some version of the High Route and had popped out of the Clear Lake area to avoid some of the more rugged terrain. Regardless, we were going to see each other due to the narrow confines we found ourselves in, and once he spotted me, he headed my way.
Below: Pictures from the traverse. I met the lost man just over the rise past the lake in the last picture.
Soon the man reached me. He had a Ruger GP100 strapped to him and was rather scratched up and sunburned. Tall and lean, he appeared in good shape for hiking and was probably in his 50s, so his disheveled appearance was somewhat surprising. As it turned out, he was from (redacted to protect his identity) and was quite lost. Apparently on day 5 of a 3 day hike, he was in search of the Green River Lakes campground but was headed toward Simpson Lake. Even stranger, he had gone down to Native Lake and, as he told me, found that "the trail is f***ed, it took me 2 hours to go 1/2 a mile, the blowdown is awful."
Below: Lake 10804 and Crescent Lake from Lake 11056. Hard to believe that it's a 252′ descent to the closest lake, but distance and elevation in these treeless areas are sometimes hard to discern.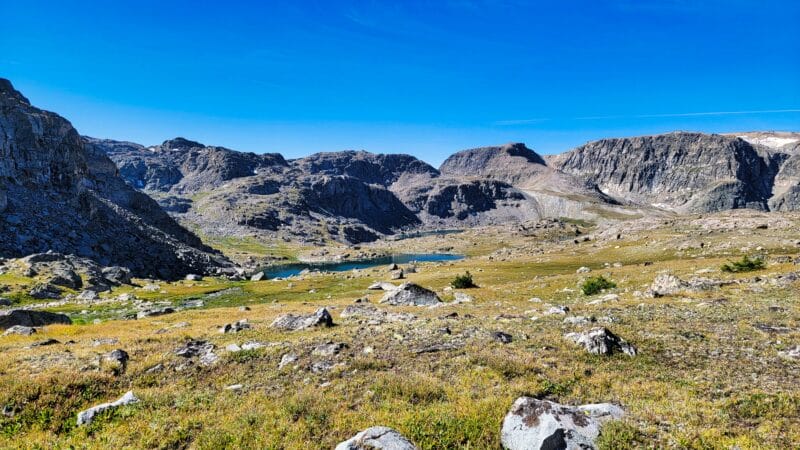 I explained to him that he could exit via Clear Lake, as that's what he was trying to find, and took him up a rise to show him the trail over Faler Pass—but I also explained what a hellish exit that place is, and told him if he was going to try it, he needed to stick to the rockpiles on the flank of the canyon. He swore some more and couldn't believe that he was so lost and would have to backtrack for so long. I offered him some of my provisions and we walked together for 10 minutes, chatting about my job, how I grew up, etc. He was shocked to find that I was going to try to exit via Native Lake and Roaring Fork and believed I'd never make it. After assuring me that he'd be ok, he told me that he was slowing me down and that I should press on. He would head for Faler Pass. I told him that I was hoping to zip up to the top and inspect the place, which caused him to give me the most incredulous look. He then told me that I must be pretty impressive to consider climbing it and then going all he way down Roaring Fork and up Gunsight Pass. We said our goodbyes and I hoped he'd make it out without hating himself or the Winds after what he'd soon experience in the Clear Creek canyon.
With the knowledge that Roaring Fork might be an absolute disaster after the 2020 wind event, I pressed on quickly with only a little worry in the pit of my stomach. Rather than head straight for Lake 10804, I walked at a vector that would have me hit 10804 tangentially and then place me at Crescent Lake near the eastern edge. I really picked up the pace on the easy, grassy downhill and covered the 1/2 mile distance in about 8 minutes. Once I got closer to Crescent Lake, I decided to avoid the discernible path around its edge in favor of a more distant route which kept me higher and had a few ups and downs, but was also more direct. Eventually I encountered a large, smooth, granite knoll which was my signal to follow a small creek right beside it down to Crescent Lake.
Below: Faler Pass with its prominent trail. Views of Crescent Lake.
I wrapped around Crescent Lake's pleasant shores until I came to the outlet which had plenty of places to cross toward Osborn Mountain. The outlet was teaming with brook trout, but so was the rest of the lake. I should have headed to my left, but instead I went more to the right, attempting to avoid climbing a little hill on the west side of the outlet. Don't bother doing that if you're heading to Faler, but if you're heading to Native Lake, it's a viable route. I ended up on a steep section of hill, but it was easy enough to get down (ugh, down), and I dropped my pack by a rock outcropping. Thanks to its color, my pack blended right in with the grass.
Below: the outlet, the flat bald flat where I did my work, and a look at Three Waters Mountain.
At 1120, I started hoofing it up Faler Pass, which has an incredibly well-worn trail, which is also incredibly scrabbly. For being as steep as it is, it's also rather direct, without many switchbacks. The views during the climb were awesome, and I even got to see the lost gentleman stopping to lie down by a wayward tree.
Below: the pass to Simpson Lake, Crescent Lake and my Osprey pack (can you spot it?), the beautiful colors, and the man resting under a tree.
The 350′ climb to the pass occurs in only 1300 feet, so it's steep but also short. I arrived at the top only 10 minutes after I'd started, which made me pretty happy. The Clear Lake area and Faler were pretty dadgum gawjus and inhospitable looking, but I was disappointed that Faler was so hard to see. I mentally debated a quick run down, but with the news of the blowdown, it seemed not really worth it to take all that time. I didn't want to hike out in the dark, so the excellent trail down would have to be saved for another day.
Below: Views from Faler Pass…and there's my backpack!
I spent about 5 minutes on the pass and then beat it back to my pack, which took only a minute less than the climb up, mostly because the gravel was so loose that I didn't feel safe going fast.
After hefting my pack back on, I walked downhill to the trail, which I followed for a few hundred feet before stopping. The trail is incredibly worn and follows the massive gash in the earth that Crescent Creek creates. Given just how perfect the trail is, it's obviously human made. My old USGS map shows the trail going down from Faler Pass more to the west and straight down to Native Lake, then out. In the picture below, I show the old trail (which I couldn't find any remnants of) in blue, my track in black, and the observable trail in red. My Beartooth Publishing Wind River Range North-North map shows the area, but in it the trail ends at Alexander Park. Mysterious.
Given how wonky everything was, I decided to climb over the ridge and find a drainage that leads down to Native Lake. On the way I passed a couple of little ponds which had waterfowl. I saw the main drainage down to the lake, but it was well beneath me and looked a little wet for my tastes. Rather than go down, I found the remnants of a seasonal creek and followed it down toward the treeline. Nearing the treeline, I came across a very well-worn path. In areas, however, it vanished and branched off into multiple little paths. The closer I got to the lake's elevation, however, the more consistent it became.
Below: the hike over the ridge and down toward Native Lake.
Whatever the trail was that I was following, it seemed to have no real desire to approach Native Lake, which is unusual for trails in the backcountry. Instead, it stayed rather high until it was abeam the outlet, then descended sharply along a ridge. Near the outlet it became much less distinct, and I had to route-find to the outlet itself, all with a ball of worry in my stomach. (Not worry over survival, being lost, or anything like that, but really just that I was going to be late getting home.)
Finally I finished descending the 800′ from Crescent Lake's outlet and arrived at Native Lake. The area around the outlet has a great deal of room for camping, and a well-defined campsite existed. I'm not sure why the Forest Service doesn't put a focus on enhancing the trail to the area, because it's certainly picturesque. From the shores of Native Lake, Osborn Mountain towers steep and craggy into the sky, its grey cliffs reflecting in the blue-green waters. One couldn't tell from so low that Osborn becomes rather passive and docile on top, which to me makes it feel a bit more magical and remote.
Below: The scenery at Native Lake. Gorgeous! One image is zoomed in to show the pass in the extreme distance, which I'd left under an hour before. 🙂
Given that I'd arrived at 1230, it was a bit late in the day to have 8-9 miles left to hike without having a clue how bad the trail would be, or even IF the trail would be. For that reason, I didn't spend much time gawking at the lake and its complement of brook trout before making my way toward where the trail might possibly be. Passing through the side of a meadow, I entered a small, forested area and found what appeared to be part of an old trail, but almost immediately afterward encountered blowdown, and not the "here and there" type. It also wasn't the lodgepole variety that you can simply walk over sans problems. Nope. In my way were massive trees downed in some places 10+ feet thick. Were I a tree spiteful toward humans, I suppose this is the manner of death I might choose.
I picked my way as best I could, the branches ripping at me and sap threatening to make me a sticky mess. There was no sign of a trail whatsoever, so I stopped to look at my map and re-evaluate. The satellite imagery showed a large rock pile I could traverse, though the contours were somewhat tight, so the going would be slow. Anything would be better than falling and having my throat punched open by one of the many broken branches, so I angled toward the gentlest contour line. Going that direction was rough, and I found myself crawling under deadfall, pulling myself over sections, squeezing between boulders, and really just generally making about 0.1MPH. Unfortunately I didn't take many pictures as I was too busy being dismayed.
Below: downed trees and the view down the cliffs.
I eventually came to the rockpile…only to find that I was on top of a 20′-tall cliff band above the pile. I explored to the east a ways, looking for a way down. Some sections seemed doable, perhaps, but one slip would incapacitate or kill me. Not worth it. Should I try to head more to the east? It was obvious that upslope winds had caused the deadfall to be murderous in the area, and the more I could go east, the farther downhill the trees, and likely the deadfall, would extend. Should I go back to Native Lake and try to keep high? If I climbed to 10100, a rocky traverse would take me sidehill down to the river, and I could do that in about 1.5 miles. Should I try and find the blasted trail that was listed on my map?
After significant deliberation, I decided to try and find the ancient trail, which was close to Native Creek. If the trail failed me, the Creek would suffice to follow down. Along the way, I'd stick by the cliff band and hopefully find a path I could descend. Well, that was my plan, but it didn't pan out. I soon found myself pressed away from the cliffs, and the only approach I was able to make found me on the edge of a 40′ drop.
30 minutes after leaving Native Lake, I found myself only 635′ displaced from the outlet meadow, clambering down what my map indicated used to be some switchbacks of the old trail. The area was so steep that I was hanging on to trees, but I was reinvigorated by what seemed a doable descent. My high spirit was then devastated to find that, after slipping and sliding down a dirt and pine needle covered chute, I was still on a cliff band that simply was impassable. SURELY there was some way down, given the map? I traversed west in search, given that east was blocked by the cliff band, but there was nothing. Maybe I could push a dead tree down and jam it and…no, that was dumb. Gah!
Below: Looks like a sure way down, huh? Well it's not. You'll find yourself completely cliffed out.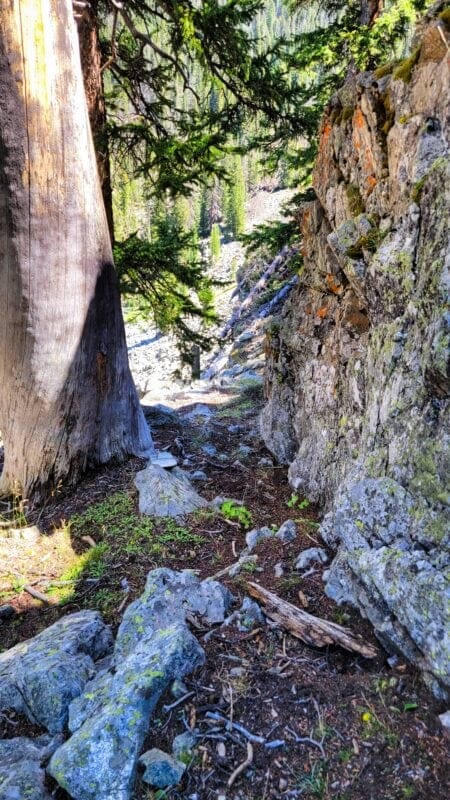 As quickly as I could, I headed west toward the creek. Soon I was above the creek, and it was not a creek, but a mixture of areas of towering waterfalls and tightly constrained cascades. NO! I zipped back eastward and pulled myself back up the dirty chute and over and under dead trees, having decided to find a spot I could cross the creek and try for rockpiles to the west. I climbed about 150′ before I found anything that was even vaguely do-able, but it involved a risky jump from one side of the bottom of a steep cut to the other. The verticality of the cascade and the swiftness of flow prohibited any crossing on foot. After gathering my courage, I hurled myself across, all the while having terrible visions of slipping on the opposing bank, falling backward into the cascade, bones breaking…ugh.

Below: The creek is unapproachable.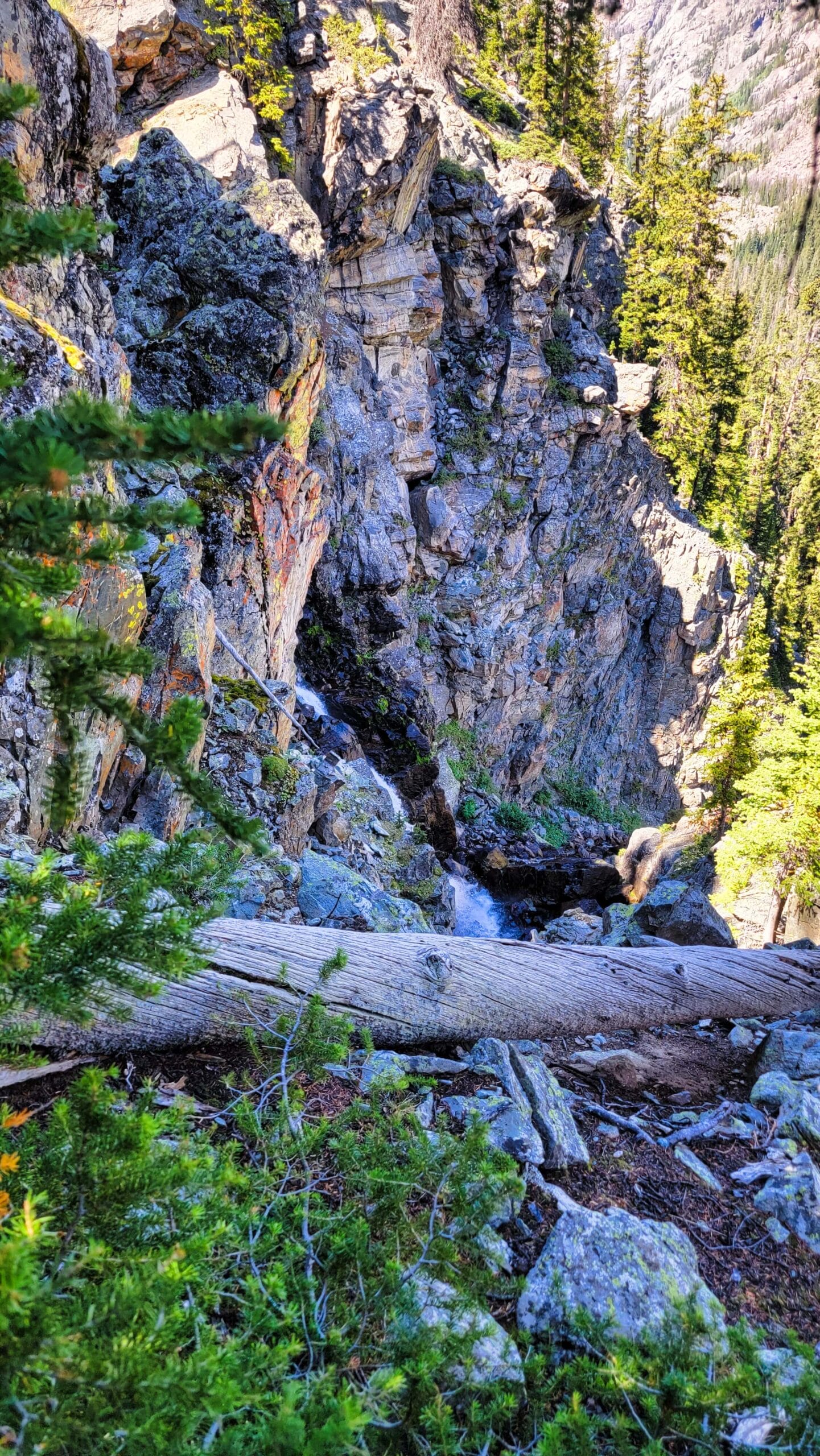 Thankfully my jump was totally steezy and I landed perfectly, then sat myself down to collect water. Just under a gallon later, along with the consumption of what little food I had left I hopped up and started route-finding through the deadfall, pressing over and down at the same time. The going was tough for about 5 minutes, but then the blowdown subsided somewhat. The hillside was very steep, though, and I found myself channeled toward a large rockpile, which itself ended up being a bit shifty and steep. The bottom edge of the rockpile perched over a cliff, but was flatter than the shifty areas above, so I traversed there as long as I could, and also ate some raspberries along the way.
Below: Crossing the piles and finding the berries.
Soon I came to a rock outcropping which seemed to offer a path down toward the river. I gingerly made my way down on the far side of the outcropping, scooting on my butt and noting an old MSR fuel bottle (which was new to me, surprisingly enough) nestled in the rocks. The natural terrain elements must act as a natural funnel for us humans.
Below: I had never even seen a fuel bottle before and wasn't aware that people took them into the backcountry on foot.
The descent via the rockpile was really shifty and led down toward a few trees and what seemed to be more cliff-like banding, so I abandoned it and headed west and toward the nearby forest which , which put me in some gnarly woods. Despite having to cling to branches to keep from gaining speed and falling disastrously, this way was still preferable to the unstable rocks.
Below: My view down toward the river, and as I was descending, my view back up through the horror-show forest.
I finally got down off the hillside and walked to Roaring Fork River which was beautiful and clear. Thanks to downed trees, I was able to cross it easily and without having to remove my shoes. It had taken me an hour and a half to get to the river from Native Lake, and Native Lake was only half a mile away. Talk about a miserable time. I was hoping that the blowdown would ease up, but as I picked my way toward where the trail should be, I had to navigate around many snapped trees.
Below: Crossing the Roaring Fork.
At 2:04PM, God blessed me with a gorgeous view: a piece of sawed wood, barely visible through the trees, and uphill of where I stood. If someone had been sawing wood uphill of me, I was sure to find a trail if I just cut across diagonally, so I did just that, and then BOOM, there was the trail. It was old and not much used, but it was a walkable, and given that a tree was cut above where I was, the trees along the trail going out must also be cut. Goodbye deadfall!
Below: A sawed log in its glory and a trail better than any seen before.
As you probably guessed, "goodbye deadfall" was a fateful thought. Intermittently trees were sawed, but more often than not I found myself on nothing resembling a trail, mostly picking my way through trashed out forest, wondering where the trail was, or how long it had been since it was. Sometimes I'd find its remnants, but the amount of deadfall made tracking it impossible. My map showed that the trail was rather close to the river, but soon I found that the river was either shifted farther to the north of had split into two channels, as I was pressed along the northern sections of the canyon and unable to make it to the center. Satellite imagery also showed bits of trail towards the middle of the canyon, but I simply found it impossible to reach.
Below: As you can see, I was not able to really take a very straight path through the downed trees. The rockpile is also in the first satellite picture. In the second satellite image, you can see remnants of the trail between the red lines. Some of the downed trees were massive and prevented me from saddling over them.