A Quick Hike to Lake Barstow, WY with My Daughter
A Quick Hike to Lake Barstow, WY with My Daughter
Reading Time:
11
minutes
---
Lake Barstow is a short hike if you have high clearance, and effectively a nature walk if you have a quad. (Not yet proofread.)
---
➻ Quick Facts
Info at a Glance
Date of Visit: 21-22 August
Notable Features: Lake Barstow
Total Miles: ~5.7 (but probably like 3 for you!)
Elevation Gain/Loss: +/-400′
Interactive GPS Map (Click to See)
---
---
⤷Introduction
Following our hike to Jim Creek Lake, I suggested to my wife that we do a quick hike down near Grey's River, perhaps to Lake Barstow. We could do either an overnight or a day hike. My wife's work prevented her from doing an overnight, but I told her that it would still be perfect for our little daughter and me. This made Yurena pretty happy, but she was sad to consider not getting to spend any time with us, so she decided to drive her own car down so she could join us for a part of the hike.
---
---
⤑Day 1: Hike in to Lake Barstow
We left Jackson a little later in the day as there was a great deal of thunderstorm activity in the earlier morning, with the weather radar showing intense precipitation where we wanted to go. The forecast indicated that it would abate some by the afternoon, though I was somewhat suspicious of the accuracy of this.
The drive to Lake Barstow from Jackson isn't bad, but the washboard along FR 10138 (Greys River Road, really) might jar your teeth out above 20mph. At least slowing down gives you time to appreciate the scenery. Since I'm mentioning the road condition, be aware that once you get past Forest Park Campground, the washboard somewhat abates, but only because the packed dirt becomes full of very sharp rocks. My wife was convinced that her Juke's (insert Jeremy Clarkson, James May, and Richard Hammond commenting) tires would be slashed to pieces by the things. Here is a video of the last section of the drive down (also, who owns that airport?):
I wasn't sure how far up the road to Lake Barstow we could make it. We wisely dropped off Yurena's car at the base of FR 10043 and drove my Jeep up. I'd really only feel comfortable doing this with high clearance, but if you have it, it's a very docile little road. We made it all the way to a parking area adjacent to an OHV trail that leads up towards Barstow. Blessedly, we were the only ones there!
Soon enough we were packed up and heading out. Yue Little loved here Osprey Tempest Junior backpack. I am linking to the product sans any recompense because when a product is good, I think it's worth helping others find it. I'd check around on retailers to get the best deal, of course.
The OHV trail was basically flat for most of the duration and had numerous creek crossings. Though the clouds were threatening, the earth damp, and the bushes coated in water, we didn't get rained on! Praise God! To amuse myself, I pointed to some cliffs on the way up and told Yue Little that we'd sleep in the caves up in them. She was not put off by the suggestion. Soon enough we got to the point where the OHV trail diverges, which you can see in the picture below. Go right at this fork.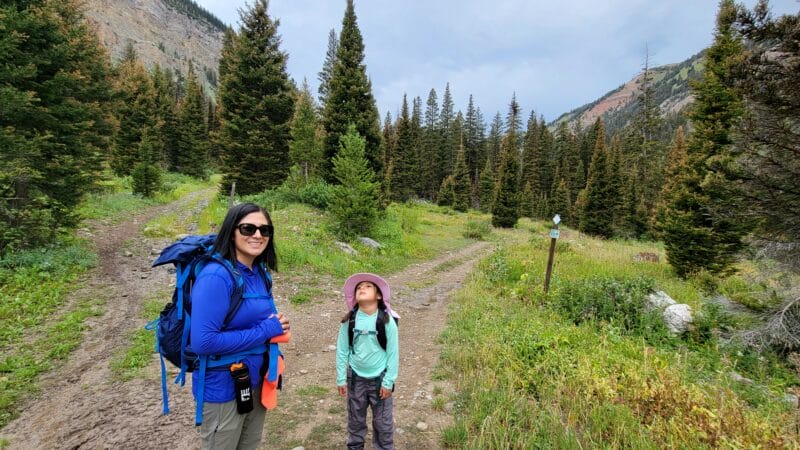 Apparently others have gone left for…well, quite a long ways. Just beyond this intersection we found innumerable raspberries, so of course we had to stop and consume them.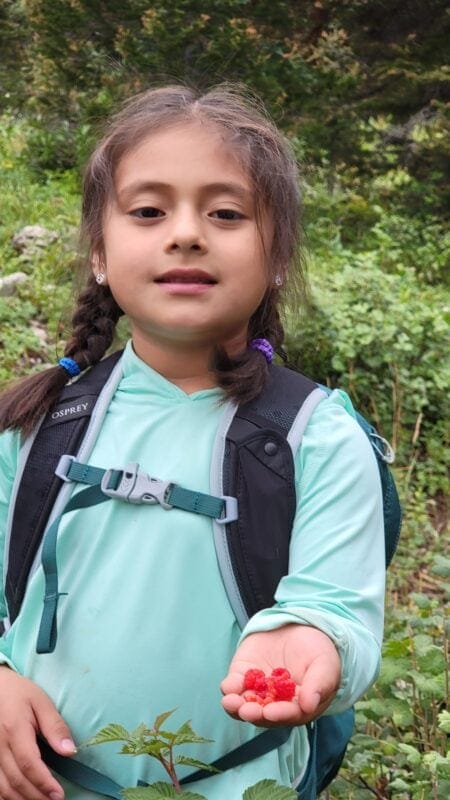 With the consumption of raspberries past us, we pressed on, soon crossing a creosoted bridge and entering into an avalanche area. We stopped to appreciate the flowers, and I taught Yue Little some of their names, and for some, their uses as well. I also showed her how to leave Aspen prints on clothes, as noted by the picture of Mamacitasaurus below. 🙂
Exiting the avalanche zone, we entered the forest which featured a severely rocky, torn up trail. The OHVs/ATVs/quads had done a number on this section, but it lasted only a few hundred feet and we found the actual trail, which went up through the forest along the side of the hill. Yue Little slipped a few times thanks to her inadequate shoes, so we kept close to her in the steeper sections.
The trail didn't climb very much and we soon reached a flat area. Looking up, we saw a couple of jets zip overhead, indicating that runway 1 was in use at Jackson, with the RNAV-X approach. During the summer, this typically indicates nearby thunderstorms, which alter the valley wind.
Within a couple of minutes, we climbed a small bank and popped out at the lake. The waters were entirely still, and it was remarkably quiet. No fish were jumping, no wind was rushing, and it was merely our little family there. Yurena quiet liked the views, though she didn't have much time to hang around. We deposited our backpacks and decided to amble around the south side of the lake. It was very wet.
There wasn't too much to see, other than a dead fish (indicating that there were, in fact, fish), so we headed back. I think we were all heartbroken that Mamacitasaurus had to leave. In fact, it hurt my heart a little bit. Yurena was herself quiet upset at not getting to stay at such a pretty spot.
We all hugged and Yurena started off. As she walked down the hill, my dearest little one shouted, "Mama, te quieamo! Estoy tu princesa." She meant "soy" rather than "estoy," but the point was well made, and it burdened my heart that the other interlocking piece of our family wouldn't get to stay. On a related noted, quieamo is a mixture of quiero and amo, which my familia likes to use. 🙂
After our mamacita left, Yue Little and I decided to explore the north end of the lake. There was a well-defined trail and my daughter really wanted to lead the way as the chief explorer. It was obvious that numerous horses had been on the trail, which went around some rock piles, little muck ponds, and then went into the forest.
After a little bit, we returned back to the bank overlooking the lake where we'd left our packs. The area beneath the bank was the best, flattest place to put the tent, but an fire ring was already in place with wood on the bank, and that's where we decided to make a fire. It also had some logs to sit on, which really made sweet Yue smile. With the fire going, we marched down to our tent's chosen place and set it all up, including Yue Little's Air Core Ultra and my Sea to Summit Etherlight.
With the fire going, Yue Little stated that we should eat dinner. Fair enough, but that meant that we needed water first. Yue accompanied me down to the creek to get lots of the clear stuff, and took pleasure in helping me get it. Most helpful kid in the entire world! We then returned and I boiled some water.
Yue's dinner was two pepperoni pizza MREs while I had the Mountain House chicken and dumplings. The pizza was easy to heat in the boiling water, though I set the chicken meal heating first. As everything was being prepared, I realized that my dear wife had taken the spoon. Blast. I considered what I could do to make it work…ugh. The trowel. Well at least it was cleaned and unused.
We sat down to eat, and with a little salt and pepper my chicken and dumplings were awesome. Yue liked her pizza, which she said wasn't too spicy, but then asked to taste mine, too. With just one little taste her eyes almost exploded out of her face and she demanded that I swap dinners with her. How could I not? She was in love with it, trowel and all. I actually liked the pizza well enough, though I planned to polish off whatever Yue Little left over. Sadly she left nothing for me at all, though I did have some freeze dried dessert bites. The bites aren't too great, in my opinion. A little bit heavy for the calories, and not too delicious, either. Still, that's better than a swift kick in the butt.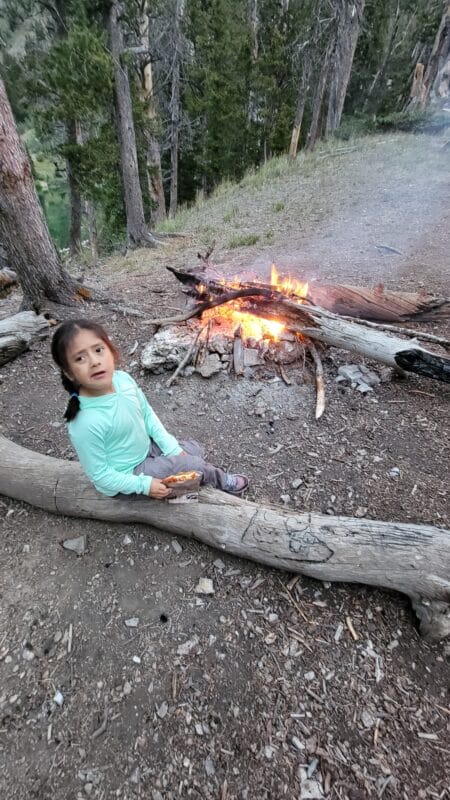 Finally, with dinner done and night starting to creep in, I strung up the bear bag and let Yue Little use an old phone that we keep as a spare. The phone has some learning games on it as well as a few shows for backpacking movie nights. She took it and decided to create videos for Youtube instead, instructing people on how to properly camp. It was adorable. She also implored me to make the fire as massive as possible. Sadly for my little firebug, I didn't, but I did collect enough wood that we could sit around and enjoy it. Yue made herself a Stranger Things fort.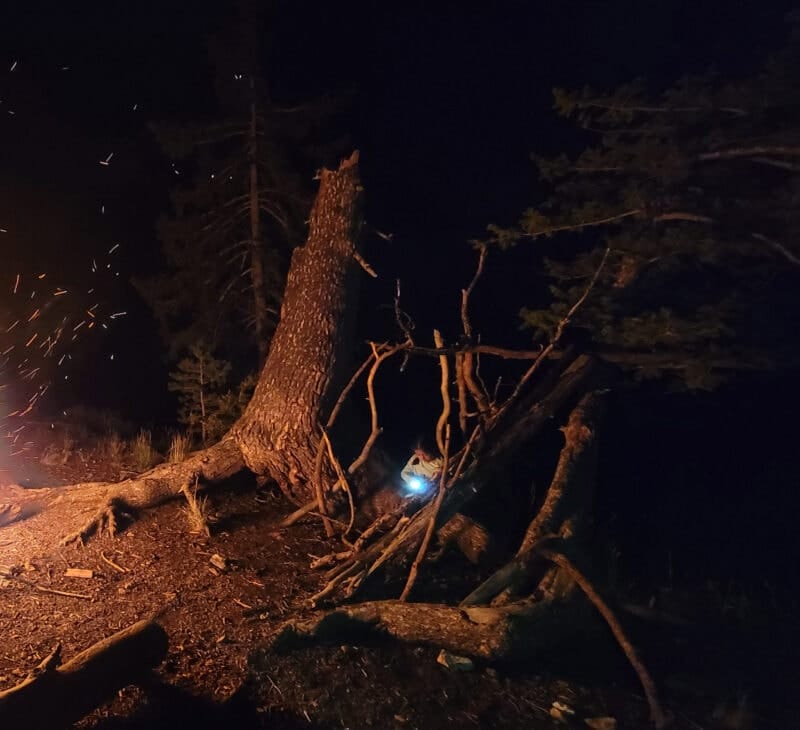 Finally Yue Little started to get tired (around 10PM!), so I warmed some water and gave her a Rainleaf towel so she could bathe herself. After we were both clean and our teeth brushed, we made downhill for the tent and climbed in. Yue Little wanted a little conversation time, followed by prayer…then we drifted off to sleep. I woke up in the night to find that Yue Little had pushed her pad aside and was sleeping on the ground and on me. She's a cuddler!
---
---
⤑Day 2: A Much Longer Hike Out
We got up at 8 with the sunlight, which was filtering through overcast skies. Yue Little decided to play games while I went to pee, and upon my return, I started packing the tent which she went to utilize. She said it was a bit cold for her, though I felt just fine. I didn't have a warm jacket with me for this trip, but I did have my red raincoat, so I gave her that, and she found it perfect for her needs. After packing, we returned uphill to where the fire ring was and ate some breakfast snacks. She made me the cutest rock ever using old coals. One side said, "Daddy, and the other said, "I love you." Heart melting! She then offered to carry my pack for me. Obviously that didn't work out.
We set off for the Jeep around 10AM and were thankful that it would be consistently downhill travel. Yue is still young to be fascinated by what adults might find mundane, so she wanted pictures with everything and OF everything. I was happy to oblige, and as we made our way toward where we'd left the Jeep, she kept singing joyfully. On the way down, I collected plenty of thimbleberries for her to eat, which she said were delicious but mushy. Upon reaching the area where we'd parked the Jeep, I attempted to trick her, but she was too clever for that.
As we continued to hoof it down the mountain, the temperatures continued to rise, and Yue Little got tired of her backpack…mostly because she wanted to sprint after every grasshopper and collect every poofball of goatsbeard she could find. I decided to carry her backpack for her in hopes of speeding her up, given the stacking CB clouds and ominous rumbles. I think that perhaps this only made her slower, as it enhanced her ability to sprint everywhere and took her mind off our missing of expeditiously following the road. The clouds, however, were beautiful. One vehicle passed us going uphill, making me appreciate even more how blessed we'd been to have the area to ourselves. Below are some pictures from the walk down.
We arrived at the Juke without incident and had time on the way home to check out the remote boating area you'll find listed on maps. It was a strange little place and the road there was horrible. Still, it was infested with people, so I guess it's popular with locals. We didn't stay for long, and made it back to the house before Yurena got off work.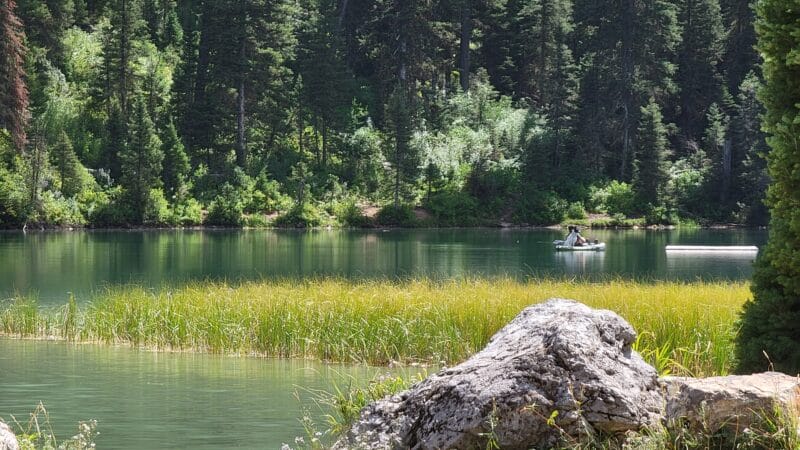 ---
---
➤Conclusion and Rating
This hike was…
---
---
 My scientific rating system. I absolutely loved this hike, though I had my kid with me, so that's probably why.
Beauty. It's not ugly.
Camping spots. Limited due to terrain.
Crowds. I suspect that this area receives a great deal of pressure. It was empty when we visited, though.
Difficulty. A neature walk at best.
Fishing. There were obviously fish, but I think that catching them will be difficult due to fishing pressure. We didn't see any jumping or swimming near the banks.
History. Nothing to see here.
---
---