Twin Category-5 Megariots Forecast if Trump Wins
Twin Category-5 Megariots Forecast if Trump Wins
Reading Time:
2
minutes
---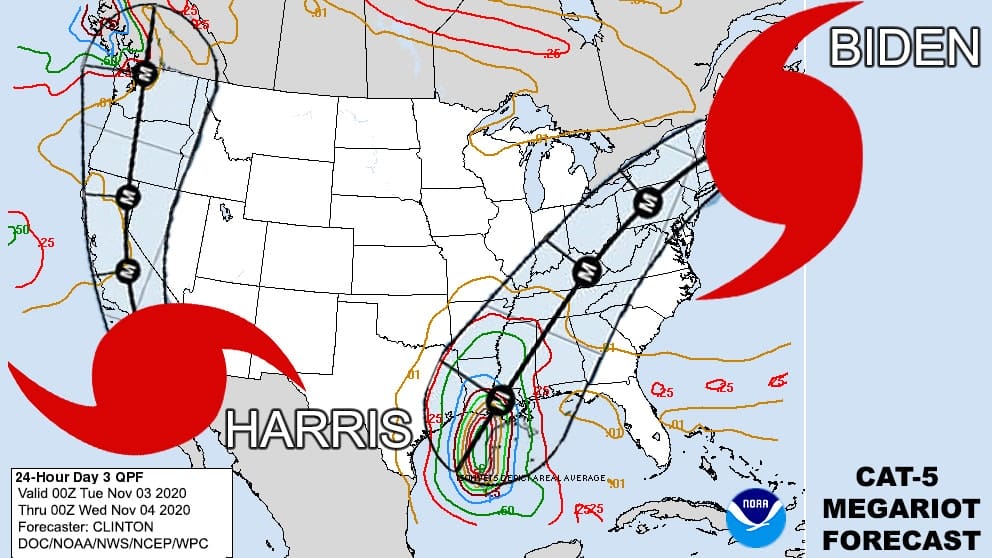 Satellite and surface observations show that twin megariots are brewing on both American seaboards. A PoliticsFlow observing site at Washington, DC reported gale-force screaming. Hurricane-force swearing and screaming were also reported at an observing site near San Francisco.
An Air Force Reserve Hurricane Hunter aircraft is scheduled to investigate the potential megariots early this afternoon. A NOAA P-3 aircraft has been performing a Tail Doppler Radar mission this morning. Clouds of billowing smoke were observered in Portland, OR, where the system is attemping to form a new eye. A dropesonde recorded wailing and gnashing of teeth.
We predict that the chance of a megariot formation in the next month is in excess of 99% if certain environmental conditions are met, namely Donald Trump winning the election on November 3rd. The twin disturbances are being assigned the names Biden and Harris as of today.
Regardless of Biden and Harris's landfall intensity, life-threatening highway stoppages and strong arson are likely over a large portion of the east coast, the west coast, and Chicago, as well as unsurvivable, rapidly-intensifying peaceful protests in Denver, CO and other metropolitan areas.
The new forecast track lies near or just left of the TVCA multi-model consensus and a little right of the HFIP corrected consensus aid, again close to the GFS, GFS ensemble mean, and UKMet models.
---