Unwary Swimmer Killed in Front of Anti-lockdown Beachgoers by Man-Eating Great White Coronavirus
Unwary Swimmer Killed in Front of Anti-lockdown Beachgoers by Man-Eating Great White Coronavirus
Reading Time:
< 1
minute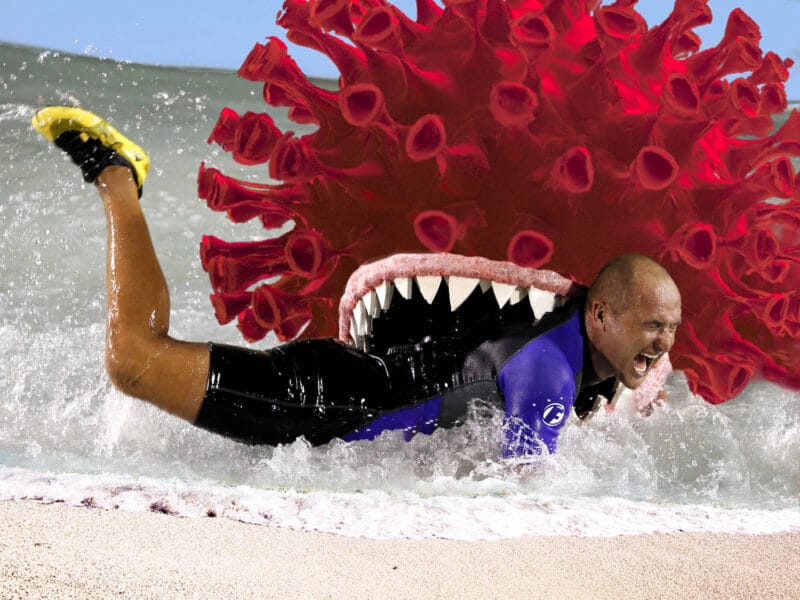 ---
New York City—Mayor Bill de Blasio (D) warned Monday that the city is serious about keeping swimmers out of the water at its public beaches Memorial Day weekend, even as other locations begin to lift their coronavirus-related restrictions.
"Anyone tries to get in the water, they'll be taken right out of the water," he told reporters.
But it was too little, too late for Su Nguyen of Long Island. Swimming close to shore, he was just climbing out of the water when a man-eating great white coronavirus burst out of the sea and snatched him up. An assembled crowd of foolish, anti-lockdown beachgoers watched in horror at the grisly sight, but there was nothing they could do.
Mayor Bill de Blasio himself was personally on hand to yank people from the waters, but he couldn't act in time. In moments the ravenous coronavirus had dragged Su back into the depths, never to be seen again. It's a real shame, but Su was armed only with his medical ignorance, foolish sense of safety, and misguided moral judgments about his political overseers, who knew what was best for him. Too bad he ignored their decrees.
It was a sad event, except maybe not so much after all, since it rid the world of one more person like Su.
Asked for comment, mayor de Blasio said, "We're gonna need a bigger Bill."
---