Lonely Man Hoping to Get COVID-19 so That Someone Might Care for Him
Lonely Man Hoping to Get COVID-19 so That Someone Might Care for Him
Reading Time:
2
minutes
---
Rock Springs, WY—We interviewed a local, lonely man via Zoom, to see how social distancing is impacting his mental illness. Mr. Luke Han Necessary, whose last name is apparently not a joke, spoke to us at an almost unbearable length—in excess of 6 minutes.
"Well, coronavirus hasn't changed my life, really. In 2017, I bought about 4 years of toilet paper off of a price-mistake sale on slickdeals.net. It's really been a boon to me. And you know, it's the good stuff, too, Charmin, the extra-tough quilted type. It can take a lot of abuse. I'm hoping that it might attract a female, now that they're getting desperate," he said by way of gross introduction.
"But I'm really trying to get the COVIDs. I've been so lonely for so long. Last year my dog left me. Ran off with a better owner. That was a low point. I had a cat, but it purposefully got into the bleach, drank almost the whole bottle. The vet wouldn't see me, but he said that Whiskers made his decision, and that it wasn't ours to second-guess."

"I dunno, if I get COVID, they'll be forced to care for me, right? Do they make nurses smile? Maybe I'll get a pretty one. Do you think they'll treat me well if I tip them? I've tried that before, you know. I don't know if it works well, though. All my life, people have been giving me a 30-foot social distancing, even at church. They have this little room in the back with a window. They call it the Lucas room. That's where they make me sit. I'm not allowed out until everyone else leaves the building. Do you think that the nurses will be in a different room through glass, or will they check on me in person???"
After whining for what seemed like an eternity, going on in one long, unbroken sentence, moving from topic to topic so that no one had a chance to interrupt him, he thankfully bit his own tongue, which gave us an opportunity to ask some questions. We started with a soft-ball:
---
Who's your favorite friend?
"Oh, well I don't have any of those, but there's one girl who really hates me, so she talks to me more, which I find soothing. It's not nice stuff, but it's pretty quality time really, in a way. A lot of thought goes into her insults. She once physically slapped me, and now I know what kissing must be like for people."
---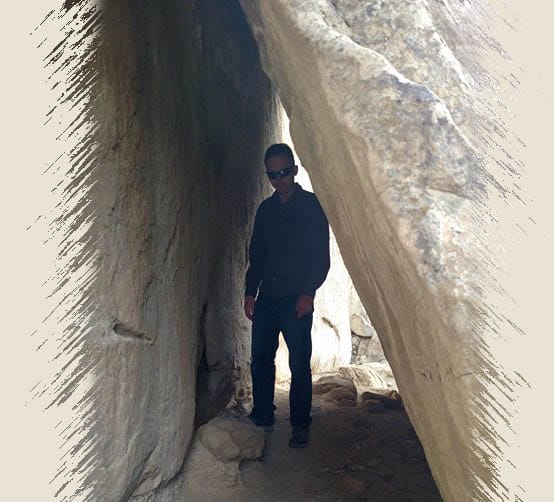 This picture of you in the rocks. What's going on there?
"There are some rattlesnakes there. I try to play with them. They don't run away like all the other creatures. Sometimes I will eat my potato salad there."
---
Have you thought of joining a social club?
"Mom always told me that I shouldn't join a group that would have someone like me in it, so I haven't really given many of them much thought."
---
Do you have anything you're actually skilled at doing?
"Writing satire and self-deprecation that people take seriously. Also, angering people with shirtless pictures."
---
Is that serious?
"Yes, but not fatal."
---